Matt Canada scored his first points as LSU's offensive coordinator Wednesday night.
Canada locked up Myles Brennan, the highly touted, record-breaking Mississippi quarterback. 
Brennan shut down his recruitment, he announced Thursday, following a 30-minute phone call Wednesday night with coach Ed Orgeron and Canada, the Tigers' new offensive coordinator. He tweeted the news Thursday morning, a high point on a roller coaster of a week for Orgeron and staff.
My recruiting process is finally shut down.. I am officially a Committed Tiger! #GeauxTigers

— Myles Brennan (@mylesbrennan12) December 15, 2016
Brennan, the 10th-ranked pro-style quarterback in the nation, reopened his recruitment a couple of weeks ago, a time of uncertainty surrounding LSU's offense. The Tigers were on the hunt for an offensive coordinator, and Brennan and his family were ruffled when the program offered another top quarterback prospect. 
That's all "water under the bridge," his father said Thursday morning.
"We've handled it personally, and we're all satisfied," Owen Brennan said. "We're looking forward, not back."
Myles had planned to schedule visits to a host of schools when the recruiting dead period ends Jan. 12. North Carolina, Oklahoma State, Florida State and Ole Miss were the most serious contenders for the longtime Tigers commitment.
There will be only one visit now, his father said.
"We'll be rushing over to LSU on Jan. 12 — I can tell you that," he said.
The program hired away Canada from the University of Pittsburgh on Wednesday, a 44-year-old Indiana native who immediately contacted Brennan after his introductory news conference. Brennan, his father, his mother, Canada and Orgeron were all on the call, Owen Brennan said.
Canada runs a variable, multiple offensive system that's been led by a variety of quarterbacks — pro-style and dual-threat.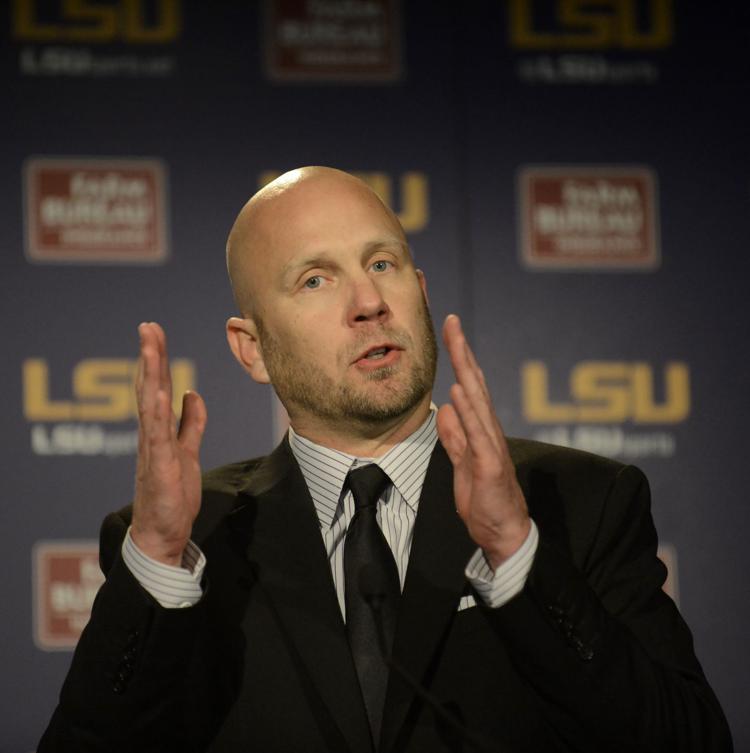 "He said the type of offense he runs is the type that scores a lot of points," Owen Brennan said. "He said we will utilize the talents and athletes we have to do exactly that."
Myles' announcement Thursday, though, stunned his father.
"Myles loved everything he heard from coach Canada and coach Orgeron. Last thing Myles said was, 'Can't wait to meet him face to face. I'll make my decision after that, Jan. 12,'" Owen Brennan said. "That's how he went to bed.
"All I can say is that his MO has never changed — it was a shock when he committed to coach (Les) Miles. Now, we're surprised again," Owen said. "This is solely been his decision."
Owen called Myles' decision an "unbelievable sigh of relief." It ends a drama-filled past few days for the family and, more specifically, his son.
"I know the pressure he's been under," he said. "I can see it in his 17-year-old face. To know his heart is at peace now, I could not be more excited for him."
It possibly ends a roller coaster of a week for Orgeron, and the coach acknowledged Brennan's reaffirmation Thursday with his patented tweet: "Hold that Tiger!"
LSU coach Ed Orgeron doesn't want to make any guarantees. 
The week began with LSU's top target for its offensive coordinator position, Lane Kiffin, accepting the Florida Atlantic head coaching job. Then, junior college defensive lineman Isaiah Buggs, a north Louisiana native, chose Alabama over LSU. 
The Tigers landed a commitment from inside linebacker Monty Rice, hired Canada and then locked up Brennan to complete this wild week.
Brennan backed away from his commitment several days ago, announcing Nov. 30 that he was not pulling his verbal pledge but that he would listen to and visit other schools — something he'd previously shut down. 
Brennan's announcement came a day after LSU offered a scholarship to Alabama dual-threat quarterback commitment Tua Tagovailoa, a surprising move believed to be connected to LSU's courting of Kiffin, the Alabama offensive coordinator.
It also came after Orgeron, in his introductory news conference as coach on Nov. 26, reversed course on his future offensive philosophy. He said then that he'd employ a spread scheme with a dual-threat quarterback — just a month after saying he would recruit pro-style QBs if hired as the permanent coach.
On Wednesday, he cleared the air.
"We're going to continue to recruit the quarterbacks that we've been recruiting," he said. "We like the guys that we have and hopefully we can have them become Tigers."
During the search for his new offensive coordinator, LSU coach Ed Orgeron ran at least one n…