Welcome to Film Room, our weekly analysis of LSU's last football game.
Have a seat. No talking. No tweeting. No texting. Pay attention.
(Editor's note: Click the images to enlarge)
How They Happened (big-play analysis)
Motion mixup: Danny Etling overthrows a wide open RB Darrel Williams late in the first quarter, missing on what would have been a 42-yard touchdown.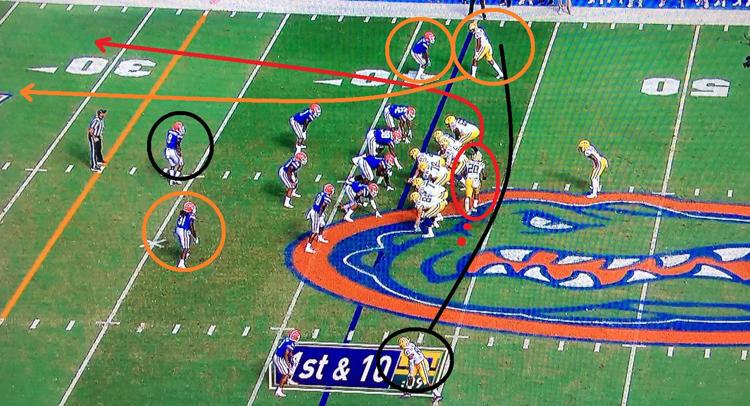 This wasn't really a "big play," per se, as much as it was a big play missed. Thing is, we'll likely see LSU run this play again because of how open Williams got, so let's dig in and determine just how the tailback was left all alone 20-plus yards down field.
As we've written in the past, the presnap movement is essential to Matt Canada's offense. Here's a great example of that. WR Russell Gage (black circle) moves before the snap to the top of the screen, forcing Florida's secondary to change assignments. UF safety Nick Washington (black circle) takes Gage in the flats in what appears to be a zone coverage and allows Williams to run by him. Other safety, Shawn Davis, double covers Dee Anderson (orange). Of note: Anderson does not have a catch this season. 
There's no real diagnosis needed for the end of this play. Etling just misses Williams. A clear overthrow.
F-sweep: Aligned in the F-back position, Gage takes a handoff on a sweep around left end for a 30-yard touchdown.
First, let's talk about Gage's position. This is not your normal jet sweep, when a receiver comes from the wide side of the field and races behind the QB. Gage (red circle) is aligned in the team's F-back position, situated behind the right tackle. He shifts in motion, via a leg kick from Etling, a half-second before the snap. The timing is perfect, as Etling delivers a quick handoff to a sprinting Gage.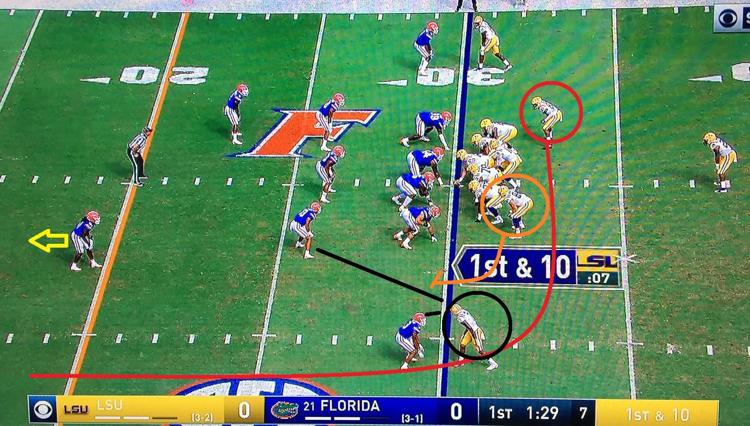 The key on the play is a two-on-one collision between Florida DBs Jonathan Stiner and Marco Wilson (black lines) with WR DJ Chark (black circle). Stiner, trying to elude pulling TE Foster Moreau (orange), runs into Wilson and Chark, springing Gage down the field. 
The other thing that happens here is Davis, the deep Florida safety. He back-peddles at the snap and about 1 second into the play (yellow arrow), removing himself from the play. It's all Gage needs to speed by him inside the 5. Meanwhile, Florida's two inside linebackers on the play follow the fake to RB Darrel Williams off right tackle.
Nickel blitz: On Florida's second-to-last play - a third-and-3 - DB Donte Jackson rushes into the backfield on a blitz to disrupt QB Feleipe Franks' pass attempt.
LSU had five sacks in this game, but the Tigers did not blitz much at all, something coach Ed Orgeron mentioned in his postgame news conference. Per our count, DC Dave Aranda "blitzed" about seven times, and three of those came on Florida's last two drives. We count a "blitz" as someone other than a defensive linemen or outside linebacker rushing. 
Aranda sent Jackson (red circle) on that third down, producing perfect results. The fastest player on LSU's football team and a track star, Jackson hit Florida's running back at full speed, shoving him into Franks. Maybe we see more of that down the line. Orgeron called it "tremendous" timing by Aranda.
 Devin White also occupied the left side, coming on a blitz, too, but Jackson made the big impact. Coaches moved him to the nickel position last week against Syracuse, allowing them to keep true freshman Kary Vincent on the sideline some. 
Devin White said he blocked out "the noise."
---
POSITION ANALYSIS
Big Ugly Booms (OL analysis)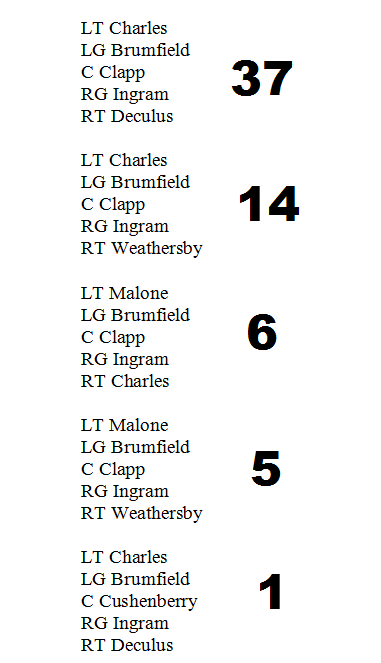 LSU used five different combinations on the offensive line. You'll see to the right a graphic showing snaps for each group, including the starting lineup. The starters took five snaps together. 
LT KJ Malone went out first in the first quarter with what broadcasters said was a left knee injury. He confirmed the knee issue after the game. He did re-enter after that first quarter, coming into the game for LSU's second-to-last offensive possession. He seemed to be walking fine after the game and spoke to reporters - a sign that the injury is probably not too long term. Saahdiq Charles replaced him.
RT Toby Weathersby went out next in the second quarter with what the CBS broadcast team called "heat-related headaches." Afterward, coach Ed Orgeron said Weathersby was suffering from "numerous" injuries. Weathersby, if you'll remember, missed spring practice because of an offseason procedure. In fact, he battled injuries last season to his ankle, shoulder and knee. His status is very much in doubt. Austin Deculus replaced him.
In potentially related news, Weathersby wore a different headgear than others. You'll see that to the left. He's wearing a Pro Tech soft shell over his normal helmet, according to Defend Your Head, the company that sells the product. The shell reduces impacts of collisions.
Center Will Clapp went down next, but only missed one play. Trainers examined his left knee while he was out. Lloyd Cushenberry replaced him.
Monday Morning Quarterback (QB analysis)
This was one of the more bizarre games when it came to receiving. Check out the numbers
RBs/FBs: 6 catches, 52 yards
WRs: 1 catch, 47 yards
3 TEs: 2 catches, 26 yards
Of his 16 attempts, just five of those were targeted at receivers. That could tell you one of two things: receivers are struggling to get open or the game plan (what UF allowed) was dump passes to the backs. Here are the WR targets. One of the five ended in a completion, and that was controversial. 
Stephen Sullivan, 2 targets: Dropped/miscommunication; Overthrown and nearly intercepted
Drake Davis, 1 target: Etling pressured and threw short of Davis
DJ Chark, 1 target: 47-yard completion
Russell Gage, 1 target: Etling threw high on a short pass
Of Etling's 125 yards passing, 55 came after the catch. Running backs were responsible for 35 of those YAC. TE Foster Moreau, during a bullish run-after-catch in the second quarter, got the other 20.
We saw about five designed runs for Etling - a couple of veer-like option plays, a normal QB keeper and a run-pass option, too. This is a part of Matt Canada's offense that we had not seen this season. 
CBS color analyst Gary Danielson was fairly critical of Etling, especially on back-to-back throws late in the second quarter. On the first one (above right), Etling targets Guice and nearly throws an interception that would have almost assuredly been returned for a touchdown. You see that he's got Sullivan (red circle) open coming out of his break. Sullivan's man (yellow arrow) left the receiver. 
Play 2 is to the left. This is a third-and-7. Circled in red is RB Darrel Williams. Circled in black is Sullivan. Etling goes Sullivan's direction and the pass bounces off the receiver's hands and is nearly picked off again. Danielson, after the play, immediately says: "Man, Danny Etling. That ball should have gone right to Williams (red) right away."
Once more into the storm, dear friends, that is the LSU-Florida game.
Five Yard Out (WR analysis)
We've already talked about this group a lot in the above section, but let's take a look at each receiver rush. After all, the wideouts had 105 yards rushing. Let's see how they did it:
Formation

Play

Down

Yard line

Side of field

Rusher

Gain

Springing block(s)

1-back

Jet sweep

2nd 4

LSU 23

Short

Derrick Dillon

30

Tory Carter

1-back

End around

2nd-8

LSU 28

--

Russell Gage

15

Tory Carter,

Drake Davis

1-back, gun

Jet sweep

1st-10

LSU 43

Short

DJ Chark

8

Tory Carter,

Darrel Williams

1-back

Jet sweep (F)

1st-10

UF 30

Wide

Russell Gage

30

DJ Chark,

Foster Moreau

1-back

Jet sweep

2nd-4

LSU 13

Short

Russell Gage

3

None

1-back

Jet sweep

1st-10

LSU 22

Short

DJ Chark

5

Foster Moreau

1-back

Jet sweep (F)

1st-10

LSU 36

Short

Russell Gage

-2

None

1-back

Jet sweep (F)

1st-10

LSU 25

Short

Russell Gage

5

None

1-back

Jet sweep

1st-10

LSU 25

Wide

DJ Chark

10

JD Moore,

Stephen Sullivan

1-back

Jet sweep

1st-10

LSU 49

Wide

Russell Gage

1

None
F Who (F-back/TE analysis)
Tory Carter continues to emerge as a versatile weapon for the Tigers at the F-back position. Coaches even split him out wide on at least one play. We believe he played 22 snaps against Florida, and we think that's a career high for the rookie from Georgia. He caught that touchdown, too, of course.
Senior JD Moore, you'll remember, missed the game against Troy with an undisclosed injury. He only played about 20 snaps at Florida, a sign that he's pretty clearly battling injury still. 
We don't have GIFs this week because CBS does not post replay of games online, but we do have an Xs and Os break down of something we haven't seen much from this offense - a tight end screen. In the second quarter, TE Foster Moreau caught a 1-yard pass and ran 20 more yards, including bulling over a defender to put the Tigers in position for a field goal. Check out the breakdown above and to the right. Moreau (red circle) fakes as if he's pass blocking before darting to the middle of the field. Linemen Will Clapp and Austin Deculus (black circles) lead the way down the field.
This is the second time in the first half that a Canada third-down play call works to perfection against Florida's third-down blitz. You see the yellow arrow above? The Gators send a fifth defender on a blitz. That allows the opening for the screen. Earlier in the game, Canada called an Etling draw on a blitz to pick up a first down. Said Danielson: "It's like he's in the head of (UF DC) Randy Shannon."
On third down, LSU brought the blitz.
Front 7 (DL/LB analysis)
Christian LaCouture played the entire game - all 54 defensive snaps. Keep in mind that the heat index at kickoff was 100 degrees. This speaks to the biggest issue LSU's defensive front has faced this season: a lack of depth. NT Greg Gilmore was spelled, by Ed Alexander, for just one full drive and part of two more. Glen Logan replaced Rashard Lawrence, but only after Lawrence appeared to re-injure his right ankle. Lawrence re-entered the game later. Good news for this group? They return fifth-year senior Frank Herron for Auburn.
Let's touch briefly on Alexander. He did not play too much. Maybe 12 snaps. He may be still battling some injury issues himself (remember, he suffered a broken finger in his right hand at Mississippi State). It's clear what he provides when he's in the game: a hard push against double teams. Gilmore has said during interviews over the last year that Alexander is better taking on double teams than himself. See below.
#LSU misses this when NT Ed Alexander is out with injury.

Pushing the double team. pic.twitter.com/lGbU55CtZc

— Ross Dellenger (@RossDellenger) October 8, 2017
LSU's inside linebacker rotation continued on Saturday as coaches search for a No. 3. Tyler Taylor played in two drives, and former walk-on Jonathan Rucker played in one drive. Devin White continues to excel, mentally and physically, as the Tigers' defensive leader. The guy next to him - Donnie Alexander, Taylor, Rucker or Jacob Phillips - is not on his level.
Break it up (DB analysis)
Dave Aranda really played UF QB Feleipe Franks soft, some might say, dropping guys in coverage much more than he blitzed them. LSU's secondary appeared to mix man-to-man defense with zone, potentially an attempt to confuse the young quarterback.
We pulled from the game two specific plays in which LSU's defense really did appear to confuse Franks. These were two significant plays in the game. Above, you'll see a third-and-goal. LSU drops three defenders hovering at the goal line - the line to gain (yellow) - awaiting a potential pass from the quarterback. Donte Jackson (black circle), Alexander (yellow) and White (red) are those guys. White is spying Franks, in charge of stopping him if he were to run. The result of this play is, statistically, a sack. 
Play 2, to the left, is Florida's last offensive snap of the game, a fourth-and-4. You see the similarities, right? The same three guys are monitoring a line to gain (yellow): Jackson, Alexander and White. This time, White leaps into the air to bat away a pass and secure the win. 
Our final note here is on John Battle. He suffered a stinger, the LSU radio broadcast reported, and exited midway through the third quarter. Battle was/is clearly playing injured. He missed at least two significant tackles. His status appears in question.
Photos courtesy of CBS.
---
LSU and Auburn will meet during the day on Saturday.