HOUSTON — K'Lavon Chaisson didn't even bring cleats.
He didn't bring shorts, nor did he bring a helmet.
Actually, he didn't plan on participating in LSU's summer football camp at all. He was there in support of his high school teammate, defensive back Eric Monroe, an LSU target.
Chaisson hadn't played football in more than a year, had never taken a single varsity snap. He was a mystery player even to his own high school coaches. He was there to learn from afar — stand on the sideline, listen to coaches instruct the participants and watch players navigate newfangled drills. They were newfangled to Chaisson, anyway.
"He was going to just come hang out," said Garrett Cross, one of Chaisson's high school coaches who brought him and Monroe to that LSU camp in June 2015. "We told him, 'Go out there and show them what you've got.' "
A few hours later, Chaisson phoned his grandma with news: He had received a scholarship offer to LSU.
"Boy, you lyin'!" Mirrian Glover shot back at her grandson. "You haven't played one snap on the field yet!"
That's how Part I of Chaisson's wild and furious football journey began.
Here he is now — a towering and chiseled edge rusher that LSU plucked from the grips of Texas and its new hotshot coach. He is the biggest "get" of LSU's signing class, the fourth-best high school defensive end in the nation whom coach Ed Orgeron compares to All-American Arden Key.
Part II of this football journey of his begins next week. He will enroll, with an expected 15 other signees, in school. Part I is nearly behind him, almost exactly two years to the date of its start — that June summer camp in Baton Rouge.
So here he sits, in a corner booth of a Chick-fil-A on the outskirts of Houston, dousing waffle fries in Chick-fil-A sauce and squeezing gobs mayonnaise onto his chicken sandwich. Roaring outside is the musical traffic of Beltway 8, a freeway encircling the bulging waistband of America's fourth-largest city.
Make no mistake: It's not difficult to spot the LSU football player in this place.
Can't see video below? Click here.
He's 6-foot-4, 235 pounds, is decked in a purple jacket emblazoned with "LSU" and has wrapped a white towel around his head, mimicking former LSU safety Jamal Adams.
He'll be a Tiger soon enough — an anticipated and celebrated day, one that began with a surprising offer 23 months ago at a camp that he says changed his life.
"I wouldn't be here without it," Chaisson said.
'It's chess'
Jon Kay, the head coach at North Shore High School on the east side of the city, often walks into his staff meeting room to find Chaisson there at a table, his nose deep in the playbook that LSU defensive coordinator Dave Aranda supplied for him.
You don't have to force Chaisson to study football, coaches say. He approaches the game with so much focus on the mental side that some coaches have told him he thinks too much.
"It's not checkers," Chaisson said. "It's chess."
For him, the chess match has already started. He has started watching video of Alabama, for instance, re-watching the Tide's games to study everything about its offensive line — tendencies, pre-snap movements, formations, footwork and such.
He is well aware of Bama's six-game winning streak against the Tigers. He remembers watching LSU's last win, that 9-6 overtime thriller in 2011. He was 12.
He learned just how fierce the LSU-Alabama rivalry is last year during the game at Tiger Stadium, when a man wearing a Bama shirt on the sideline was pelted from the stands with hot dogs and nachos. He's embraced the rivalry already.
"That's what I want to be," he said, "that small part, that small piece to get us over the hump."
Chaisson is winding down on Phase II of the two-phase spring workout program that LSU strength coach Tommy Moffitt sends to signees. He has gained 20 pounds since the fall. He has already met the weight benchmark (235 pounds) that coaches set for him, and coaches are confident it hasn't affected his top-end speed (they have electronically timed him with a 4.6-second 40-yard dash).
Chaisson shoves aside the physical aspect of the game. It's the mental game that intrigues him most, something his grandfather, Gary Glover, instilled in a young K'Lavon (pronounced KAY-Luh-Vahn).
Chaisson graduated from North Shore two weeks ago with a 3.3 GPA.
He's been immersed in football since then, learning both outside linebacker positions in Aranda's defense — the F and Buck spots. Chaisson said coaches hope to use him on the field at the same time as Key, the projected first-round NFL draft pick who plays the Tigers' edge-rushing Buck position.
There's plenty of competition at those spots, of course. Redshirt freshmen Andre Anthony and Ray Thornton played in those roles during spring practice. He will compete with those guys for snaps.
"I'm different," Chaisson said. "I'm not like any other player. There's a lot of things I do that others don't."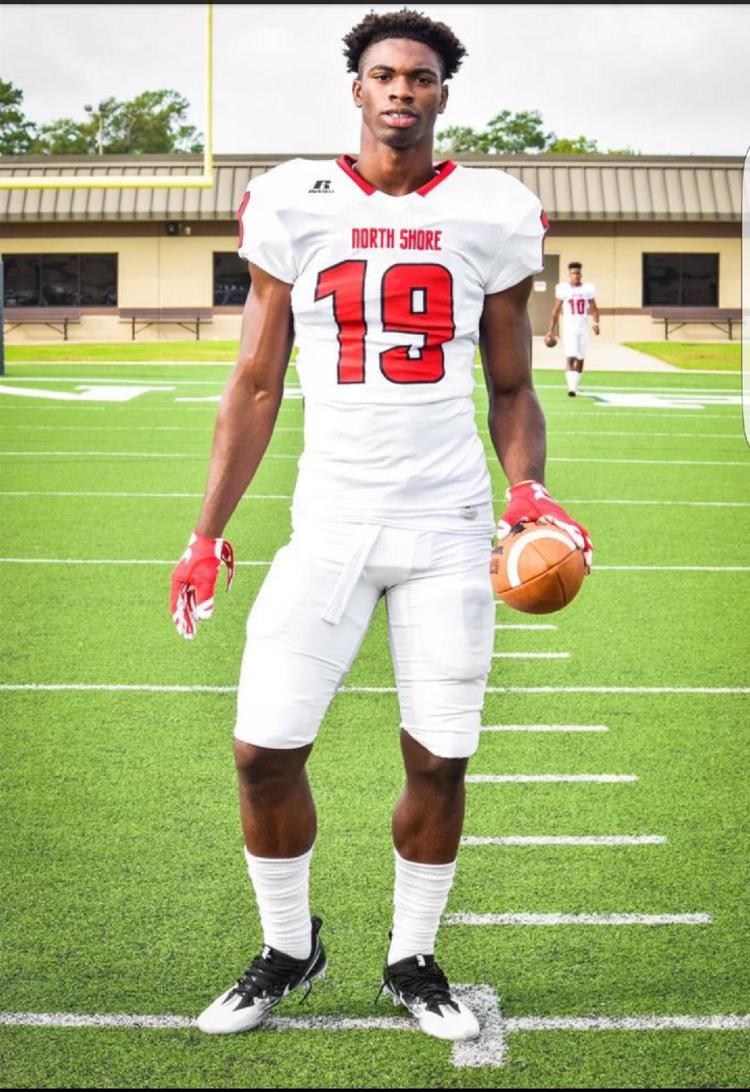 'Lights out'
You don't have to remind Chaisson that LSU opens the 2017 season against BYU at NRG Stadium, home to the Houston Texans and a 25-minute drive from North Shore High School.
In fact, he has already made his mark on that very field, sealing North Shore's state championship victory in 2015 by sniffing out a jet sweep-pass on fourth-and-goal in overtime. He capped his junior season by being named the defensive MVP of the Mustangs' 21-14 overtime victory over Austin Westlake in that Class 6A, Division I state title game.
"He played lights-out," said former LSU defensive tackle Shaun Wynn, Chaisson's defensive line coach on that team who's now head coach at Houston-area Sam Rayburn High. "When I went back and graded the film, I looked at his production and it was off the charts. Strip-fumble. Couple of sacks. Four tackles for loss. He was everywhere."
He did it while playing with a heavily padded shoulder — protection for a collarbone he broke weeks earlier.
It was his breakout game of his breakout season — his first season playing varsity football.
Chaisson quit football after his ninth-grade year to turn his attention to the hardwood. A football and basketball player since childhood, he figured his future was as a power forward or center and not at outside linebacker or defensive end.
That changed quickly.
"I started seeing bigger people playing the same position as me," Chaisson said of hoops. "I was like, 'Nah, this isn't going to work.' "
He returned to football about two months before that first college scholarship offer from LSU, rejoining the team midway through spring practice in 2015.
"He walked through the doors one day," Wynn said, "and we were like, 'Hell yeah!' "
His return wasn't all positive. He was a raw, sometimes unruly talent. Coaches didn't know where to play him or how to necessarily use him, recalled Kay, the head coach.
Kay even admits that LSU's offer opened the staff's eyes to the talent they had.
"When he got offered, we figured out, 'Maybe we can do something with him,' " Kay said.
Chaisson was at times defiant during that summer. Kay even remembers kicking Chaisson out of the weight room at one point and then meeting with his grandparents for a serious discussion.
"He was going to kick him off the team," Chaisson's grandfather Gary said.
Chaisson straightened up, but he began that first season as a backup — until he rolled up multiple sacking his first game as a rotating player.
Said Cross, the team's defensive coordinator: "He was a starter after that."
He finished his career with eye-popping numbers in two seasons: 94 tackles, 24 sacks, six forced fumbles, seven fumble recoveries, two interceptions and 56 quarterback hurries.
"He reminds me of Arden Key," Ed Orgeron said. "Tremendous athlete. Can rush the passer. Great quick-twitch player."
Dave Aranda has the video tapes all ready for his freshman linebackers. 
'UT engraved in stone'
Mirrian Glover had commissioned her son-in-law, an artist, to sketch a picture of her grandson for a ceremony at his commitment announcement on national signing day.
There was only one problem: On the eve of signing day, Chaisson didn't know who he wanted to sign with — Texas or LSU.
"He literally flip-flopped all night," Mirrian said. "We went back and forth."
At 6 p.m. that night, Chaisson called Mirrian with what he said was a final decision: He'd sign with Texas.
The artist began to sketch Chaisson in a white Texas jersey.
He called his grandmother back a couple hours later.
"No. Tell him to stop," he told her. "It's LSU."
The battle over Chaisson is the latest between the two border neighbors and powerhouse programs. Houston is a fertile recruiting area with a metro population (6.6 million) that's larger than the state of Louisiana. Its LSU alumni base is larger than any non-Louisiana city.
Lately, the recruiting fights have extended to coaches. Texas won the sweepstakes for ex-Houston coach Tom Herman in late November after he flirted with the Tigers. LSU retained baseball coach Paul Mainieri, enhancing his contract after Texas officials made a hard charge in June to hire him away.
Meanwhile, LSU and Texas are scheduled to meet on the football field in 2019 at Austin and in 2020 at Tiger Stadium. 
The battle over Chaisson is maybe a light jab in this 10-round heavyweight fight, but it was as close as it gets. Chaisson even admits to being a silent commitment to the Longhorns.
He was so on board with Texas that he began recruiting players to Austin. All signs pointed to UT.
"We thought he was going to UT," Kay said.
"The night before signing day, it was UT engraved in stone," Mirrian said.
LSU's hard pursuit of Chaisson, led by outside linebackers coach Dennis Johnson and Orgeron, turned the tables.
Most know the story by now of Orgeron and Johnson's early-morning visit with Chaisson and his grandparents before the trio flew to Florida for an official visit in late January.
They showed up at the Glovers' home at 3:30 a.m. Orgeron and Chaisson followed Gary, Mirrian and K'Lavon to the airport, walked with them up to the security line and then spoke with K'Lavon by phone up until the plane taxied for takeoff.
It's all true, Mirrian and Gary said.
"Coach O is talking to him and they're boarding the plane," Gary said.
"I had to say, 'Coach O, we have to go!' " Mirrian said. "He was saying, 'You don't have to go (on the Florida visit)!' "
The night before, the Glovers had hosted Herman and three of his UT assistants on a visit.
"For K'Lavon," Kay said, "I think it was, 'I always felt like I had to go to Texas. I always wanted to go to LSU.' "
Chaisson says he picked the Tigers for several reasons: his Texas visit made him realize Austin "wasn't his style;" LSU offered first; the Tigers' hot pursuit of him, including that dawn visit; and his future.
"Why risk your career going to a program trying to rebuild?" Chaisson asked.
Danny Etling's back injury was painful enough that he could've sat out spring practice, offe…
'We're going to offer you'
Andre Anthony, of all people, was the inspiration.
That's who Chaisson saw that hot June day competing at LSU's camp, the guy who inspired him to go from observer to participant.
"We had a similar frame. It looked smooth for him," Chaisson said. "My high school coach said, 'Come on.' I was scared at first. I was trying to hide in the back, not get called."
In borrowed shorts and cleats and a helmet, Chaisson did not lose a single one-on-one battle that day, he said.
Orgeron, then the defensive line coach, watched him closely during drills, then called over then-head coach Les Miles, whispering something in Miles' ear. Miles nodded his head, watched more of Chaisson and that was that.
He found out about his offer while on his walk to Miles' office from Bradley Dale Peveto, the then-outside linebackers coach whom Orgeron fired in November.
"We're going to offer you!" Peveto said.
"But I haven't played a down of varsity football," he said he told Peveto.
Said Kay: "He was surprised. Everybody was surprised."
Over the next few weeks, five other teams offered Chaisson a scholarship. Baylor and Texas offered at their camps. Colorado offered him during warmups at a satellite camp near Houston. UCLA offered him based on video footage of Chaisson working agility drills, and Houston offered him at its camp, even though the camp was rained out.
"Five offers," said a smiling Joe Price, the receivers coach at North Shore, "and zero snaps."
Those days are long gone now. Chaisson is looking forward to a physically demanding summer in Baton Rouge. It starts next week, when he and other signees go through Moffitt's endurance test — 16 90-yard sprints followed by 10 110-yard runs.
The next step for Chaisson, his coaches say, is developing those secondary pass rush moves. What happens when he can't run around an offensive tackle like he did so much in high school?
Finding those moves and executing them on the field is maybe the missing piece to a game that many believe is nearly NFL-ready. In fact, some here in Houston think Chaisson is so explosive that his first step is quicker than Key's initial burst off the line.
Thing is, Chaisson has bigger plans than the pros, he says. He wants to be a civil engineer. Yes, it's a dream of his to play at the next level — and to do so in three years, he said — but he's got a backup plan, a way he knows for sure that he can support his mother and three younger siblings.
"I want to make sure I'm wealthy enough to take care of my family," he said. "It's not really, 'Aw man, I've got to make it (to the NFL) and if I don't, I won't succeed in life.'
"I'm going to LSU to handle my business," he continued. "If I do that, I can go anywhere."