And you thought last season was crazy.
LSU's 2016 football season topped 2015's wildness. By a long shot.
It had a midseason firing.
The interim head coach was elevated to the job long-term.
A Southeastern Conference road game moved to Baton Rouge.
There was even the death of LSU's beloved mascot, Mike VI.
Somewhat lost in all of that was what happened on the field. LSU, a preseason top-five team, lost four games, and the preseason Heisman Trophy favorite, Leonard Fournette, missed four games and finished with fewer than 1,000 yards.
Where did it all go wrong?
We graded out LSU's position groups in hopes of finding that answer.
OFFENSIVE LINE: B+
Scoop: Despite being banged up for much of the season, Pro Football Focus ranked this group as the top O-line in college football, grading just ahead of Alabama. The Tigers allowed 18 sacks (29th fewest among 128 teams), and they created enough holes for LSU to average 6.27 yards per carry (fourth nationally).
Star of the group: Ethan Pocic finished as PFF's No. 10 center, and he's projected as a second- to third-round NFL draft pick.
Looking forward: Needing to replace seniors Pocic and right guard Josh Boutte, LSU returns four players with significant experience: Will Clapp, Toby Weathersby, Maea Teuhema and K.J. Malone.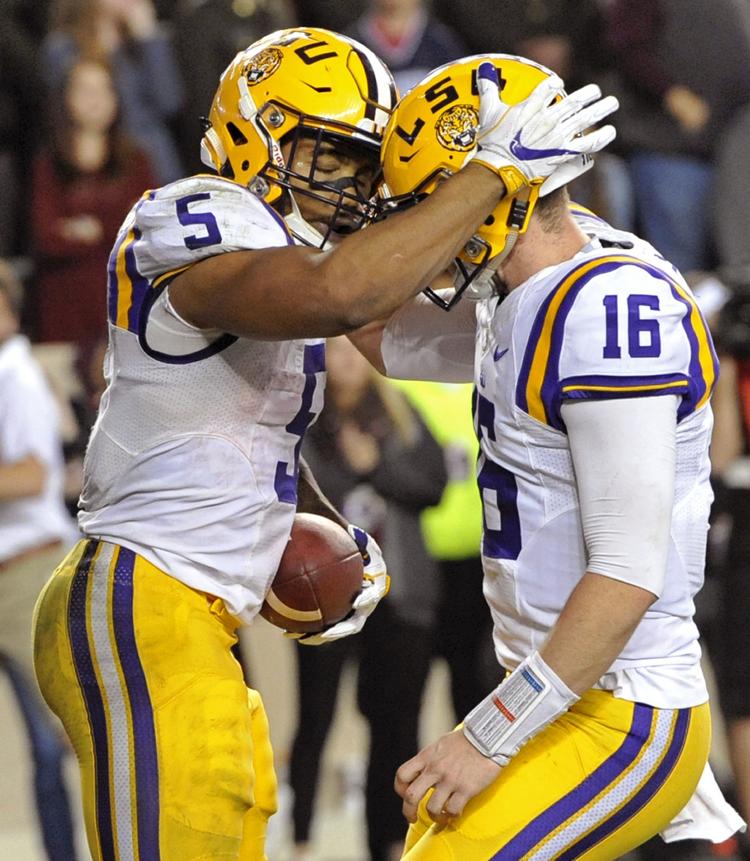 QUARTERBACK: C
Scoop: Danny Etling became the first LSU starting QB to complete at least 60 percent of his passes since Zach Mettenberger in 2013, but he played his worst game in the biggest one, against Alabama. He missed a few long balls (he only threw nine TDs), but he brought needed skills to the position, none more important than spreading the ball to his tight ends and running backs.
Looking forward: This is as unstable as any spot in 2017. LSU will have a new offensive coordinator and likely an overhauled offense. Will the new OC want a pocket passer like Etling or a dual-threat like Brandon Harris or Lindsey Scott?
RUNNING BACKS: A
Scoop: LSU's top three single-game rushing performances in school history happened this season, and Leonard Fournette accounted for just one of those. The tag team of Fournette and electric sophomore Derrius Guice was the Tigers' driving force. The duo averaged 7.3 yards per carry, and Fournette did much of it on an injured ankle.
Star of the group: Guice. The Baton Rouge native scored 14 touchdowns and went for 113 yards per game. He stands at 1,249 yards rushing on the season, and he needs just 34 yards in LSU's bowl game to crack the top four in single-season total yards.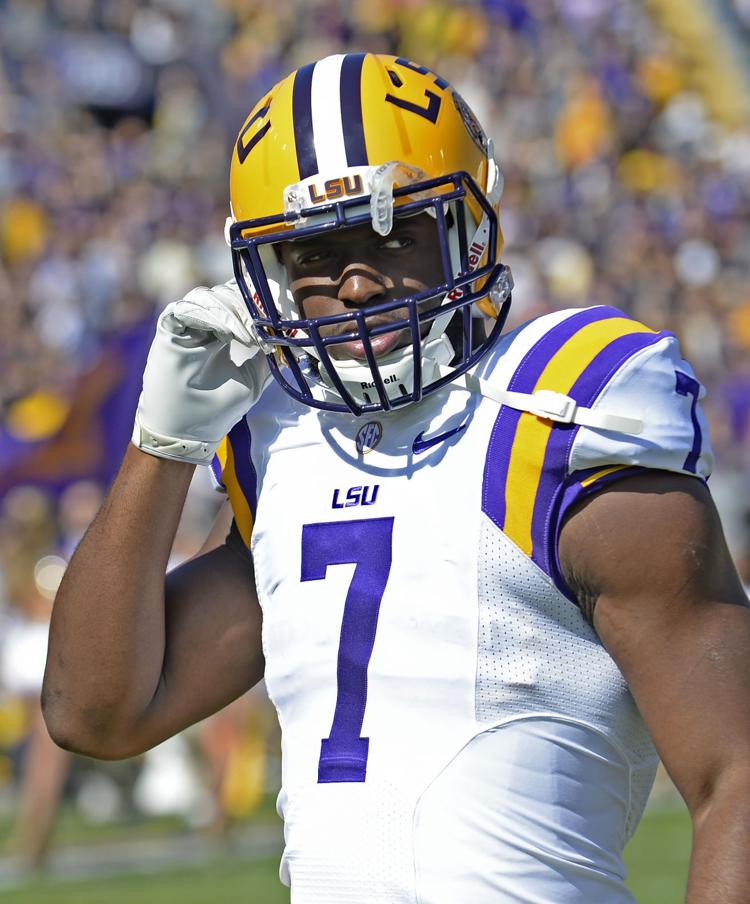 Looking forward: Guice is the guy. He is on pace to shatter Jeremy Hill's single-season school record for yards per carry (6.9). Guice is averaging 8.0 yards per rush.
RECEIVERS: B-
Scoop: For the first time in years, LSU heavily involved the tight ends in the passing game, and it paid off. Foster Moreau, Colin Jeter and DeSean Smith caught 25 balls. Drops still persisted from what were thought to be LSU's top two receivers, Travin Dural (28 catches, 280 yards) and Malachi Dupre (34 for 454), but Dupre flashed his athletic abilities at times.
Star of the group: D.J. Chark. The junior burst onto the scene, finishing with 24 catches for 419 yards and giving the Tigers a reliable long ball threat (17.5 yards per catch).
Looking forward: Replacing a three-year starter in Dural won't be easy, but Chark is up to it. It's unclear what Dupre, a draft-eligible junior, will do. Dee Anderson is a name to watch.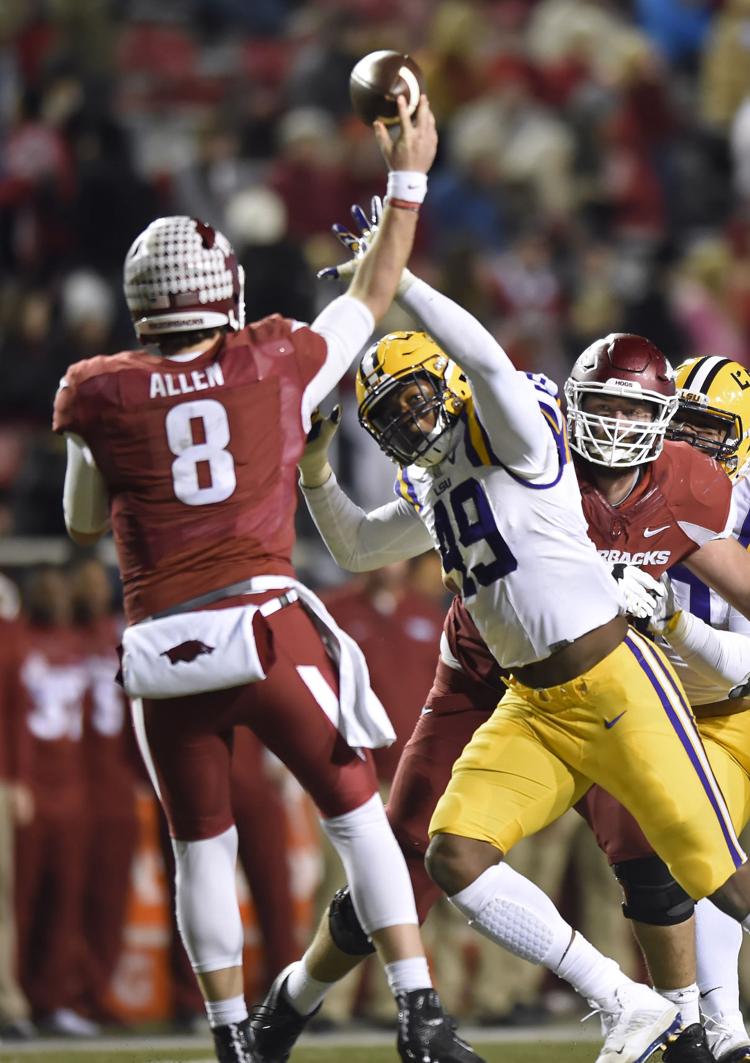 DEFENSIVE LINE: A
Scoop: The unit equaled its sacks total of last season with 28, putting it at 34th nationally. Just two opponents ran for more than 155 yards: Texas A&M (188) in a blowout win and Alabama (216). Lewis Neal, Greg Gilmore, Tashawn Bower, Ed Alexander, Davon Godchaux, Frank Herron and Rashard Lawrence formed a rotation among the front three.
Star of the group: Arden Key, a hybrid outside linebacker/defensive end who spent most plays with his hand in the dirt. The sophomore is two sacks from tying the single-season school record of 12.
Looking forward: The Tigers lose Neal and reserve player Bower. Godchaux seems to be a lean to leave early. Herron is seasoned, and Alexander and Lawrence are talented.
LINEBACKERS: A-
Scoop: Duke Riley and Kendell Beckwith's invitations to the Senior Bowl illustrate the strength of LSU's two starting linebackers. The duo was Nos. 1 and 2 in tackles on the team, combining for 176. Riley's play improved as the season progressed, becoming a blitzing pass rusher (nine tackles for loss) while also delivering run-stopping body blows.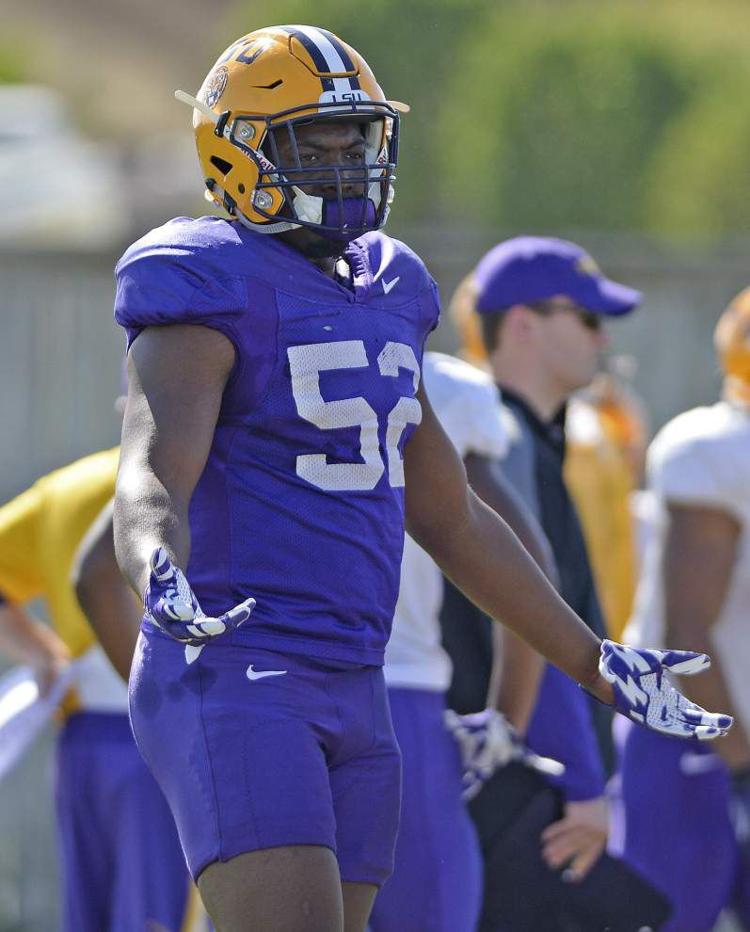 Star of the group: Beckwith cemented his spot as a second-round draft pick, one draft analyst said, with a bruising season as LSU's primary gap-plugging defender in run defense.
Looking forward: Donnie Alexander and Devin White saw minimal playing time, but they will have the lead on replacing the seniors.
SECONDARY: B+
Scoop: This unit rebounded from a 2015 season filled with coverage busts. They had few this year, getting lockdown coverage from Tre'Davious White and solid safety play from Jamal Adams, John Battle and Rickey Jefferson. Donte Jackson, seemingly targeted more than anyone else, held his own in the absence of Kevin Toliver.
Star of the group: White. The senior and future NFL draftee did not allow a completion of 10 yards or more against him through the first eight games.
Looking forward: White, Adams and rotating reserve Dwayne Thomas are all gone. Ed Paris, freshman Saivion Smith and Xavier Lewis could see bigger roles.
SPECIAL TEAMS: D+
Scoop: LSU's kickoff return (116th) and punt return (78th) units experienced struggles, in some cases, for a third straight season. Field goals (75 percent) and punts (44th nationally) were areas of success, but they don't make up for the struggling coverage and return squads.
Star of the group: Redshirt freshman Josh Growden rebounded from an ugly season opener to average 41.9 yards per punt. He put a whopping 20 of 51 punts inside the 20.
Looking forward: Ed Orgeron, on his first day as permanent coach, dismissed special-teams coordinator Bradley Dale Peveto. Place-kicker Colby Delahoussaye is a senior and will need to be replaced. 
Updated, 1:05 p.m. Thursday: Alabama offensive coordinator Lane Kiffin has emerged as a cand…
Ed Orgeron will be paid a lump sum of $675,000 for serving as LSU's interim football coach f…