It took D.J. Chark years to catch up to his older sister.
Finally, when D.J. made it to the high school level, he beat Shirdetra, then a sprinter at Nicholls State, in the 100-meter dash. Shirdetra had watched her brother, 6 years younger, inch closer and closer over the years.
She knew it was coming.
"I was excited," Chark said. "She expected it."
Now, everyone's seeing that speed on the football field. A player whom coaches hyped for two years is finally blossoming into, potentially, LSU's most lethal threat at wide receiver.
Chark might be the biggest benefactor of two key changes to LSU's offense over the first six games of this wacky season: the promotion of Steve Ensminger to offensive coordinator and the switch to Danny Etling at quarterback.
The change in the Tigers offense is obvious, something made even clearer in Saturday night's 45-10 win over Southern Miss in Tiger Stadium: The Tigers are spreading the wealth, targeting an assortment of players like they haven't in years.
Through six games, LSU has three receivers with at least 13 catches. The last time that happened: 2010.
Two tight ends have at least four catches. That hasn't happened through the first six games since at least 2005.
Tight end DeSean Smith has nearly eclipsed his receiving yards in his first three seasons at LSU (162) through the first half of this year (121). And Chark is on pace to change an unsettling trend among the Tigers' No. 3 receivers: LSU's third receiver in the previous five seasons averaged just 15 catches per year.
Through six games, Chark has 13 receptions for 224 yards. Those are eye-popping numbers for a player who had no catches in his first two seasons.
"It's unbelievable," Chark said Saturday night. "I felt like I had to wait my turn, and I did."
Can't see the video? Click here.
The 6-foot-3, 190-pound junior did the same growing up in Alexandria as part of a family of sprinters. His parents encouraged him to run with his sister. Shirdetra, now an assistant track coach at Dillard University, ran the 100-meter dash and 100-meter hurdles at Nicholls.
"When they pushed her to run, they used to push me to run," Chark said. "I didn't want to, but after a while I just started looking up to my sister. … It was always a good race when we ran."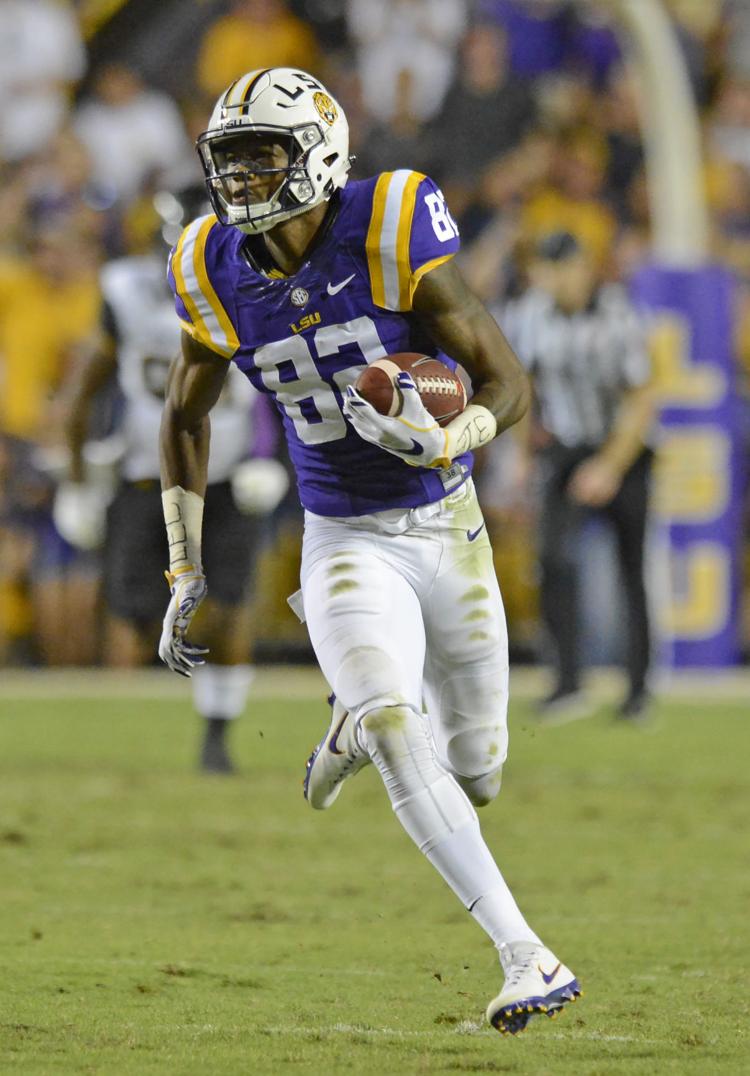 He's racing defenders now — and usually winning big. Sixty-seven yards of his 80-yard touchdown catch Saturday night came after the reception. Southern Miss' D'Nerius Antoine had the angle on Chark after the catch, but the linebacker didn't have a chance. Chark raced by him, wheeling down the LSU sideline for his second touchdown of the game.
"He's super fast. That's not a secret. D.J. can run," receiver Malachi Dupre said. "He prides himself in that, for sure."
Chark will face faster defenders down the stretch. LSU (4-2, 2-1 Southeastern Conference), which re-entered The Associated Press poll at No. 25 on Sunday, hosts No. 23 Ole Miss (3-3, 1-2) at 8 p.m. Saturday in the first of five straight game against teams currently in the rankings.
But LSU's coaches have their ways when it comes to using their speedster.
Chark is the go-to man on the jet sweep, taking it for a 19-yard touchdown in the first quarter Saturday. It was his sixth rushing attempt this season. He has run for 72 yards, averaging 12 a pop.
No wonder he calls himself "Flash."
Receivers coach Dameyune Craig earlier this year asked his wideouts to give themselves nicknames — or "alter egos," Chark said.
"He asked me which one I want, and I told him 'Flash,' " he said. "That's what I do — run."
Chark began in football as a runner.
"Little league," he said, "I played running back. I was real small."
He was 7 and was supposed to be playing flag football, since he did not meet the 8-year-old cut-off for tackle football.
"When they were signing me up, I told them I really didn't want to play flag," Chark said. "It was my first time playing football; I just wanted to play tackle. They put me in with the big guys. I used to get in and just I'd get the ball when we were up a lot."
Ed Orgeron declined to detail his halftime speech Saturday night.
It's no coincidence that Chark's first catch of his college career came in the season's second game, against Jacksonville State, on a pass thrown by Etling. The junior quarterback's strength is reading defenses and finding open men, moving the ball around the field.
Through six games, five receivers have caught at least one pass. Six receivers caught passes all of last season, and four caught passes in 2014.
It's not just Etling, either.
"I don't want to say play-calling, but it's execution and the way we are calling plays and calling pass plays on earlier downs," Dupre said when asked about play-calling. "I feel like coach Ensminger is doing a great job of balancing our offense now and getting us in space."
That has ramped up the competition in a receivers room full of highly touted high school signees.
"This is always what we asked for. They say, 'Be careful what you ask for.' This is what we're getting now," Chark said. "It's up to us to execute so we can keep doing it."
The battle for playing time and receptions is ongoing. The battle for fastest receiver might well be over.
Coaches timed Chark with a 4.4-second 40-yard dash in the summer of 2014, ahead of his freshman season. He hasn't been timed since.
"I'm definitely faster," Chark said, "than what I used to be."
He's Number 3
D.J. Chark, through six games, is on pace to end LSU's No. 3 reciever woes over the past few years. The Tigers' third wideout averaged just 15 catches and 219 yards in the previous five seasons:
Season

No. 3 WR

Catches

Yards

TDs

Offensive coordinator

2016 so far

D.J. Chark

13

224

2

Cam Cameron/Steve Ensminger

2015

John Diarse

13

137

0

Cam Cameron

2014

John Diarse

15

275

3

2013

Travin Dural

7

145

2

2012

Kadron Boone

26

348

4

Greg Studrawa

2011

Russell Shepard

14

190

4