If you answered yes to the question above, just know you're not alone — not by a long shot.
While there was a popular sentiment that Ed Orgeron was not the man for the LSU job and merely a last resort, results from a non-scientific poll on theadvocate.com painted an entirely different story.
You've heard about the two binders LSU coach Ed Orgeron brought with him to his job interview.
When the question went up Saturday morning: "How do you feel about LSU's plan to hire Ed Orgeron?", support for the affable Cajun came in droves. 
In all, 6,873 votes were cast, with over 76 percent supporting Orgeron. 
Other notable outcomes: 
Orgeron's 76.63 percent of the vote equaled to 5,267 of 6,873 total votes
The second highest choice was "I wanted someone else," which pulled just 7.39 percent (508) of the total votes 
6.45 percent said they wanted Tom Herman (443 total)
3.58 percent said they wanted Jimbo Fisher (246 total)
5.95 percent said they miss Les Miles (409 total)
If you add up all of the non-Orgeron selections, they still pulled just 23.37 percent (1,606) of the total votes.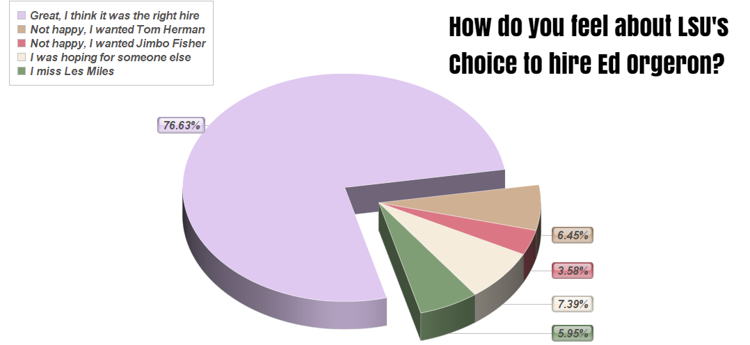 The general support for Orgeron is not completely surprising, as the Lafourche Parish native who took over for Les Miles in Week 5 is supremely popular throughout Louisiana. 
Despite deflating losses to Alabama and most recently Florida, Orgeron led LSU to several convincing wins: 
LSU 42, Missouri 7: First game as interim head coach
LSU 38, Ole Miss 21: First game as LSU coach against a ranked team
LSU 38, Arkansas 10: Bounce-back game after Alabama loss
LSU 54, Texas A&M 39: Bounce-back game after Florida loss
But many argued Orgeron was not the man for the job and simply the flavor of the week. He could be considered a consolation prize to feed a hungry fan base after LSU brass failed to pull a top-tier coach like Herman or Fisher. 
No offense to Ed Orgeron, but Joe Alleva, LSU got this hiring wrong - https://t.co/dvqpUPwjYx via @Frank_Frangie @GridironNow

— Brad Logan (@BradLoganCOTE) November 27, 2016
---
LSU AD Joe Alleva's two-month "search," in the end, didn't leave the building, and may leave LSU in circles.
Column:https://t.co/fCBI0cyvEq

— Glenn Guilbeau (@LSUBeatTweet) November 26, 2016
---
LSU hiring Coach O is a desperation move. Feel that there are more qualified candidates out there.

— Chris Roof (@roofchris) November 26, 2016
---
Those who look at the hire negatively point to Orgeron's largely unsuccesful stint as the head coach for Ole Miss — he went 10-25 before he was fired — and that he simply isn't a high enough profile candidate for one of the nation's top jobs. 
Events on and off the field on Thanksgiving night turned the tide in LSU's coaching search a…
After a last-second loss to Florida in the penultimate week of the regular season, many said Orgeron had likely lost himself a chance at the job. But a dominating win over Texas A&M, following Fisher reportedly turning down the job and amid rampant Herman rumors, reinvigorated the discussion.
Orgeron believers will likely point to his clear support from the players, his deep roots in Louisiana, and his ability to bring in a top coordinator ... looking at you, Lane Kiffin ... and maintain another in Dave Aranda. 
Orgeron's recruiting prowess has also been one of his most valuable characteristics, and many from LSU's incoming classes were quick to react positively to his hire. 
Ed Orgeron has delivered on his promise to keep defensive coordinator Dave Aranda.
Whether the naysayers are correct or Athletic Director Joe Alleva and Co. made the right call remains to be seen. But if these poll results are any indication, Orgeron won't have much trouble getting the Tiger faithful to rally behind him come next season.