Ed Orgeron has delivered on his promise to keep defensive coordinator Dave Aranda.
Aranda agreed to a new three-year contract to remain with the Tigers, multiple sources told The Advocate on Monday — a momentous offseason victory for the program's new full-time coach.
Aranda, the 40-year-old defensive whiz whose group allowed 11 touchdowns in the season's first 10 games, was out recruiting Monday, but he agreed to a new contract that officials drafted Saturday morning.
The contract was expected to include a raise, an extension and a new title of associate head coach. Aranda signed a three-year contract in January, paying him $1.2 million per year, and his group lived up to lofty preseason expectations.
Retaining Aranda was a key component in the search for the next head coach, and university leaders believed the hiring of Orgeron would keep Aranda in Baton Rouge. He reciprocated those feelings to LSU officials, sources told The Advocate, and he stayed true to his word, accepting the new deal.
Securing Aranda was one of several early moves for Orgeron in what has been a busy first few days. He dismissed special teams coordinator Bradley Dale Peveto on Saturday, and LSU picked up a commitment from Caden Sterns, a Class of 2018 safety from Texas, on Sunday.
Assistant coaches left to recruit Sunday, a key day in the recruiting calendar. The contact period began Sunday and runs through Dec. 11. During the contact period, coaches can pay each recruit six in-person, off-campus visits, with not more than one permitted in any one calendar week.
In a meeting Saturday morning, Orgeron and athletic director Joe Alleva agreed on the new proposed deal for Aranda — something Orgeron hinted at during his news conference later that day.
"Joe and I had a great conversation about Dave," he said. "I feel confident he's going to be with us."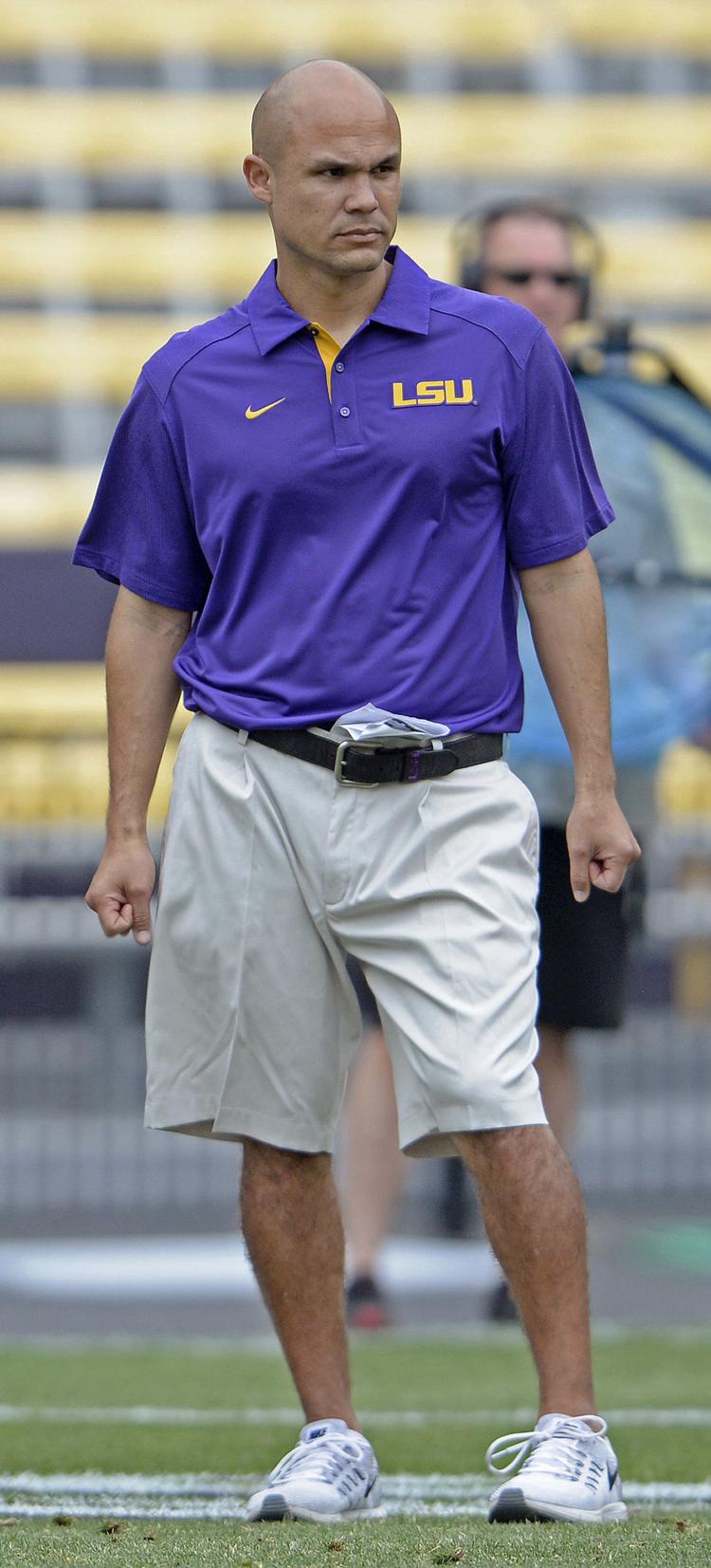 Aranda's new contract is expected to keep him in Baton Rouge instead of with potential other suitors, including Texas. Tom Herman, the former Houston coach hired by Texas on Saturday, and Aranda were members of the same college football team at Cal Lutheran. 
Orgeron's future staff — specifically his coordinators — was integral to his hiring as the Tigers' full-time coach.
Aranda, whom former coach Les Miles hired away from Wisconsin last offseason to replace Kevin Steele, was part of a long-term plan Orgeron laid out to Alleva in his interview for the job Friday. The plan also included hiring an offensive coordinator with a proven and successful track record.
It's no secret who is at the top of Orgeron's list: Lane Kiffin, the offensive coordinator at Alabama and a good friend and former coworker of Orgeron.
Orgeron's contract is more economical for LSU (five years for around $3.5 million per year), allowing the school to pay more than $1.5 million to its coordinators.
Ed Orgeron knows as well as anyone that he has no time to waste.
Aranda's defense excelled throughout this season, especially in the red zone. The Tigers finished 12th nationally in total defense, allowing just 323 yards per game, and they were seventh nationally in scoring defense, giving up 16.4 points per game. They're second in the country in touchdowns allowed, with five of the 16 coming in the 54-39 win at Texas A&M on Thanksgiving night.