LSU center Will Clapp spent most of the summer reminding freshman quarterback Myles Brennan of one thing: Speak confidently in the huddle.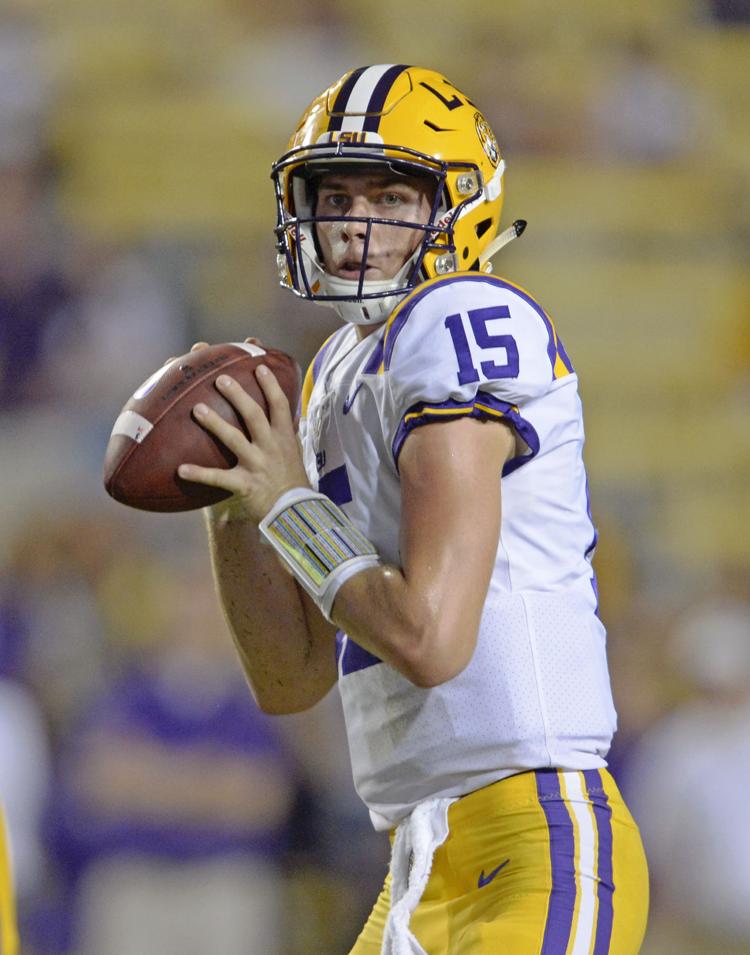 "Say it loud," Clapp said he told Brennan. "He's really worked on that and didn't miss a beat."
Even some on this team doubted the poise of the Tigers' highly-touted, 6-foot-4 rookie, before he flashed his cool pocket presence and strong arm in Saturday's 35-26 win over Syracuse.
"Some guys thought he was going to go in there and freeze up a little bit," receiver Drake Davis said, "but he came in and did what he had to do and we scored a touchdown."
In his three series and 16 snaps, Brennan completed 4 of 6 attempts for 75 yards. The Bay St. Louis native showed calm and a quick delivery in a pressurized pocket.
Under duress, he flipped a couple of passes to his safety valve, running back Darrel Williams, and one of them went for 43 yards. A blitzing defender in his face, Brennan zipped a pass to tight end Foster Moreau for 7 yards and before that, in a clean pocket, fired a dart to DJ Chark for 22. He even picked up 5 yards rushing on a simple quarterback sneak on third-and-short, using that lanky frame to fall forward for a chunk of yardage.
"Things picked up, I thought," Davis said when asked about Brennan's insertion.
"He did an excellent job driving it, (91) yards for that touchdown," F-back JD Moore said. "That was a great drive for him. He executed well. It was very valuable he got those reps tonight and really got some game experience that will be valuable for him."
With Derrius Guice missing the first three days of practice this week with a leg injury, Dar…
Coach Ed Orgeron insisted after the game that there is no quarterback controversy: "Danny is our starting quarterback," he said. "Danny is our quarterback," he said again later in a 9-minute postgame news conference.
Coaches wanted to give Brennan a "taste" of live action with the game on the line, Orgeron said, suggesting that the QB change was part of the plan entering Saturday's affair. Whether that plan carries over into next week and beyond is unclear.
"We wanted him to get some tastes, live action to see what he can do. Danny's our quarterback. Myles didn't beat him out or nothing like that tonight," Orgeron said. "It's just, Myles is one play away if Danny gets hurt so we wanted to get that experience."
Players on Saturday night say they were unaware entering the game that Brennan would see the field. A surprised Clapp was told to begin practicing snapping with Brennan before the freshman's first series with just less than 9 minutes left in the third quarter.
"I really didn't have to stay much to him. Smart kid, knows what he has to do. Played great," Clapp said afterward. "Myles has done a very good job of picking Danny's brain. Before he got in, over the summer, I always told him, 'Got to say stuff with confidence, say it loud.'"
For the fourth year in a row, The Advocate's Ross Dellenger is one of 60 national sports rep…
Brennan's three series ended in a touchdown, a safety and an interception. On third-and-3 and driving inside the Syracuse 30-yard line, Brennan threw the first pick of his LSU career. Afterward, Davis took responsibility for the interception. He misread a linebacker in zone coverage and was in the wrong spot.
"Hundred percent my fault," the sophomore wideout said.
Coaches re-inserted Etling for LSU's final drive, with the Tigers leading by only two points and less than 6 minutes left. It demonstrates confidence in their fifth-year senior.
Under heavy pressure for much of the night, Etling finished 10-for-17 for 188 yards. He marched the Tigers down for a game-securing touchdown on that final series, not needing a single pass attempt to do it.
"Just go in there and do what I can do," Etling said when asked about being re-inserted. "Coaches put the ball in my hands. I was going to make sure I made the right decision."