The only companions Zack Hess desired after his last appearance in an LSU uniform were moonlight and his mind.
The disappointment of what transpired that evening was garden-fresh as he retreated to the team hotel, the image of fireworks bursting over a joyous Florida team still crisp in his thoughts. The Gators tagged him for four runs late in LSU's 6-1 College World Series championship loss maybe 45 minutes before, and Hess needed to process this all.
He needed to do it alone.
In the immediate aftermath of his greatest failure, Hess was a shell of his typically ebullient self. His 6-foot-6 frame slumped like discarded laundry at his locker. He pulled his hat down low over his face as he claimed sole responsibility for LSU's loss in hushed monotone.
The little components of that night played on a loop in his thoughts as he rode in the silent bus back to the hotel. His father and brother were there waiting for him with words of encouragement if he needed it, but Hess did not seek comfort from them or anyone else.
See, it is not only the talent and temperament that made Hess such a force for LSU last season. It is also his belief in himself. In moments like these where that belief is shaken, he hunts not consolation, but answers.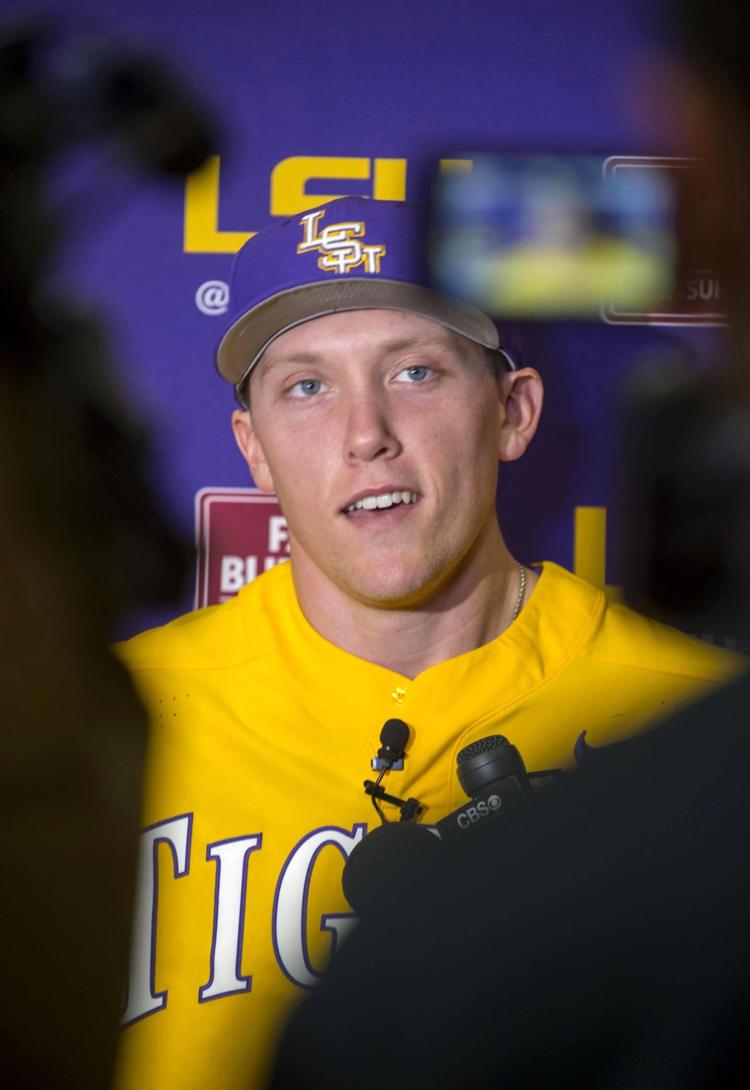 Hess quickly bid his family and his hotel adieu to meet the cool, clear Omaha, Nebraska, night, with only those thoughts that would not leave his mind.
For about two hours, Hess wandered the city, recalling in masochistic detail his sudden collapse in an attempt to resolve the question: What if?
"What if I would've done this? What if I would've thrown this pitch at this point, would that have worked?" Hess recalled.
Although his body was propelled by this nervous energy, he was certain of one thing: He was exhausted.
The current running through Hess' electric right arm had powered LSU to college baseball's greatest stage. He was nearly untouchable while pitching in four of LSU's first five games at the CWS, casting a menacing figure as he struck out 10 in 4⅔ innings.
Facing elimination in its seventh game there, LSU desperately went to the well again. Hess' tank was empty. The Gators lit him up in a game LSU lost by five.
Hess could feel the way the fatigue altered his delivery, forcing his arm slot to drop. He was not hitting his targets, and his slider lacked its lethal bite. He tried to remember exactly how he felt and tried to picture adjustments he could have made to overcome the fatigue.
But Hess returned to his hotel in the early hours of the morning without his answer. Sleep also eluded him for much of the next week as he spun the lowlights over and over again in his head.
That night is one he feels will be stamped on him indelibly. Every time he revisits the final performance of an otherwise magnificent freshman season, Hess feels a "certain sting."
Here is the power — and, maybe, the curse — of belief: Where others may accept failure as an inevitable byproduct of circumstance, the true believers refuse. They analyze and they tear apart and reconstruct, convinced a real and tangible fix is within reach.
"As an athlete, when you have your biggest failures, those are the opportunities you can use for your biggest gain," Hess said.
There is a new question facing Hess as he prepares to pull on that LSU uniform once again, when he debuts Saturday against Notre Dame: Will the immense talent he displayed in last season's stretch run out of the bullpen translate to his new role as a starting pitcher?
There are some doubts — and, as it turns out, there have been for a while.
The two most oft-referenced examples of his clear baseball fate — bullpen guy — are the violence of his delivery and his animated persona, the conventional wisdom being that he cannot possibly keep up that intensity, physically and mentally, for six innings or 100 pitches.
It has been seven-and-a-half months since Hess grappled with the images of fireworks and defeat alone under the night sky. His belief in himself remains steadfast, even as he did not find the answer he sought that night, even as others now are questioning what his real ceiling is.
Can Zack Hess succeed as a starting pitcher the same way he did out of the bullpen?
You're damn right I can, Hess will answer.
***
Watch Hess closely when he is on the field, but forget about the actual act of pitching for a moment. Watch everything else. Pay special attention when strike three settles into the catcher's glove, when Hess begins his strut behind the mound.
He is feeling himself now, the belief marching in time with the special ability. It does not matter who he is facing or when it occurs.
In this particular moment it is a scrimmage against teammates in February.
A Hess heater thwacks the catcher's mitt as a teammate flails helplessly. The stands are almost completely empty, the strikeout will not count for anything. Watch as Hess still struts behind the mound, circling around it counter-clockwise as the ball makes its way around the horn.
"He struck me out, so I definitely notice it," said teammate Josh Smith of the swaggering display.
Hess does not care if people doubt him as a starting pitcher right now. What he does care about is the opportunity to prove the doubts unfounded. Watch him, he says, and he will prove his worth every chance he gets.
This conviction has been tested. There was a period in time where a desire to conform beat out Hess' faith in himself. It was not that long ago.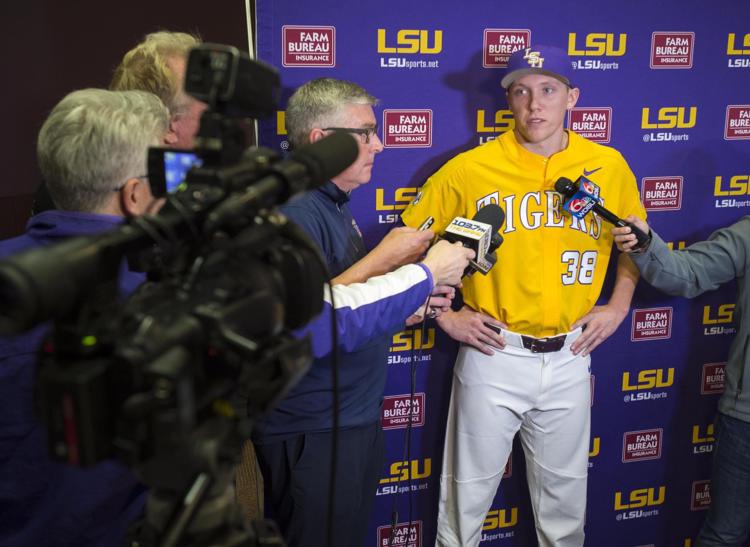 Karl Hess, Zack's father, is not sure exactly when he received the phone call, but it was after one of the first scrimmages in the fall of Hess' freshman year. This story is punctuated by Karl Hess' laughter, perhaps because of how crazy this sounds now.
"He basically told me he decided he is going to quit baseball, he is ready to come home," Karl Hess said. "I think he was going to go to some technical school and learn how to do something."
Sure, Karl Hess told his son, you just call and let me know when you want a plane ticket home, never intending to follow through on the offer.
"A couple days later, I called him and said, 'Are you ready for that plane ticket?'" Karl Hess said.
Hess' response: "Shut up."
Hess' confidence is not without crises. The pitcher who carved up almost every lineup sent his way toward the end of last season? Call him Hess 3.0.
Hess 1.0 was a high school junior who was generating some interest as a prospect, but with that interest came increased scrutiny. It didn't take long for those voices to creep in saying his delivery did not fit the ideal.
He's got the violent delivery, it's not going to hold up
The pitchers with the clean deliveries, with effortless, liquid velocity, those are the safe players. The ones with violent deliveries, like Hess, are pegged as a risk from the jump. 
Out comes the label — bullpen guy — followed either by an uphill battle proving it to be unjustified or by giving in and trying to change what is natural. Hess 2.0 relented to those voices.
He cleaned up things, trusting his talent to carry the load. He conformed to what everyone wanted him to be — if there is such a thing as a cookie-cutter template for 6-6 right-handers who can hum fastballs 97 miles per hour.
This new version passed as acceptable for a while, when Hess was facing high schoolers who could not touch his velocity, but it was exposed when he arrived at LSU.
Hidden beneath the polished exterior of Hess 2.0 was roiling uneasiness. Hess was wholly uncomfortable. Although he had been performing the physical act of pitching the majority of his life, it suddenly felt unnatural.
When he was not missing his spots, he was getting knocked around by an experienced LSU lineup. A short-lived attempt to revert back to Hess 1.0 was met with similarly disastrous results. His faith shaken, he approached LSU pitching coach Alan Dunn about making a change.
The theme of that conversation: "I feel lost out there. I don't feel like I am who I used to be," Hess said.
Can't see video below? Click here.
"He said, 'Alright, this is what we're going to do: We're going to tear everything down. Everything that you have done, we're going to completely flush it out and build from the ground up,'" Hess recalled.
Analyze, tear down, reconstruct, find the fix. Dunn believed, too. 
Hess 3.0 was born. But, in its nascent stage, Hess still felt wobbly. He recalled the moments before his first start, against Hofstra. His pregame bullpen was awful, and uncertainty started to grip him.
But his belief started to find footing. He struck out six and allowed just two hits over five innings in that outing. Each successive outing saw Hess think less, letting more of his natural ability take over.
Dunn eagerly watched this process unfold. As the season wore on, Hess tapped into more and more of the ability that had always been there, the stuff that is unique to him. That was Dunn's goal all along.
"I want him to be Zack Hess," Dunn said. "Not who scouts want him to be. I want him to be him."
The numbers tell one story, and it is a convincing one: Hess made 22 appearances after his full-time move to the bullpen last April, and in that span he was one of the best pitchers in college baseball, striking out 48 while allowing nine earned runs in 32.1 innings (with seven of those runs coming in two poor outings).
The convincing numbers are partially why LSU coach Paul Mainieri is somewhat non-committal when asked if Hess will be a permanent fixture in LSU's weekend rotation this season: The known quantity of Hess as a stopper is intoxicating.
"He looked like he was Major League-ready for that role," Mainieri said. "It's a little bit of a conundrum for me, because we need starting pitching, we need a guy to dominate at the top of our rotation, he wants to be a starting pitcher, yet over here you saw what he did in Omaha, and you're so tempted to put him into that role."
Hess bristles at this notion.
He understands what the numbers suggest, but he does not feel the nuance of his progression last season is appreciated. The move to the bullpen, he said, just happened to coincide with when he started to feel comfortable with the delivery he and Dunn worked on before the start of the season.
"That's when I really started to become who I was originally," Hess said. "It was always there. I just kind of found myself."
This process of discovery was an ordeal, but now that he has emerged unbroken on the other side, Hess appreciates having gone through it. He gained acceptance for fact that he is not going to fit inside neat lines. Energy, in demeanor and delivery, is woven through his individual fabric.
He is unapologetically himself.
"I know who I am," Hess said, "and I'm not going to try to be something I'm not."
***
Why does it matter what role Hess occupies? And what exactly are his limitations that prevent him from being the same type of pitcher as a starter that he was as a reliever last season?
Start with the second question, and reintroduce two of the Hessian qualities that suggest a future in the bullpen: His delivery and his demeanor.
First, the delivery, and what it is not: Smooth. His face contorts with effort when he unleashes his pitches, as if he squeezes every drop of his being into each offering.
"To some people, it looks like he's got a very violent delivery because he jerks his head and he throws his hips hard and pulls his arm through hard — and he throws the ball hard," Mainieri said.
One major concern about this exertion — which, it should be pointed out, LSU has tried to dial back this offseason — is that Hess will not be able to carry his best stuff late into games. Another is that the delivery itself is more difficult to repeat, leading to issues with command.
The delivery alone — even if he has success as a starter at LSU — will undoubtedly leave some whose job it is to evaluate and project talent for MLB clubs to predetermine his future role.
"There are going to be people, they're going to come in and watch Zack and make their determinations … quickly of what they see him as," Dunn said.
Karl Hess does not hesitate to offer an opinion on the topic. "I think all that stuff is baloney, and I'll tell you why."
One of the first times Karl Hess heard the word "smooth" in reference to a pitcher's delivery was when his son was at a Perfect Game youth baseball event that included an address to the attendees from Fred McGriff, a five-time MLB All-Star who hit 493 home runs in a 19-year pro career.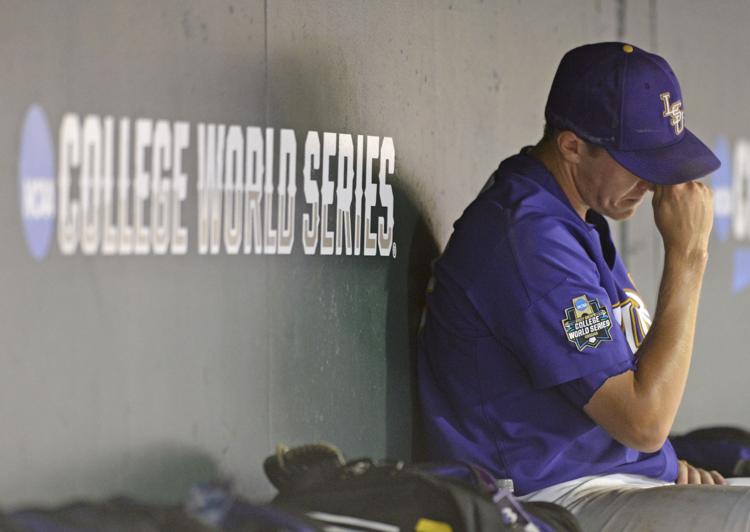 McGriff had a message for the kids about the need to be smooth, which Karl Hess recalled this way.
Those guys who are smooth? I hit 490-something home runs, a lot of them off smooth guys. Those guys that weren't smooth and I was a little bit afraid of? I didn't hit many off them.
Karl Hess relayed his own message to scouts when they would bring up Hess' delivery. "All I know is, Mr. Smooth, every time we faced him, Zack beat him."
There are plenty of high-profile precedents for pitchers with unorthodox, high-effort deliveries succeeding in the Majors as starters. Karl Hess brought up Max Scherzer and Clayton Kershaw, Zack Hess pointed to Chris Sale and David Price.
There are fundamental things every pitching delivery should contain, Hess said, but he argues that it is preposterous to expect every pitcher to have a similar delivery. Pitchers are not made in factories. Each body works its own way. He pointed back to Scherzer and Sale.
"In my opinion none of those guys look silky smooth," Hess said. "They all have a uniqueness to their delivery, and I think that aids them because they have deception."
Then there is the demeanor. There is a reason Hess earned the nickname "Psycho" from his teammates last season — and eventually, in Omaha, "Wild Thing" after the Charlie Sheen character in the classic movie 'Major League.' It was as though he would harness the energy from the intense situations he pitched in and channel it into his explosive stuff.
He looked to be in a constant state of red-lining by the end of the year, and it worked. But can he find a similar degree of success if he tames that personality? And does he really have to?
There is an ideology that persists in the baseball world that pitchers who use emotion as part of their game are better suited for a late-game role, whereas starters need to be more reserved, living less on the outcomes of individual pitches and more on the process of getting through a lineup.
Hess subscribes to some of that. His mantra going into this season is to take it step by step: one pitch, one batter, one inning at a time. Do not focus on the big picture, do not go into an outing aiming to pitch a complete game.
But he does not see that approach as a reason to cage his emotions. He sees the high-leverage situations he frequently found himself in last season as a learning device. It taught him how to shut out everything else and focus on executing one pitch, because if he failed it might cost his team the game.
Do not bank on Hess changing much this year.
"You just have to be who you are," Hess said.
And this is why Hess' role on this team matters. If he can be who he was last season in a starter's role and flip the prevailing public opinion 180 degrees, both LSU and Hess potentially stand to reap the rewards.
Yes, LSU possesses a known quantity in Hess the über closer, but it could have something much more if he can find a way to do the same thing in twice as many innings. In a league as competitive as the Southeastern Conference, a dominant starter or two are imperative.
For Hess, this is not a matter of preference. He maintains he will gladly perform whatever duty is in the best interest of the team.
"My goal is to help this team and help LSU win," Hess said. "Whatever role that is, however that affects me, it affects me. I'm good with it. I'm at peace with it."
This is more a matter of proving his ability is of such a high caliber that he deserves to be taken for more than face value. It is part of why he came to LSU in the first place.
He wanted the chance to show why he believed in himself, and why others should share that belief instead of packaging him into a neat, predetermined box. 
He wanted someone to sincerely look at him and say these words: "Ultimately, it's going to be on you."
When the LSU baseball team takes the field for the first time Friday against Notre Dame, it will be with a drastically different look than expected.
***
There are no sad pictures on his phone lock screen, no newspaper clippings hanging in his locker, no mementos at all of Hess' greatest failure exist in his orbit. He needs no aid remembering that last night of the 2017 season. He carries the sting of those memories always.
Karl Hess was there to greet his son that night and was there when his son decided he would rather be alone with his thoughts and the stars. He did not chase after his son that night. He knew he would bounce back.
"Life's tough, figure it out," Karl Hess said. "That's the way he's been raised."
The failure that night did not get any easier to digest, but as the days passed, Hess' belief in himself started looking for answers again.
He forced himself to dig through the brutal memory to find something in there he could use to learn from. He resumed the analyzing, tearing down and reconstructing.
"If I'm ever in that situation again, what can I do differently rather than repeat failure?" Hess said.
Watch him again — different setting, same swaggering Hess — as he approaches a lectern at LSU's first pitch banquet a few weeks ago. Watch the confidence as he addresses the crowd of LSU fans, the intensity with which he delivers his words.
He did not write down his speech until the night before, the topic of which he identified easily. He heard the doubts about his team, that it did not have the necessary pieces to enjoy the success it did last season, and it is not hard to see the parallel to his own story. 
"If you take the name LSU lightly, that is your own fault," Hess said to the crowd of LSU fans. "Because at the end of the day, this is LSU — we're going to kick a lot of ass and take a lot of names."
The crowd went berserk, infused with sudden faith. Hess, alone and under the bright stage lighting, strutted off the stage in the self-assured way of a man who believed every word he just said.
Predicted order of finish with 2017 record in parentheses.