Toby Weathersby is fine with running.
In fact, he specializes in a certain variety of runs.
"I'm good for a 10-yard burst or something like that," the LSU right tackle said.
After Monday's practice, Weathersby and the other seven players who committed penalties in the Tigers' 37-7 loss to Mississippi State last weekend ran. They ran what amounts to 900 yards, or nine football fields.
"We did more than 10 yards worth of bursting," he said earlier this week. "We were all pretty gassed."
Coach Ed Orgeron has resorted to old-fashioned punishment for his players after a third penalty-laden game. Those who committed the fouls ran nine "half-gassers," Weathersby said. One half-gasser is a sprint from the goal line to the 50-yard line and back.
Players on who did this Monday included Weathersby (false start), receivers Stephen Sullivan (pass interference) and DJ Chark (holding, 2), edge rusher K'Lavon Chaisson (hands to the face), safety John Battle (pass interference), guard Garrett Brumfield (illegal block) and the two players called for targeting: linebacker Donnie Alexander and defensive end Neil Farrell.
"That's fair. We did it. We committed the penalty," Weathersby said. "I don't think everybody else should have to run for something we did that cost the team. I probably would have been pissed if the whole team would have had to do the punishment. It's fair."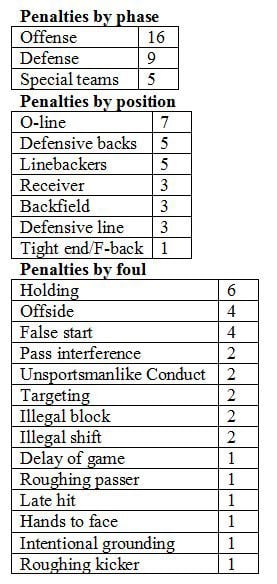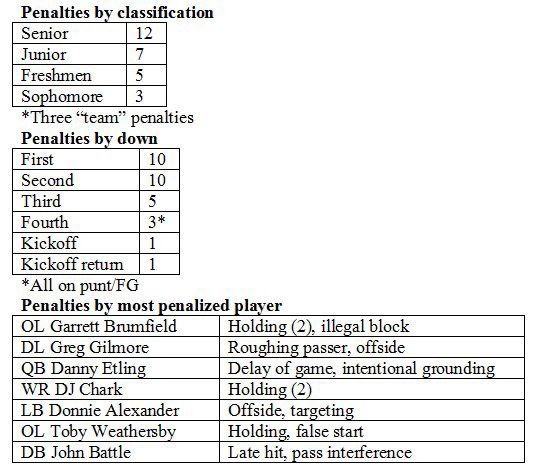 It's easy to see why Orgeron is perplexed by the exceptionally high number of penalties (30) the Tigers have committed in their first three games.
In Orgeron's eight games after taking over for Les Miles last September, LSU was flagged just 36 times (4.5 per game). All told, the Tigers were penalized 58 times in 12 games, ranking 19th among 128 FBS schools at 4.83 per game.
This year, it's been a complete turnaround. LSU already is tied with Ole Miss and South Florida for 124th out of 129 schools with 10.0 infractions per game. The only schools that are more penalized than LSU, Ole Miss and South Florida are Toledo (10.33), Memphis (10.5) and KentState (10.67).
The offensive line (7 flags) has been the most penalized group on an offense that's committed 16 of the violations. A dozen of the penalties were committed by seniors, seven by juniors, five by freshmen and three by sophomores.
"It's frustrating," Weathersby said of the flags. "When they call your name and look on the jumbotron, it's crazy. Stuff happens. Flush it and go to the next one. Move on."
Lowell Narcisse is getting a workout this week.
Third-down woes
Another area the LSU offense has fallen sharply in is third-down conversions.
In 2016, the Tigers ranked second in the Southeastern Conference and 38th nationally in converting 43.4 percent on third down.
This season, LSU is 12th in the 14-team SEC and 87th among all FBS schools at just 37.1 percent in converting 13 of 35 third-down plays. The problem is the Tigers have been in too many third-and-medium to third-and-long situations.
LSU is 3 of 15 (20.0 percent) on third downs of 8 yards or longer and 2 of 8 (25.0 percent) when it snaps the ball while facing third-and-5 to third-and-7. LSU is 8 of 13 (61.5 percent) when needing between 1 and 4 yards to convert.
"We haven't helped ourselves out a lot on third downs, putting ourselves in bad first- and second-down positions," F-back JD Moore said. "No doubt, we have kind of done that to ourselves. So that's obviously not up to our standard, and we're going to be working hard to correct that."
Only Alabama (36.8 percent) and Florida (33.3 percent) are worse than LSU in the SEC on third-down conversions.
The offensive pass interference penalty that negated LSU's first-quarter touchdown in a 30-p…
Still clean
One positive that came out of Saturday's 30-point loss to Mississippi State was that LSU had no giveaways for the third game in a row to start the season — only the second time that's happened to the Tigers since 1937.
LSU is one of only three teams in the FBS that hasn't turned the ball over along with Miami and Alabama, but Miami has played just one game because of Hurricane Irma. Like LSU, Alabama has played three games.
LSU's turnover-free streak actually stands at 14 quarters, dating to the Tigers' Citrus Bowl win over Louisville on Dec. 31. Danny Etling's interception near the end of the first half of LSU's 29-9 win was their last giveaway.
Since then, LSU has had 226 offensive snaps — 153 run plays and 73 pass plays — without turning the ball over to the opposition.
Freshman JaCoby Stevens could be seeing a second position move in as many months.