Tommie Robinson once rotated five running backs during a game.
In 30-plus years of coaching, he had hist most fun in 2013 at Southern Cal, the year Ed Orgeron took over for the fired Lane Kiffin.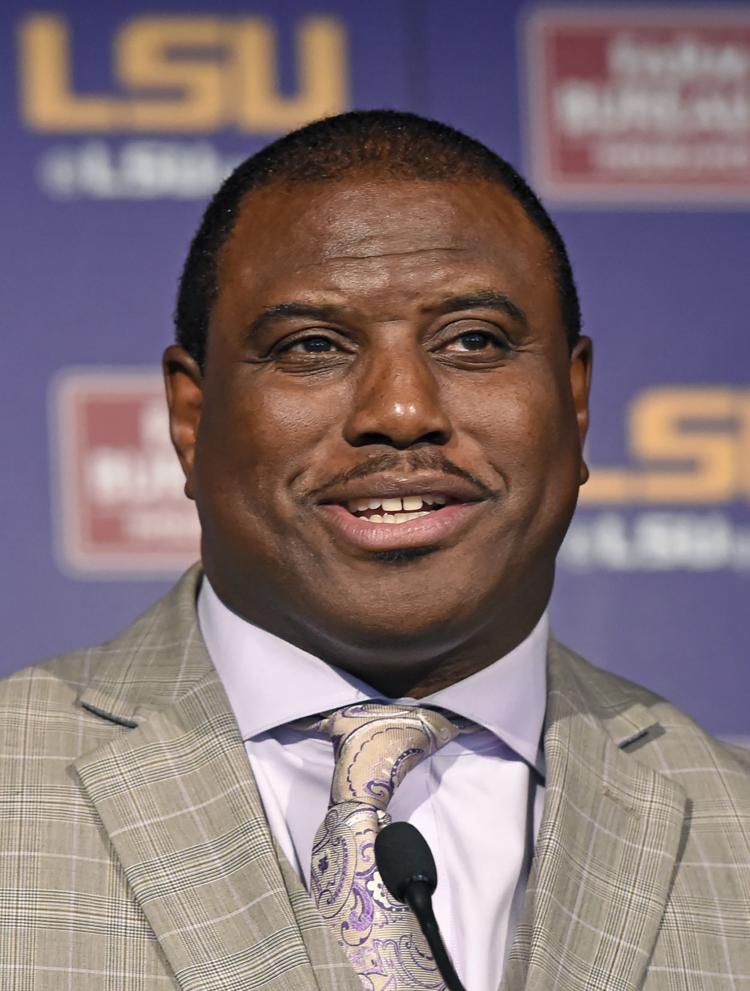 Robinson's recruiting philosophy is hard work, and he's already started at it. He woke up at 5:30 a.m. Thursday, dabbled in some recruiting and started learning offensive coordinator Matt Canada's system.
"Been a fast morning, a quick morning," Robinson said. "I'm ready to move forward."
Robinson, a 53-year-old Alabama native who LSU plucked from Southern Cal, addressed reporters and took a few questions Thursday during his introductory news conference. 
He'll coach running backs and serve as recruiting coordinator and assistant head coach. 
---
Introduction
I'd like to start by saying thank you to Coach Ed Orgeron. It's an honor and a pleasure. It's a true honor for me to have the opportunity to work with Ed Orgeron and be part of his staff. He's an outstanding football coach, leader of men and he's a good man. He's an honor for me to be part of his staff. I knew it was going to happen. It was just a matter of working out the details.
I'm excited about this opportunity, where LSU is right now, where Coach Orgeron has the program. Today is my first full day here. I'm excited about having the opportunity to do a little offense and a little recruiting this morning. Been real fast. Got up this morning about 5:30 a.m. ready to go, been a fast morning, a quick morning. I'm ready to move forward.
What was the sell in going from Southern Cal to LSU?
The sell was Coach O. He's giving me the opportunity to be an assistant head coach and recruiting coordinator, something I want to do and look forward to doing. At the end of the day, one thing I'll always do, I'll always be honest and keep it real. At the end of the day, it was always about him. He's a true friend of mine.
He and I were together the last time … I've been coaching for almost 32 years and in 2013, I had the most fun I've ever had coaching football. That was with Coach Orgeron. I can sit here and tell you a whole lot of things, but at the end of the day, the sell was Coach Orgeron.
LSU coach Ed Orgeron introduced two new assistant football coaches -- running backs coach To…
What's your recruiting philosophy?
I don't think there's any utopias in the world. I don't think anyone has all of the answers. In recruiting, my philosophy is work, hard work. Find out what it's going to take to get the kids and go get the kids. It's through work. Hard work.
Do a great job evaluating the kids, developing a relationship. I don't think there's no secret dust, magic dust. It comes down to work. This is a place you can go recruit kids across the country. If we work hard and put forth the effort, we'll be fine and go get kids.
This is your first coaching job in the SEC, right?
This is my first time ever coaching in the SEC. I grew up in the SEC, grew up in Alabama, but this is my first time coaching in the SEC. Looking forward to this challenge. We all know the strength of this conference. Throughout the coaching world, it's a challenge.
What do you know about Derrius Guice and the other running backs?
I don't know a lot about Derrius Guice. Quick story: When we were a part of USC, Coach O and I, we were down here at another school recruiting. I remember Coach O telling me about Derrius. He said, 'T-Rob, you need to come look at this kid Derrius Guice.'
I don't know a lot about him. I've had a chance to coach at a lot of schools and when I go into different schools, different situations, I don't want to know too much about the kid. I want to formulate my own opinion. I didn't start doing research and homework on Derrius. I know the kid is a good back, probably one of the best in the country. At this point, that's all I want to know.
Ed Orgeron continues to secure his new coaching staff.
What's your philosophy about running backs and a rotation?
You adjust to the situation. One night when Coach Orgeron was (interim) head coach at USC, the very first game against Arizona, I rotated five backs. I remember Coach Orgeron told me – I remember it very vividly – he said, 'Coach, you know your kids. You know who deserves to play. Play your kids the way you want to play them.'
I had five kids – five – that deserved the right to play, all five of them. After the game … it was unheard of to play five backs in a game that came down to the last minute. I rotated five.
I've been in a situation where I had a featured guy. I've been in a situation where I rotated two, been in a situation where I rotated three. It's according to who you have and what the kid shows in practice. If the kid shows he deserves to play and I feel confident he'll help this team win, then I'll find a way to play him. I don't have a philosophy. I'll just adapt and adjust to whatever the situation is.
Have you spoken to Matt Canada yet and what were those conversations like?
Matt and I have talked. Actually, my wife and I, him and his fiancé had dinner together last night. Bounced around a lot of stuff scheme wise and just got to know each other. We talked a little philosophy, not a lot. We just got to know each other.
Once again, it's the same thing. Matt has a system. He's been very successful with it. We'll come in and learn the system and we'll do the things he's been successful with. We'll interject some things here and there. Didn't know Matt before I got here. Seems to be a very good guy. Heard a lot of good things about him.
When I was at USC, we played Penn State in the Rose Bowl. One of the games that we studied a lot going into the Rose Bowl was the Pittsburgh-Penn State game. Pitt actually beat Penn State. So, of course, we did a lot of study on that game. That was Matt's system. We talked about that a little bit.