Danny Etling has been the other guy.
Now, he's the guy. 
Etling, two years after losing his starting quarterback job at Purdue, usurped Brandon Harris on Saturday night and jump started LSU's offense to three straight scoring drive in an eventual 34-13 win over Jacksonville State.
Coach Les Miles has opened up the quarterback competition, and he indicated that Harris' role on the team might never be what's it been the last 14 games - as the starter.
"I think Brandon, we had to get him comfortable and settle him down," Miles said. "I don't know that that will happen. Depends on how this quarterback competition plays out."
Etling completed 6 of his first 8 passes, helping the Tigers turn a 3-0 deficit in the second quarter into a 27-10 halftime lead. Etling, an Indiana native, started as a true freshman at Purdue before losing the gig as a sophomore in 2014. He transferred to LSU last summer and sat out last season in accordance to NCAA rule.
He met with reporters after the win Saturday night, discussing his time as a Boilermaker, his feelings on Harris and his performance.
What did Les Miles say when he put you in the game?
It was just decided that we were going to make a change at that moment in time. He didn't say much. He just said, 'Go out and be yourself and make some nice decisions and put us in a position to win the game.'
Were you nervous?
May be a little bit. I've kind of done it before. Been on both ends of the spectrum on that one. I just wanted to go out there and win the game for our team.
One of your first passes was to DeSean Smith, a 46-yard touchdown. What did that feel like?
It was a pretty cool feeling. It was pretty nice, especially because we were down at the time. It was nice to put us in a position to succeed.
LSU didn't need Leonard Fournette.
Did you have any idea this week you'd play tonight?
I always expect I'm going to play every week so if it does happen, I'm not caught off guard.
Did anything in the game surprise you?
No. Nothing too much. Would like to have a couple of plays back. I think we're going to keep improving next week.
You seem to throw more to backs and tight ends. Is that designed or check-downs?
I think it's a mixture of both. I couldn't tell you right now until I see the film. It's a nice mixture of coach making some nice playcalls and me going through my progression.
Did you feel the energy from the crowd when you entered?
I think we have a nice team, a good team. I think they'll rally around whoever tries to be the next man up. I think they did that for me today.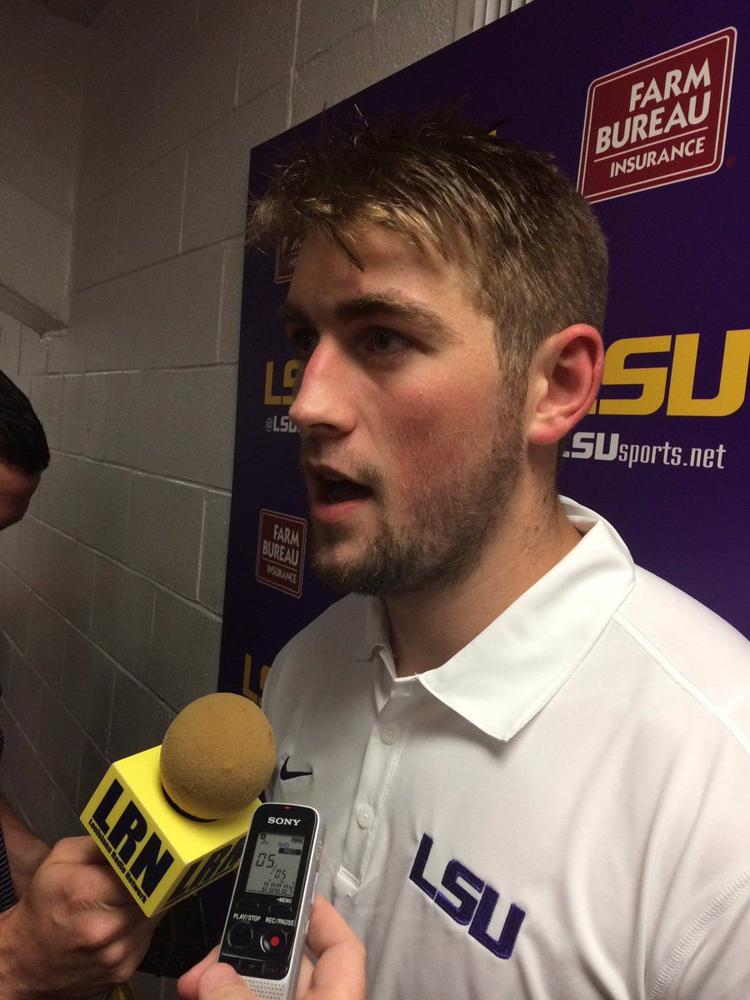 Did you and Brandon talk during the game?
Yeah, he was very supportive of me during the game. He's a great teammate and really wants to win.
What happens now at quarterback?
I imagine that we're going to keep competing at all times. If I start off slow, then they'll try and go a different way. It's all about production and making good decisions for the team. If I'm not doing that, I'd expect them to make a change as well.
At practice this past week, did you take more of a role with the starters?
I took some snaps here and there with the first string, but they always kind of do that with me as well, just in case.
Do you expect to take more starting snaps this week?
I'll just do whatever the coaches say, this fresh after the game. Whatever they, kind of, tell me to do, I'm going to do.
You lost your job a couple of years ago at Purdue. Now, here you are. Take us on this emotional journey you're on.
Football will bring you to your knees sometimes. It will be sad and it will knock you down, but if you don't love the game, you can't really bounce back.
I was a young kid at Purdue. I've grown up a lot in the last year, and I've been on both ends of the spectrum. It's never fun. This position, it's one of criticism. It's one that's going to bring a lot of attention as well. Obviously, you take it with a grain of salt and keep rolling.
What did you learn from the time at Purdue?
Learn how to prepare for games. Learn how to be a college quarterback and try to act like a pro at times and do your best for the team to win.
How did you do today?
I had an OK first half. I would have liked to have a much better second half. Then again, I'm not too worried. I think we're going to keep improving as a team, and, I think, I'll bounce back next week.
What happened in the second half?
Nothing. Just missing throws here and there. Would like to have a couple of ones back. I wasn't too down on many of my decisions. I've just got to make some better throws. If I do make some decisions, they need to be A-plus throws.
Did Purdue prepare you for this situation?
I think so. A lot of the plays we had tonight – special teams, defense – I didn't really get in high school or at Purdue. It's nice to, kind of, be a part of a team win like this.
You feel like this is such a great supporting cast that you just have to get the guys the ball?
To an extent, you just want to be a facilitator. At times, you're going to be asked to do more to win games. At times, you're going to be asked to do what's needed to win the game. That's something you have to find out during the game.
How different do you feel as a quarterback today than you did the last time you played?
Worlds of difference. I'm understanding where to look. I've had great coaches at both places. I've just kind of grown up and got more accustomed to college life and being more adjusted.
When Cam Cameron sold you on coming here, was this part of the vision?
I don't know if this was the exact vision. He told me that 'You'd be part of a winning program.' That kind of appealed to me and I'd get great coaching.
Les, after spring, said 'This is Brandon's team.' What did he tell you about the competition after spring?
He always wants competition at every position so he said to keep competing and keep pushing each other.
Did you have any idea where you were in the competition during camp?
Honestly, I didn't really focus on the competition too much. I just focused on getting better. Football is a long journey and if you don't keep improving, then, when you get your shot, you won't be ready.
Having been there, do you empathize the position Brandon is in right now?
Yeah, I empathize a lot with him. It's not a fun position. It's terrible. It's something that, maybe, only quarterbacks can understand. It's something that I definitely understand. I really wouldn't wish it upon anyone, but we're definitely going to need him this season to keep improving.
As you were about to come in Donte Jackson returned a kickoff, but it was called back for holding. What was that moment like?
I should probably take Xavier (Lewis) for the penalty. But … I think that it showed me what LSU is. It's a good team win, good team wins all around. You're going to have help in all three phases. Sometimes, people can forget that.
What did you see from the defense on that touchdown to DeSean Smith?
Once (the defense) motioned over, I was kind of able to identify what defense they were in and I was able to narrow down my read to high-low. DeSean popped up and I was able to give him the ball.
Appeared you knew where to go with the football, quick decisions. You felt that way?
Yeah, it was pretty clear out there who was going to be open and what the defense was trying to do. There were some errant throws here and there, wish I could have them back.
A couple of throws you attribute to rust?
The ones I want back, obviously the interception I want back. Got to put that one out there (farther) or get it to the check-down (receiver). There's a flat throw that I overthrew. We had a couple of ones, the last one to Malachi (Dupre). Would have liked to put more air on it or get it to the check-down.
We had some plays where I think I could have put it on a guy better. Maybe he would have made a better catch.
You watched last week's game on the sideline. The offense struggled. How frustrating was that?
When you're not able to be on the field, it's tough to, kind of, be still … it's frustrating to not be on the field, I guess, to support your team, even though you've put in all of the hard practice. It was frustrating, but I also could see how the game … I thought we were going to win it.
Did you feel the energy in Tiger Stadium change when you entered?
Yeah, people were kind of cheering. We're trying to get a play called. That wasn't always great. Tried to get everyone quieted down and go about our business.
Did you expect to come in as early as you did?
I always expect to play, all but the first play, in case anybody gets hurt. I want to make sure I'm ready for our team, make sure we don't take a huge step down.
Why do you think you lost the job at Purdue?
I don't know. I've done a lot of introspective thinking on that one. It's a mixture of things. Maybe I wasn't ready when I first played. I battled some injuries as well. Maybe I wasn't the best thing for the team at the time. Hopefully I've improved and can be what this team needs me to be.