LSU president F. King Alexander met with The Advocate's Editorial Board on Wednesday, mostly discussing higher education funding.
But he spent the last 15 minutes of the hour-long meeting answering questions about the LSU football — the firing of Les Miles and Cam Cameron, the search for a new coach and the future of interim coach Ed Orgeron.
This is the Q&A version of that interview. If you missed the story published Wednesday night, you can find that here:
The "demoralization" and "concern" from LSU football players played a role in the firing of …
Why did university leadership make the decision to fire Les Miles four games into the season?
I think that there were a number of reasons. Certainly, the players were getting … student athletes deserve the best opportunity possible, just like any of our students do. There was a degree of demoralization that our student-athletes were showing. We just weren't getting better. When you started (ranked) 5th with the optimism that everybody had, including our student-athletes and you're still in September and we're not even in the top 25.
It was clear that our student-athletes had their concerns, not to mention the fans, not to mention the concerns that kind of spread from last year. (We were told) things would change. And they pretty much stayed the same. We wanted to salvage …We wanted to give our student-athletes and students the opportunity to salvage this year. The dialogue we had was, 'Let's not give up on this year. Let's do something, perhaps we could re-energize and salvage the year before we had student-athletes giving up on it.' That was the nature of the direction.
If Les Miles' rope was so short, why not fire him after last season?
I think there was … well, there was the whole idea that he had a strong team coming back. Most of our players were coming back. He deserved a chance to make some changes and come out fighting and come out with the expectations and meet a lot of those expectations a lot of people had (for) this team.
It just didn't manifest its way out. It was going in the opposite direction and rather quickly, much quicker than anybody could anticipate.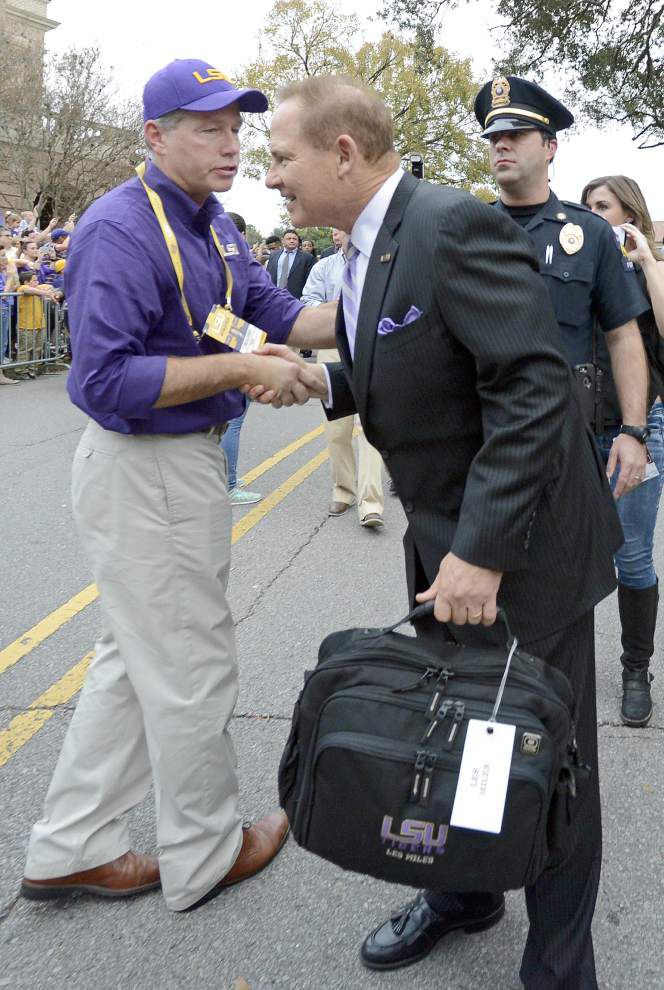 Did y'all talk to him after the loss to Wisconsin in the season opener?
I don't go around talking to the coaches about their jobs. I'm sure Joe did. I'm sure everybody down there was concerned about the lack of (production). We hadn't scored in the fourth quarter and that continued. Wisconsin was a good team, but that wasn't one of Wisconsin's better teams, having followed them for a long time.
I don't tell coaches what plays to run. I don't go down and say, 'Coach, you've got to pull together.'
When did the decision process being after the Auburn game and how?
There certainly were calls after the game. I called a couple of my Board (of Supervisors) members to see if they watched the game. Joe Alleva called us and said, 'We're going to need to talk about this tomorrow.' We met on Sunday and made the decision.
What were the options for y'all in regards to whom to fire? Les Miles only. Cam Cameron only. Or both, as you did.
All of the above. They've been good friends their whole life. You know their relationship is one … they're both going to stick together.
It was a package deal is what you're saying?
That's the way I understand it. I do know that there was concern about the offense last year, and there were many people who wanted to see a new kind of offense. We kept the same people in play. We changed the defensive coordinator, but we kept the same kind of structure in play (on offense). It played out like it did.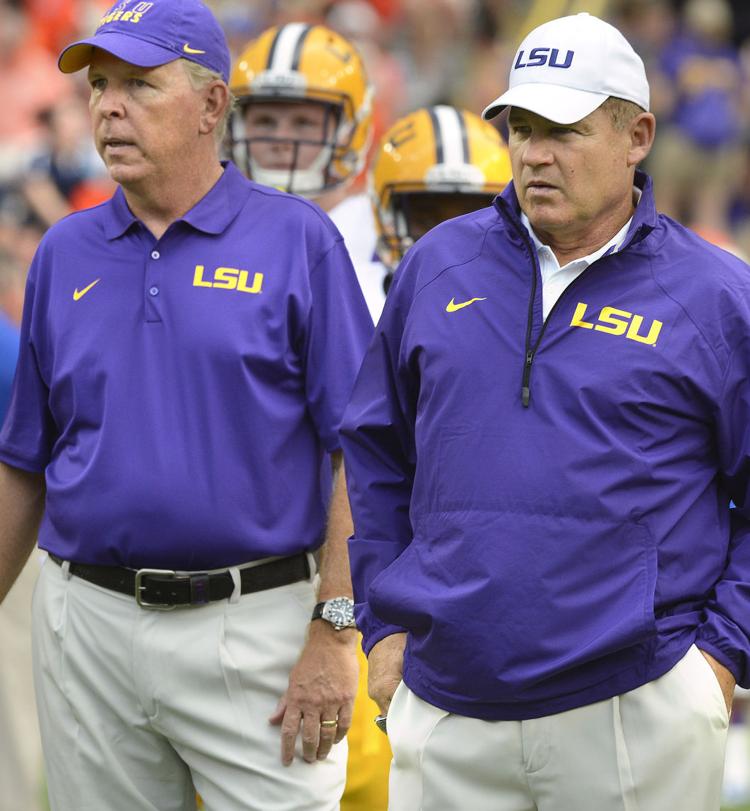 Do you think Les Miles should have fired Cam Cameron after last season?
That's Les' call. I'm not the coach. It's a coaching call, and I don't tell coaches who to fire and who to hire. And I hope they don't tell me.
What's your role in the search for a new coach?
I believe the way I see it happening is a recommendation will be made to myself and a number of my board members that are in the leadership and we will make the decision when we need to make a decision.
So you're hands off?
I'm leaving it up to Joe (Alleva) to get us some very good candidates.
Mark Emmert had a big hand in bringing Nick Saban here. You're going to let Alleva handle it?
I think we're the best job in the country. I think that … I know that a number of us are looking at coaches right now. It's early in the season. As this progresses, we'll have more discussion about it as the season progresses.
Everybody's talking about the coach at Houston. Apparently he's a very good coach. Houston could drop six in a row.
They're talking about other coaches. I will have as much of a role in it as I need to. If it requires me recruiting a coach, I will. I have student-athletes come to my office all of the time – basketball players, football players, coaches. When I need to get involved, I will.
And I follow college football. My three brothers played college football. I grew up watching Florida Gator games. My brother played quarterback for (Steve) Spurrier. (I'm) not totally lost in this arena. I've known many of these coaches for a long time.
You see this as an attractive enough position that it will draw applicants?
I think there are some great coaches who will crawl on their hands and knees to come to LSU. I know what our spending level is comparably. We're one of the best programs in the country in terms of generating revenues. We have the best fan base in the country, best facilities in the country. Knowing what other institutions have … I think some of the best, most talented young coaches would crawl on their hands and knees to come to LSU.
Has the search started?
Feelers are out there. I know that calls are being made. I don't know specifically to which coaches. It's early October. It's a pretty silent world because those coaches don't want them to know that they're talking with anyone else. It's a pretty confidential world.
Have you hired a search firm?
No, we haven't. If indeed the firm can protect the confidentiality of other coaches, it may be necessary. Otherwise, I think we'll get an ample crop of great coaches who want to be here.
Does Ed Orgeron have a chance to keep the job full time?
Ed has as much chance as anybody. I'd love to see Ed turn this around for our players and students and win every game for the rest of the season. That would be wonderful.
It would be really good for us, here. We really need a boost and the boost (with Miles) wasn't what we thought it was going to be, and of all times our community needed a shot in the arm, something to hold up high.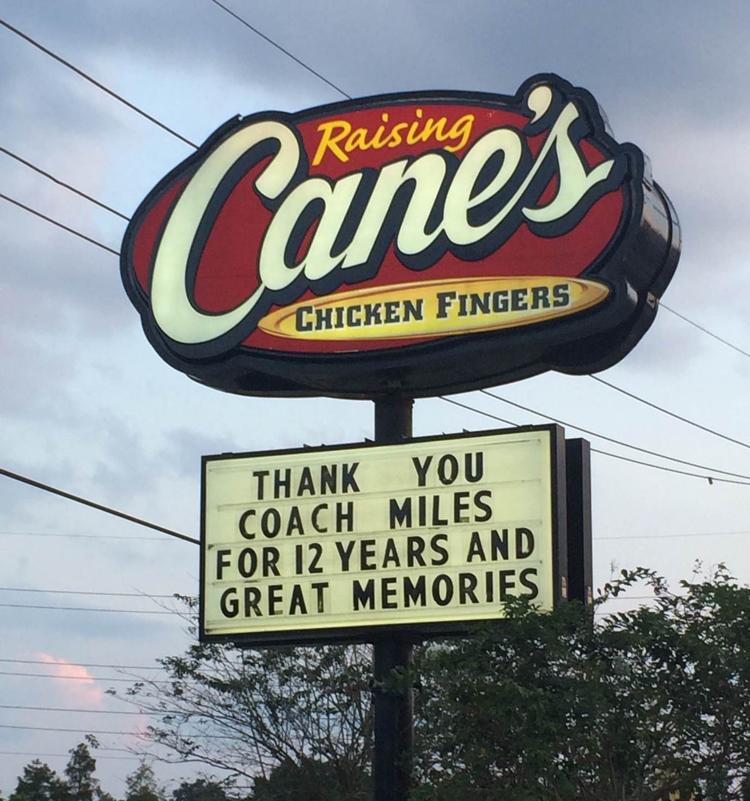 Have you spoken to Les since the decision?
I haven't seen him since the decision.
Did you tell Les that he was fired?
No, Joe did. That's Joe's job. I don't go around my deans and vice presidents and my AD. They have a role to play in this. They ask me what I think, and I ask my board what they think. We communicate that way.
Salaries for head football coaches are astronomical. Is there a dollar figure you refuse to surpass?
I can't say that. I'd like to put a cap on all of them, before we're paying a million a year to a punting coach. Or I'm going to be that punting coach.
The board did ask me when I got here, 'How long would you stay here?' I said, 'As long as it takes, to become an assistant football coach.'
This environment is so fluid … I remember in 1999, I was at a Big Ten meeting. I was with the president of Wisconsin. The Big Ten agreed to put the breaks on all of this spending. Everybody got into a huddle and agreed to do it together collectively. It took about eight months until somebody hired a big-name coach and just blew open the treasure chest again. I think this is one of the biggest issues we face in intercollegiate athletics, and there is a degree of interest in effectively slowing down the spending. I think if we did, we'd see those other conferences put the brakes on it.
Ten, 15 years from now ... Mississippi State, Vanderbilt and Kentucky are already spending half of what we spend. They're going to be spending one-fifth of what we spend. Take three-fourths of the ACC, three-fourths of the Pac-12… there's no way Washington can keep up with Oregon in spending. That's a Nike-sponsored pro team.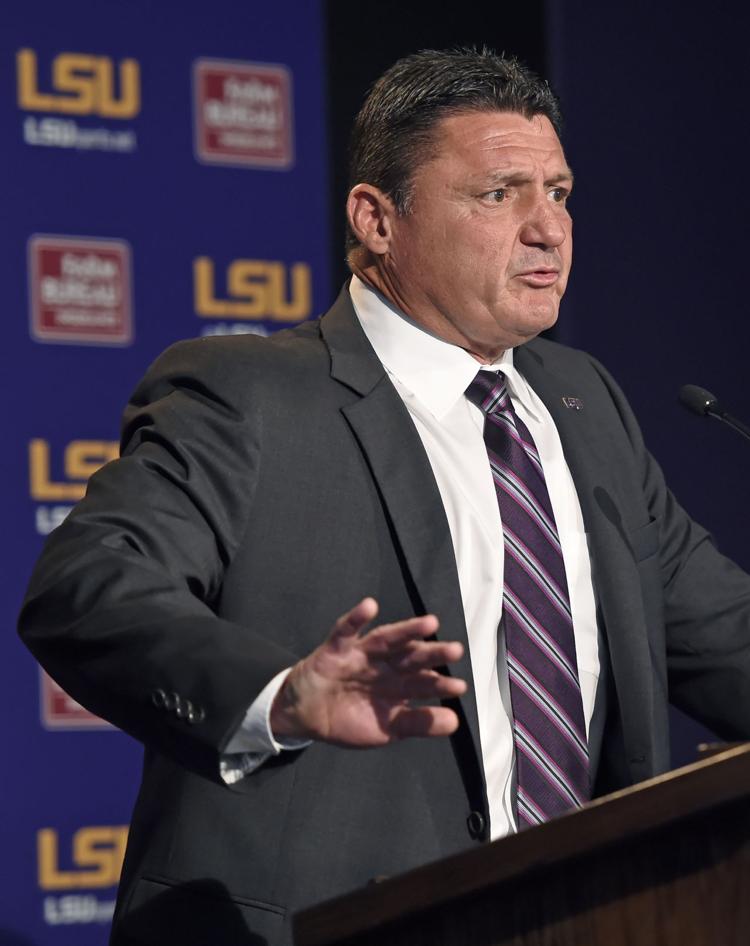 I worry about the future of these leagues. How is Duke going to keep up with Clemson? How is Mississippi State going to stay in the game? We can justify spending $120 a year in athletics because we generate $138 million, but we're one of the few.
It's just ironic that we generate $120 million in athletics and that's about as much as we get from the state to run the university. Something is wrong with this picture.
Are you concerned with having to pay Les Miles $9.6 million in buyout money while you have 300 vacancy in faculty?
Certainly the buyout was manageable and it's over a six-year period. We wish Les the best, and I think we'll see Les coaching somewhere. Once that happens then it … it (is mitigated).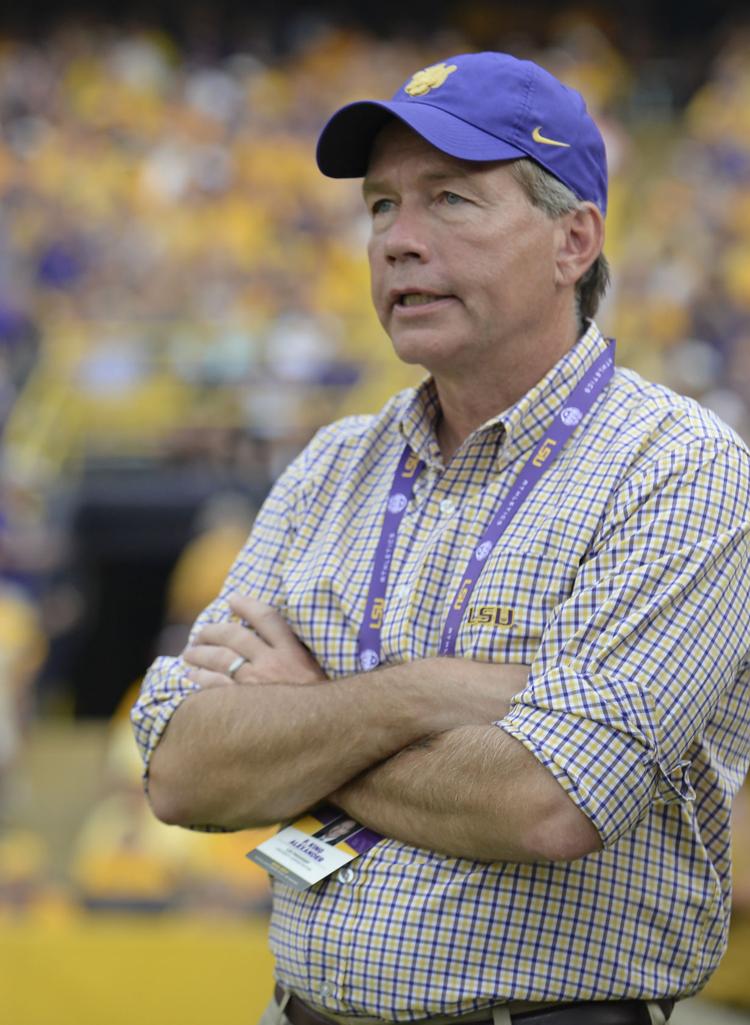 I know it's not state money, but it's hard to get people to understand right?
We've talked about that. It's hard to get legislators to understand. Even though it's not state money, they think it's all coming out of one pool. Any time you make a decision like that, I worry about people saying, well, we're only 20 percent state funded, but they think we're 100 percent state funded.
Les Miles' buyout was bigger last year. How big was that in keeping Miles last year? Just, the state's budget climate and how it looks when you walk in front state legislators after spending that money.
It's always a factor, and it's a factor I certainly weigh. In fact, we were rolling into a mid-year budget session right after that. I can't help but think and worry about those issues as well. We'd be defending ourselves to the state legislature. It does play a factor in all decisions. It didn't weigh any heavier than all of the other ones.
Nobody wants to do it either, nobody wants to do what we had to do.
How would you evaluate Joe Alleva?
We've gone from being in the red to being in the black athletically. A lot of these decisions would be … if you take a look at two universities right now … (Cal) Berkely has a $22 million deficit just in athletics and they are getting chewed up by the faculty wanting them to drop programs. There's another institution out there looking at a comparable deficit. They become big targets.
By us generating far more than we spend - in addition to the athletic department, one of the few giving back to the university - that's a pretty big variable. Things are going pretty well for us. Joe has turned our ship around to get us to that point.
If we start losing and people stop buying tickets, then it becomes a different issue because we end up in a situation like Berkeley, who expanded their stadium and now can't figure out how to pay for it.
Were you afraid that would happen here without the firing of Les Miles and Cam Cameron?
That's always a concern. Your fan base, game experience … that's why we're renovating the concession stands and bathrooms underneath. You want to make sure they've got the best experience possible and are coming back. It's becoming far too easy to sit at home and … think of the hit to the Baton Rouge economy if everybody decided to stay home.