For a week of preseason camp, LSU's offense hummed along without its starting center, Will Clapp, and its starting left tackle, K.J. Malone — arguably the two most important positions on the offensive line.
The result: a handful of touchdowns, several hundred yards in rushing and, even, a few TD completions.
"It really shows me and K.J. are irrelevant pretty much. Right, K.J.?" Clapp said Tuesday, barking at his teammate while surrounded by reporters in the program's team meeting room. "They don't need us, still put up a lot of yards. These young guys can step up right away."
Clapp was joking, of course. Everyone had a nice laugh.
In all seriousness, though, Clapp returned to practice, going through drills Monday after missing a week with an undisclosed injury he suffered in the first scrimmage of camp on Aug. 5. Malone rejoined the team over the weekend, back from a week of resting a knee he injured during the first week of camp.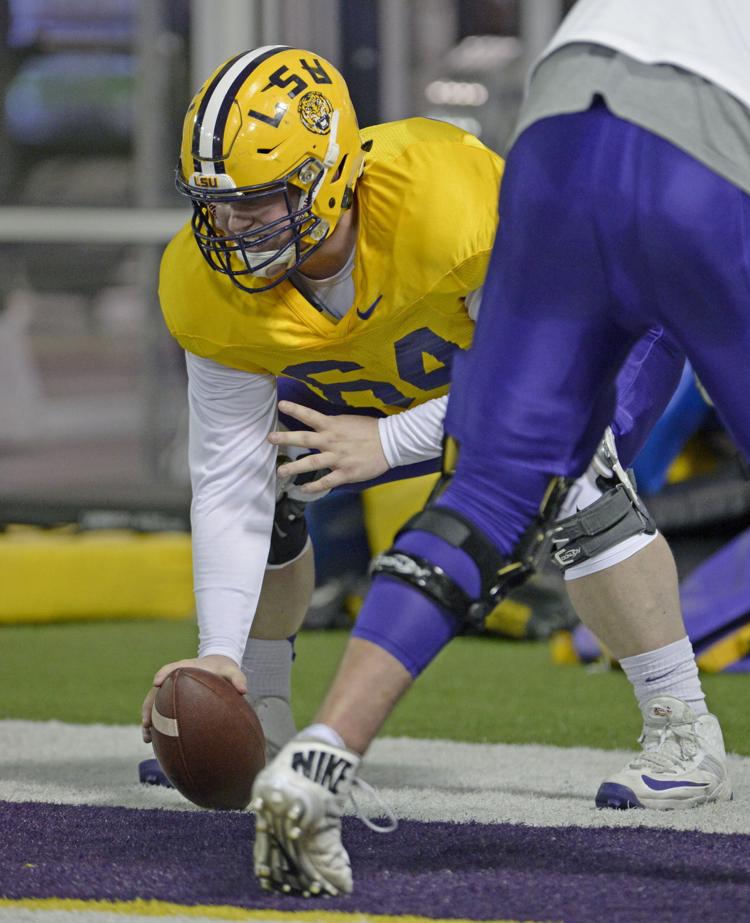 On Monday, LSU practiced with the entire projected starting offensive line since the first couple days of camp: Malone at left tackle, left guard Garrett Brumfield, Clapp at center, right guard Lloyd Cushenberry and right tackle Toby Weathersby.
"By having everybody back has been a great feeling," said Weathersby, who as well missed some time, including that first scrimmage, with lingering injuries. "We were the ones who played last year together and having everybody be able to fit that puzzle piece and come back together, it's been a great feeling."
It's welcome news for a thin offensive line, a unit that needed to thrust as many as three true freshmen in the starting group during that opening scrimmage. In fact, at some point during camp, as many as four walk-ons played on the second-string offensive line — the result of injuries and five linemen transferring from the program over the offseason.
Not seeing the video below? Click here.
It took Lindsey Scott less than 24 hours to find a new home.
The most important piece missing had been Clapp, the redshirt junior who's moving from guard to center. He declined to reveal details of his injury, suffered in that first scrimmage on Aug. 5, but he did say that it did not involve the shoulder he had surgically repaired over the offseason. His shoulder is "feeling perfect," he said.
"It's good to be back," Clapp said. "I was taking a lot mental reps, back in the swing of things, taking reps, knocking off a little bit of the rust that accumulated after having a week off. Being back in it is definitely fun, being back out there with the guys."
They like it, too.
"He knows the offense like his hand," Malone said. "It's weird when he's not out there."
Freshmen are still seeing some work with the starting group, Malone said Tuesday, as coaches prepare for the potential of mid-season injuries. After all, what offensive line makes it through a season in the Southeastern Conference fully intact and healthy?
Last year, for instance, eight offensive linemen saw significant reps, including then-backups Brumfield and Andy Dodd.
Rookies like Ed Ingram, at right guard, and Saahdiq Charles, at left tackle, have proven to coaches, Orgeron said Saturday, that they can "play like starters."
"They're physical. They're not scared to hit," Malone said. "They don't play like freshmen."
But it's good to get back the old guys, right? Right.
One of them has a new hairdo, too. Clapp shaved his Mohawk, something his father, former LSU defensive lineman Tommy Clapp, was rooting against.
"He did a Mohawk (at LSU)," Will Clapp said Tuesday. "He wants me to do the Mohawk. I hate doing the Mohawk."
Sheldon Mickles contributed to this report.
With the announcement that LSU redshirt freshman Lindsey Scott of Zachary is transferring, h…