Travonte Valentine heard the voice of Ed Orgeron first.
"Valentine!" Orgeron yelled in his Cajun twang. "Get in right now!"
Valentine raced from the sideline and into LSU's season opener Saturday a series earlier than he was scheduled to play. The hefty nose tackle had waited more than 18 months for that moment, and it came early. Starting nose tackle Greg Gilmore lost his helmet on the second play of the game.
"Soon as he called my name," Valentine said, "I just ran in there. I was focused, ready."
Valentine, the highly touted Miami native who the Tigers dismissed last summer but allowed to return a month ago, spoke to reporters, in an official setting, for the first time since he first arrived at LSU in the summer of 2014.
It's been a winding road back to Baton Rouge since then: He enrolled at Arizona Western junior college, played in six games there last fall before an arrest led to his dismissal; he landed at Mississippi Gulf Coast Community College in Perkinston, Mississippi, where he got "focused and prepared" to return to Baton Rouge, he said.
And, now, here he is — all 355 pounds of him, playing about 34 snaps Saturday for a squad with lofty aspirations. Those goals aren't shot because of the season-opening loss, Valentine insisted — no matter what fans or reporters say.
"People have their opinions. To me, it's our first game," he said. "It's by two points. Everybody made mistakes, but I don't think anybody should be judging by this game. Wisconsin is not a bad team at all. They're really a great team. I could see them doing good this season."
In a 10-minute interview, Valentine discussed his route back to LSU, how Arizona Western was "the wrong school to go," and how he regrets mistakes made the first go-around in Baton Rouge. He spoke about fatigue during his first ever major college game — he began to tire in the second quarter — and about his weight.
He hopes to lose 25 pounds in four weeks. How? Don't eat dessert or greasy foods, he says.
Here's more from Valentine:
How would you describe the last few months for you?
It was pretty rough. Game-planning, trying to get back here, working hard, staying in classes, doing everything I'm supposed to do. It was all a process, really. Now I'm here, just focused on being here, focused on playing with my team.
What did you do right and wrong Saturday?
Because I was getting tired, I should have just stayed and run more (after practice), conditioning. Today, I did eight, nine (110-yard dashes) today. Just so I'm alright and prepared for Saturday.
How different was the competition than in the past?
It's a lot. It's aggressive, physical ball. It's intense too. While you're doing that, it's not like junior college where you're bullying or high school, where you're bullying everybody. It's real ball.
Did you think you'd come back to LSU after going to Arizona for junior college?
I've been saying that since I was there. I'd been wanting to come back here ever since I touched down in Yuma (Arizona). I said, 'As soon as I get finished with everything, get everything situated, I'm going back to LSU.' That was my mindset. That's how I felt.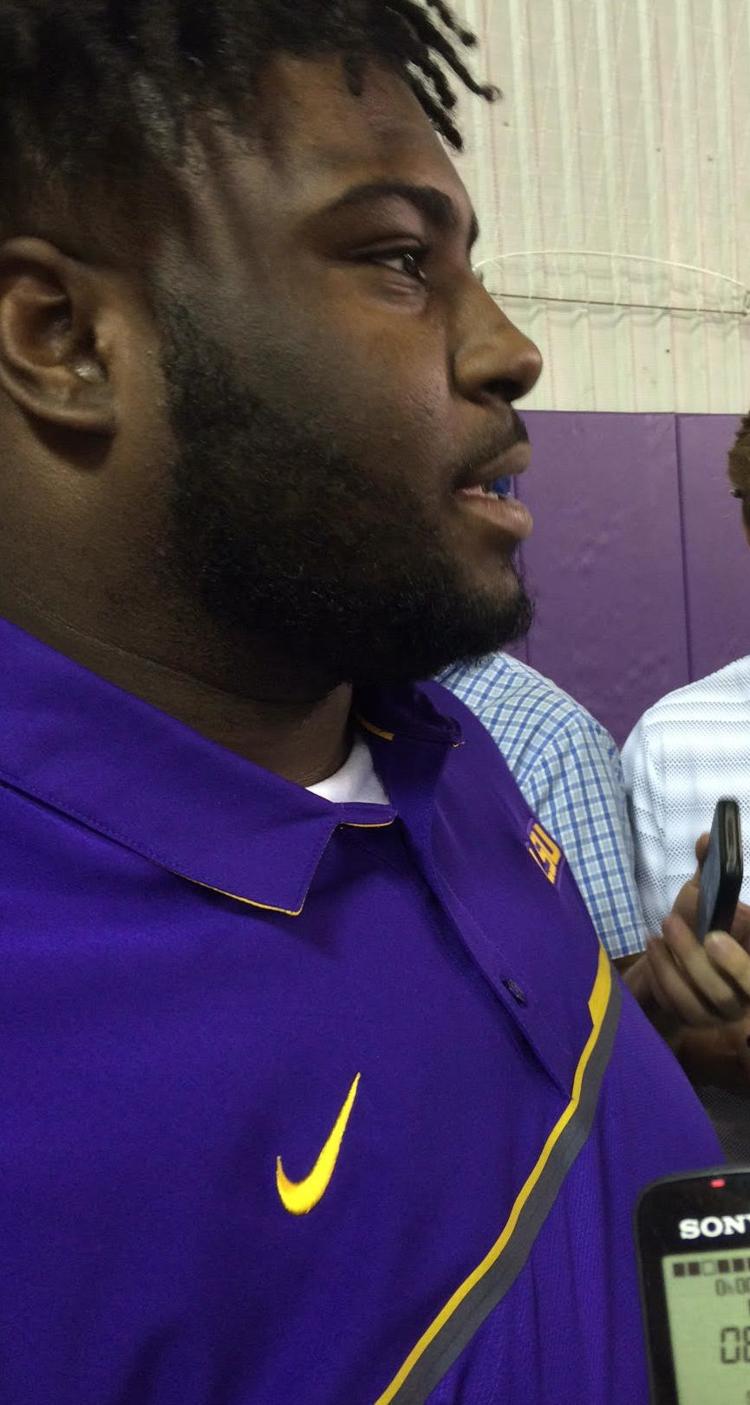 Why did you feel that way?
I left something here. I felt like, I didn't want to go out that way.
Les said he didn't think you'd be back. You had to convince him?
No. I just had to show him I could do the work, stay away from the bad habits, what I used to do. Really just stay positive.
What happened last time you were here?
I just made some bad situations that, to be honest with you, I can't really explain too much of them. It was a lot.
Do you regret them?
Most definitely. I regret a lot of them.
Brandon Harris' first pass flew high of receiver Malachi Dupre, careening off the receiver's…
How, while at other schools, did you prove to Les Miles you were ready to return?
Yuma … that was the wrong school to go to anyway, but when I was Mississippi Gulf Coast, I was really focused, prepared, going to class and doing what I was told to and listening to the coaches there. They were preparing me to come here. It prepared me to go to any school I want to. Mississippi Gulf Coast, that's a pretty good school. It's a lot of focus.
You didn't play at Gulf Coast though right?
No, not in a game. I played spring. I wish … if I had a chance, I wish I would have played with them. That's a physical football team.
Were they upset you came here without playing for them?
No … we all talked, all had an agreement that I have to do what I have to do for my family. Everybody had to agree to it.
You're at 355, but where do you want to be?
My goal is to be 330 in about four weeks.
How do you do that?
Maintaining, eating good, healthy, running 110s every day, listen to the trainers, work out with them twice a day. It's preparing yourself, preparing your body. Your body is a temple.
After LSU's offense sputtered in last week's 16-14 loss to Wisconsin, coordinator Cam Camero…
Was Saturday rough for you?
It was, first game playing in the SEC, playing in a real national college football game, but I felt like I handled it pretty well. My grade was a C. I really think I can be better than that.
You talked about getting tired. When did you start feeling tired?
I was getting tired probably like in the middle of the second quarter. It was consistent. Coach wanted me to keep going and going and going, which I understand when he sees somebody, you know, maintaining the middle and holding their block up. I could understand being in there that long.
How much of an eye opener or wakeup call was the junior college experience?
It was a lot. You just … being there and being here … not saying it's a total downgrade, but it's different.
When did you first talk to Les about returning?
I don't remember. A while back. I was talking to one of the coaches. Exchanged words with him. That's how everything sort of happened.
You feel like you're playing catchup since you missed summer and camp?
Not really. I study my playbook every day, watch film every day, even after practice. On top of that, I'm really focused and ready. I know what I'm doing. I don't think it's a catchup at all.
What good and bad things do you take away from that game for the defense?
Our get-offs. We have to get off the ball strong and low and faster than what we did. We all took our time, at some point, on getting off the ball. We have to get off fast before they chop us or block us.
Your freshman season here. You practiced with LSU in the fall, but the SEC never ruled you eligible. How tough was that?
I just tried to, throughout the week, maintain, keep a positive attitude, doing very well on scout team, give the offense a great look, having them ready, having them prepared.
Was there a moment you were ready to give up returning here?
I had my doubts, but, at the same time, I had to remind myself where I was at.
What do you mean where you were at?
Being here, at LSU. LSU is home. It's a great place to be. It's really, I don't see why other people would choose a different school than being here.