Lowell Narcisse just wanted to speed up LSU's search for an offensive coordinator. 
And it worked, too.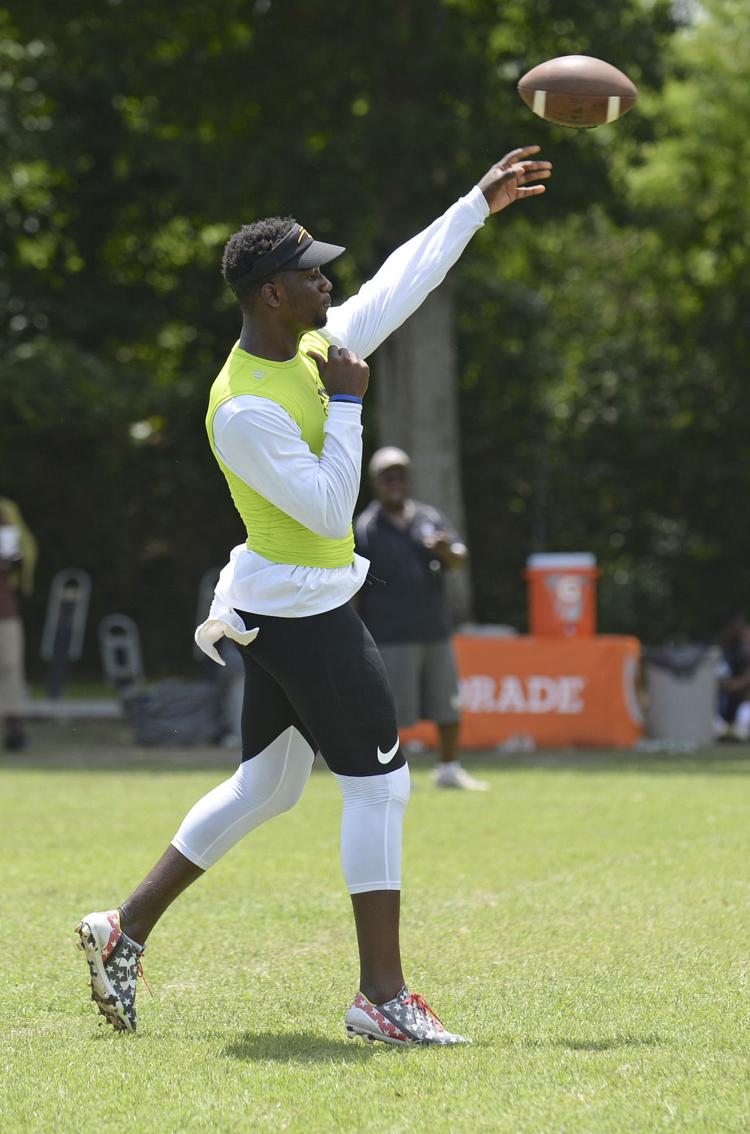 Narcisse, a four-star dual-threat quarterback out of St. James, recommitted to LSU on Monday a week after he pulled his verbal pledge and five days after the Tigers introduced their new offensive coordinator. 
Narcisse posted his re-commitment message on Twitter and then called into ESPN radio's "Culotta & The Fan" on WNXX-FM, 104.5, on Monday morning to elaborate on the past week. He admitted to pulling his verbal pledge to speed up LSU's search for an offensive coordinator. 
"I wanted to help coach (Ed Orgeron) speed the process up by opening my recruitment and force him to move the process a little faster, and he did just that," Narcisse said. 
LSU hired Matt Canada last week as offensive coordinator, hiring away the Pittsburgh OC to remove any uncertainty surrounding the Tigers' future offense and locking up a pair of quarterback prospects. Narcisse's recommitment to the program followed a similar move from St. Stanislaus quarterback Myles Brennan, the 10th-best pro style quarterback in the class who shut down his recruitment last week.
Brennan is expected to enroll in the summer, but Narcisse, the eighth-best dual-threat quarterback in the class, is scheduled to graduate early and enroll at the midyear in January. Narcisse is recovering from his second torn anterior cruciate ligament in his knees. He tore the right ACL in August during a jamboree. He tore the ACL in the left knee in May 2015.
He is "on track" to participate in spring practice at LSU, he told The Advocate in an interview Monday. Meanwhile, he's shut down his recruiting process.
"It came down to LSU and Auburn. I decided I wanted to stay close to home," said Narcisse, who had offers from Auburn, Alabama and Clemson among others. "It's officially over."
Narcisse's commitment moves LSU into the No. 4 spot in 247Sports.com's composite team rankings for 2017. The Tigers jumped two spots and are now trailing only Alabama, Ohio State and Georgia. They've got 20 commitments six weeks before national signing day after this recent surge in recruiting.
Alabama linebacker Monty Rice and Stephen Guidry, the top junior-college receiver in the nation, both committed to LSU last week. Rice, like Narcisse, will enroll in January, joining several other commitments expected to join in the midyear, including offensive tackle Austin Deculus, defensive backs JaCoby Stevens and Grant Delpit, defensive end Justin Thomas and receiver Mannie Netherly.
Matt Canada didn't a waste any time contacting one of most important pieces to LSU's 2017 re…
Canada's hire last week appears to have calmed the choppy waters around LSU's offense. Brennan re-opened his recruitment a few weeks ago amid the uncertainty surrounding the Tigers offense, and then Narcisse de-committed — both of them citing the unstable situation offensively. 
Narcisse and Brennan have developed a relationship over the past few months. 
"When both of us de-committed, we kind of hit each other up," Narcisse said on WNXX-FM, 104.5. "We talk and check on each other every now and then."
As for competition with Brennan, Narcisse said, "You're going to have to compete anywhere you go. Competing is not a problem for me."
Canada runs a variable, multiple offensive system that's been led by a variety of quarterbacks, pro-style and dual-threat. Canada and Narcisse spoke in the past few days.
"I got all of my questions answered," Narcisse said. "I asked him how he wanted to plan spring ball and how he sees me progressing in his offense. He says he just wants to develop me in his offense."
Canada and Orgeron weren't the only ones involved in recruiting Narcisse. Receivers coach Dameyune Craig and running backs coach Jabbar Juluke spent time with him.
"They are going to help me not just on the field, but in becoming an even better man," Narcisse said.