Ed Orgeron's sweeping changes at LSU aren't just relegated to current players and staff members.
The program's interim coach is opening practice to all former players and inviting them to join the team's traditional walk down Victory Hill before home games, according to an email the university sent to ex-players that The Advocate obtained.
"As many of you are aware, we have endured a major change on our LSU Football coaching staff. At this time, Head Coach Ed Orgeron will take over as commander and chief," Kristen H. Cain, in charge of LSU's special events & community relations, wrote in the email.
"After speaking with him briefly yesterday morning, his vision is to empower our former Tigers to feel welcomed back on campus," the email, sent Tuesday morning, said. "Coach O would like to open practice to the former players for the rest of this season and would also like to make it available for our former players to lead the team down Victory Hill on game day. This will create the excitement that we all know follows the purple and gold and to continue the trend that we are all 'Tigers for Life.'"
Les Miles, fired Sunday along with offensive coordinator Cam Cameron, only sometimes opened practices to former Tigers, an LSU staff member confirmed. He did not necessarily invite them to practice, the staff member said. The coach is also opening up practices to all high school coaches. The walk down Victory Hill is normally reserved for current players and staff members.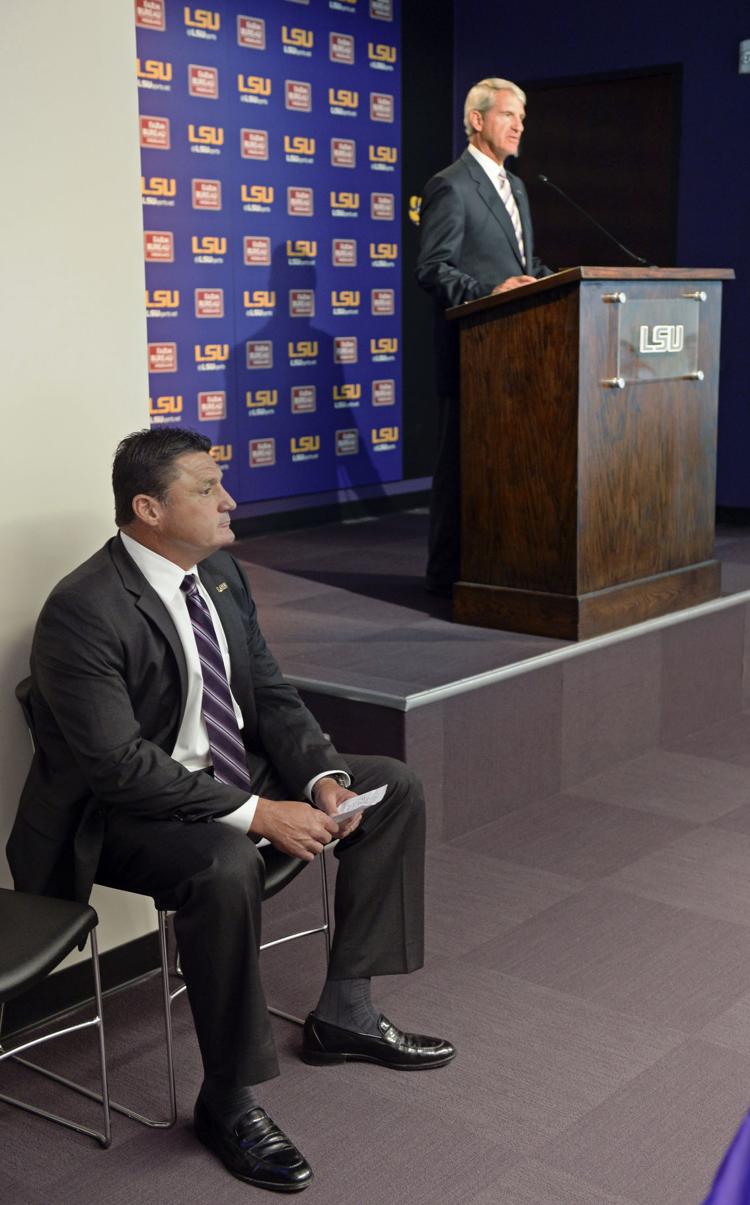 Orgeron is sweeping the program with such changes as these, "flipping the script," he says, in an attempt to re-energize a squad that recently slumped under Miles.
The 55-year-old Louisiana native appears to be doing the opposite of Miles. He's opening practice, at least certain periods, to reporters and shortening practice times so players are fresher for games. Monday's walk-thru, for instance, was open to reporters and lasted one-third the time (30 minutes) than a normal Monday walk-thru lasted with Miles as coach.
Miles hasn't opened to reporters an in-season practice since at least 2006, it is believed.
Orgeron is preaching offensive change, indicating the Tigers will spread the ball around in an effort to combat a problem here over the last two years: defenses loading the box to stop running back Leonard Fournette. Steve Ensminger took over for Cameron as LSU's offensive coordinator, and Steve Kragthorpe is assisting the offense.
On ESPN 104.5 FM Tuesday morning, Orgeron said there will be "an eventual change in the offense," with specifics to the passing game in the long term. In the short term, coaches are adding similar but more simplified plays to LSU's offense.
"We have one week to prepare so we can't put a lot of new stuff in, but we have some stuff that we've run at other schools that are similar to what we've done so the players can adapts to it really quick," he said on Culotta & The Fan. "There's going to be an eventual change in the offense, obviously in the passing game. Steve and I along with Steve Kragthorpe put in stuff that we think that will be successful."
On this Monday afternoon, LSU practiced in its indoor football facility.
LSU (2-2, 1-1 SEC) hosts Missouri (2-2, 0-1) on Saturday night in Tiger Stadium, a game set for a 6:30 p.m. kickoff on SEC Network.
Orgeron's changes go beyond the staff, the offense and practices. He's moving his weekly post-practice news conference, for instance, from Wednesday nights to Thursday nights.