HOOVER, Ala. — A decade ago, Ed Orgeron stepped to the dais at Southeastern Conference media days as the head coach at Ole Miss.
He fielded questions about his job security, discussed his team's shaky quarterback situation and talked about his intention to score more points in the second halves of games.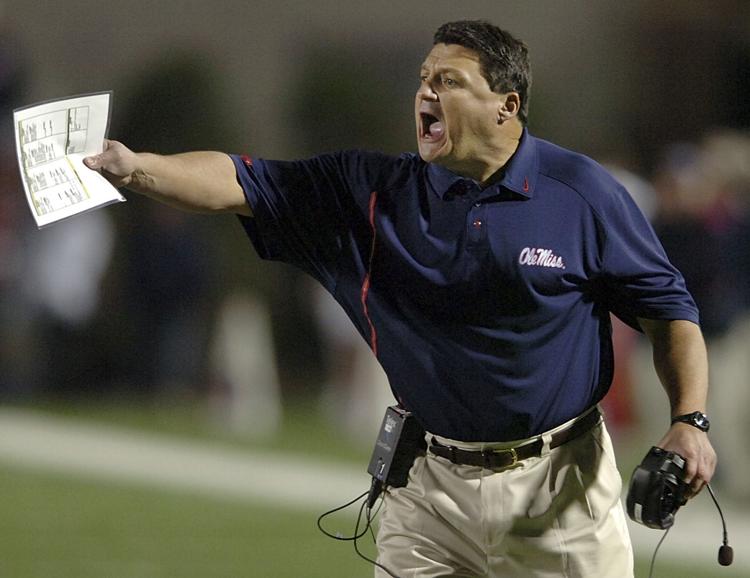 In opening marks to reporters then, he told the group that today — July 27, 2007 — was his birthday. He also talked about his twin sons, both of which were then participating in the Little League World Series.
He ended his opening statement with a remark that suggested the Cajun coach saw a bright future in Oxford, Mississippi.
"Today is my birthday. I feel better than I ever felt," he said. "I really feel this: that I can see some things on our team that I've seen on the championship teams that I've been a part of in the past."
Ole Miss fired Orgeron four months later.
The gravelly voiced Larose native returns to the conference's unofficial kickoff event Monday as the coach of a different SEC school. LSU's head man begins meeting with reporters at 2 p.m. during the opening day of this four-day media circus that plays out on the second floor of the Wynfrey Hotel in this Birmingham suburb.
For the first time in 12 years, it won't be Les Miles. His 12 appearances at media days are eighth all-time among league coaches.
For the first time in two years, it won't be Leonard Fournette. Fournette appeared at media days in 2015 and 2016.
The New Orleans native and current Jacksonville Jaguar has a replacement, too — it's running back Derrius Guice. The former Catholic High star joins receiver D.J. Chark and defensive tackle Christian LaCouture for a plethora of interviews — from nearly the time they arrive at the Wynfrey at 1:30 p.m. to the time they depart around 6 p.m.
THIBODAUX — Rarely does a college football player occupy the space that Jalen Hurts does — c…
They'll sign autographs for fans in the hotel's atrium, weave through reporters in the second-floor lobby and address hoards of media members in various ballrooms — some print, others for television and a few for radio.
Orgeron's return is long-awaited. He'll kick off the afternoon session of Day 1, taking the stage after Arkansas coach Bret Bielema and before Tennessee's Butch Jones.
The questions hurled at Orgeron won't reflect those asked of him 10 years ago. At that event, he spoke about his Ole Miss players. They're now blasts from the past: running back Ben-Jarvis Green Ellis, receiver Dexter McCluster, linebacker Patrick Willis and offensive tackle Michael Oher.
His first two Ole Miss teams in 2005 and 2006 won a combined seven games. He took over a program that was low on talent and depth, he admitted during that 2007 media days.
The Rebels played 17 freshmen in 2006 and had just 64 scholarship players, more than 20 below the NCAA maximum.
"By the time we went to Baton Rouge, we had 57," he said of Ole Miss' 2006 meeting at LSU. "We could have took one bus down there, but we weren't going to do that."
Oh, how things change.
He's got a full 85 scholarship players now — or close to it. Depth is only a real concern at a couple of positions, and talent is everywhere.
So what will the questions be? Here's a few that the Tigers' first-year coach might be asked:
How are you different now than when you coached Ole Miss?
Yes, Orgeron has answered this multiple times since taking over at LSU, but he'll have to again regurgitate the changes he's made since his failed three-year run with the Rebels.
What are expectations like after taking over for LSU's winningest coach?
Remember, Miles won 114 games, two SEC titles and a national championship in 12 years with the program. Despite 14 losses his final four years, these are big shoes to fill.
Talk about Derrius Guice and Arden Key.
Media days is infamous for producing dozens of "talk about" questions. Everyone wants to know about LSU's two stars: Fournette's replacement and the record-setting pass rusher.
Do you think it's right for coaches to block transferring players?
You'll remember that Orgeron blocked transferring tackle Willie Allen from joining TCU. Allen has since joined a Texas junior college and could sign with TCU next season.
Is there truth to you preventing in-state schools from hosting satellite camps with the likes of Texas and Michigan?
You'll also remember SI.com's story about Orgeron using LSU's political power in the state to sway smaller in-state programs away from hosting powerhouse programs for camps.