LSU is changing "everything" about its special teams, including not having a coordinator to run the units.
The Tigers plan to divvy up the special teams duties among five assistant coaches during the 2017 season, coach Ed Orgeron said Tuesday during a news conference ahead of the start of spring practice.
Spring drills begin Saturday and end with the April 22 spring game. 
Orgeron had hoped to hire a special teams coordinator when the NCAA approved a 10th full-time assistant coach this spring, but that move is being delayed, he said.
Offensive line coach Jeff Grimes, running backs coach Tommie Robinson, outside linebackers coach Dennis Johnson, defensive backs coach Corey Raymond and receivers coach Mickey Joseph will split up the special teams coaching duties. Orgeron will be heavily involved in coaching the units, he said.
There are more changes coming to special teams, too.
"Personnel will be changed, schemes will be changed, the coaching style will be changed," said Orgeron, who fired special teams coordinator Bradley Dale Peveto during his first full day as LSU's permanent head coach Nov. 27. "Everything we do on special teams will be brand new."
Longtime Saints special teams coordinator Greg McMahon will "coach the coaches" in a consultant role, Orgeron said, confirming reports last month of McMahon joining the support staff. Consultants are not allowed to coach on the field, per NCAA rules.
McMahon was one of several assistants Saints coach Sean Payton fired after last season, ending his 11-year run with the franchise.
Orgeron may later choose one assistant to control special teams during games, he said.
The NCAA, meanwhile, is expected to approve the addition of a 10th full-time assistant coach, but that ruling may not take effect for this season, Orgeron said. LSU will operate with its current special teams plan this year.
"We were hoping it was going to be in April," he said. "Now we're hearing that it's going to be (pushed) back (to) December. We hope it gets approved."
Missing out
Offensive lineman Will Clapp, edge rusher Arden Key and fullback J.D. Moore are expected to miss spring practice, Orgeron said Tuesday.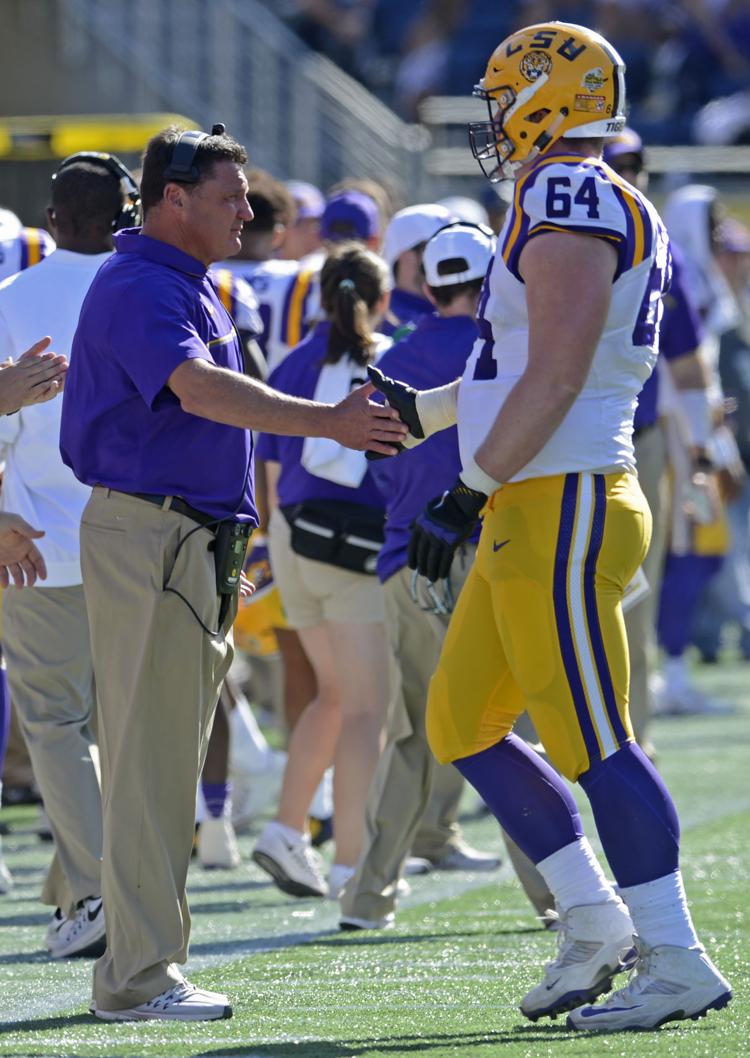 Clapp is recovering from surgery in January for a torn labrum in his shoulder, and could eventually be shifted to center to replace Ethan Pocic, Orgeron said. Key took a leave of absence from the team for "personal reasons," and Moore is recovering from a procedure on a wrist he injured last season.
Several more players may be limited during spring practice, but Orgeron did not specify those players. Linebackers Devin Voorhies and Donnie Alexander will practice, the coach said. The Advocate reported in February that Voorhies and Alexander would be limited in spring because of shoulder injuries.
Key guys
A trio of players are expected to replace Key during spring drills, Orgeron said.
One of those is redshirt freshman Andre Anthony, the first player the coach mentioned when asked about Key's replacements. Anthony, a New Orleans native, missed last season after the NCAA never cleared him. He rejoined the team for bowl practices.
Anthony, an Edna Karr graduate, was ranked as high as the 15th-best weakside linebacker in the 2016 class.
"I'm excited about our guys at the outside linebacker position," Orgeron said. "Andre Anthony has had an excellent offseason."
Ray Thornton, also a freshman who redshirted last season, and sophomore Sci Martin are two others in line to get reps in Key's absence at the Buck linebacker spot, a hybrid end/outside linebacker spot. Orgeron was uncertain if Isaiah Washington, a redshirt sophomore from Karr, will rejoin the team for spring practice. Washington suffered a season-ending knee injury in preseason camp in August and missed last season.
Key is expected to return to the team over the summer and in time to play in the 2017 season. 
Travin Dural says coaches he encountered at the recent NFL combine understand one thing abou…
Muñoz to speak at coaching clinic
Anthony Muñoz, a 1988 Pro Football Hall of Fame inductee, will be the keynote speaker at LSU's annual coaching clinic, which will be held March 23-25 at the Pete Maravich Assembly Center. 
Muñoz, an 11-time Pro Bowl offensive tackle, has a connection to Orgeron, both having spent time at Southern California. Muñoz played both football and baseball for the Trojans and was member of USC's 1978 baseball national championship. 
LSU coordinators Matt Canada and Dave Aranda will also speak at the clinic, along with former LSU and NFL center Kevin Mawae and former Saints running back Deuce McAllister. 
Coaches can register for the clinic, which cost $65 and includes meals, online at LSUsports.net/coachesclinic. 
Lagniappe
Christian LaCouture, a fifth-year senior, will play the defensive end position vacated by Davon Godchaux, Orgeron said. LaCouture has played nose tackle and end in the past before he suffered a season-ending knee injury in August. … LSU's spring game will kick off at night for the first time since 1998, and Orgeron hopes it means a larger crowd in Tiger Stadium. "I think it was an idea to get a big crowd. Had a lot to do with TV times," he said. "We play at night. Will be exciting for our guys, exciting for the fans, get more of them there and make it like a real game."