A little glue fixed Danny Etling's face.
Etling is fully healthy, he said Monday, after taking a helmet to his uncovered face in the loss at Auburn on Saturday. He returned to the game a play later after trainers applied medical glue to lacerations above his right eye and between his upper lip and nose.
"My health is good," LSU's starting quarterback said. "Face has had better days. Hasn't thrown off my game with the ladies too much, I guess."
Two days after the collision between defensive back Nick Ruffin's helmet and his face, Etling still sported the damage. The lacerations and bruised upper lip were obvious.
What wasn't: his nose.
"It's crooked now," he said. "I don't know how to get that back straight."
Etling is set to start his third straight game when unranked LSU (2-2, 1-1 Southeastern Conference) meets Missouri (2-2, 0-1) on Saturday night at Tiger Stadium. He's still adjusting to the news over the past day: the firing of coach Les Miles and offensive coordinator Cam Cameron.
Etling and Cameron are longtime acquaintances. They're from the same town — Terre Haute, Indiana — and attended the same high school. The connection sparked Etling to transfer to LSU from Purdue in the summer of 2015.
Steve Ensminger replaces Cameron as offensive coordinator.
"I think he really knows what he's talking about," Etling said of Ensminger. "It will be a good relationship for us. The more I get to meet with him, the more I'll know and understand him. I think it's similar to a lot of the coaches I have had in the past."
Meanwhile, Etling is recovering from that hit to the face. Auburn linebacker Tre' Williams was ejected for targeting on the hit, but Williams didn't leave the marks on the QB's face. His jarring tackle knocked off Etling's helmet, and Ruffin crashed down on him.
Ruffin's helmet scraped Etling from the neck all the way to that laceration near his forehead. 
"Danny is a tough kid. He took a shot. We were upset about that," guard Will Clapp said. "It's something we weren't happy about it. Most quarterbacks lay on the ground, and he popped up, bloodied up. Got his skin glued and got back in."
Fournette: 'I'm fine'
LSU running back Leonard Fournette said his banged-up left ankle is "fine," but he did not practice Monday with other players.
Interim coach Ed Orgeron opened Monday's 30-minute walkthrough to media members. Fournette did not practice with other players as he nurses the injury back to health. After Miles' firing, Fournette met with reporters Sunday night.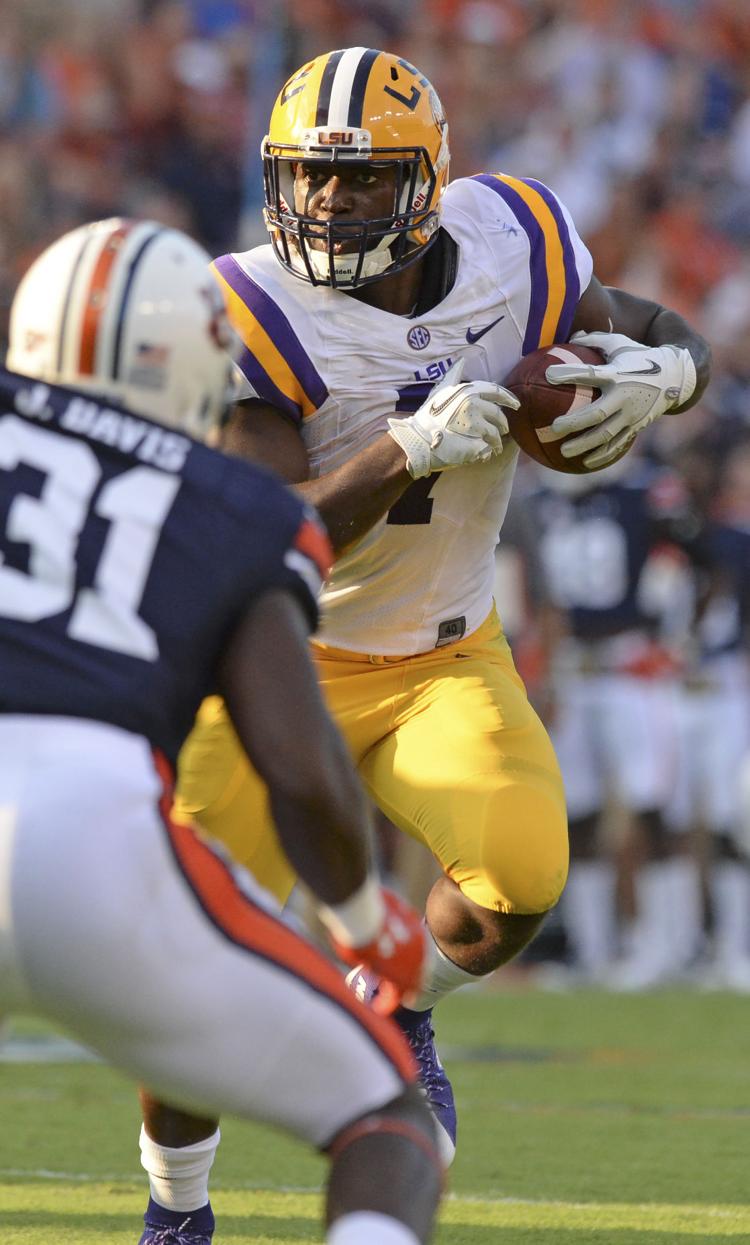 "I'm fine," he said when asked about the ankle.
Fournette, a junior, sprained the ankle in preseason camp and then bruised the same ankle in his last carry of the season opener against Wisconsin. He appeared to bruise it again late in the loss to Auburn, hurting the ankle on the final drive. He did return to the game.
Also, cornerback Kevin Toliver didn't play in LSU's loss at Auburn, but he practiced Monday with the starters.
Saban, Harbaugh on Miles
Nick Saban questioned the decision of LSU leaders to fire Miles, and Michigan coach Jim Harbaugh left open the door for Miles to help the Wolverines this season.
"I hate it that a man wins a national title, two SEC titles and doesn't make it through the season," Saban told reporters in Tuscaloosa. "Les Miles is one of the most respected colleagues in terms of the rivalry we've had, the competition we've had. I have a tremendous amount of respect for Les Miles and what he was able to accomplish there. ... I guess this is the time we live in."
On this Monday afternoon, LSU practiced in its indoor football facility.
Harbaugh was asked about the possibility of Miles joining the Wolverines as a consultant or as an honorary captain this season.
"Good suggestions," he said, according to the Detroit Free Press. "I have the utmost respect for Les — coach Miles and Cam. Haven't talked to them yet. Hope to soon."
Lagniappe
Cornerback Kevin Toliver didn't play in LSU's loss at Auburn, but he practiced Monday with the starters. … Derek Ponamksy, former radio host on 104.5 FM, is joining Orgeron's staff as special assistant to the head coach, Orgeron announced Monday.