Welcome to Film Room, our weekly analysis of LSU's last football game. Have a seat. No talking. No tweeting. No texting. Pay attention.
How They Happened (big-play analysis)
The screen: On third and 14 in the first quarter, the Tigers nearly convert the first down on a screen pass to Leonard Fournette, gaining 13 yards.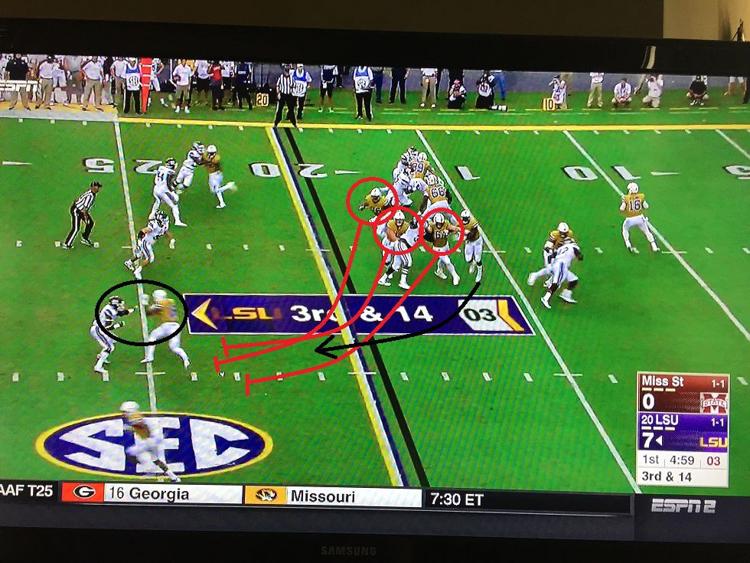 This in't such a huge play in the game, but it is a play we've now seen LSU run multiple times with Danny Etling at quarterback. We saw at least two of them when the QB entered last week against Jacksonville State. Fournette returned Saturday. Why not get your Heisman Trophy hopeful in space with 300-pound blockers in front of him, right? 
Center Ethan Pocic, right guard Josh Boutte and left guard Will Clapp (red circles) serve as the blockers on this screen. They combine to weigh about 975 pounds. Behind them is a 230-pound running back, Fournette. Malachi Dupre (black circle) takes his man out of the play with a route. Most important, maybe, is who's throwing the pass. 
So why didn't LSU run more screens with Harris at QB? Harris struggled with poise in the pocket and touch on his short passes, things Etling excels at. Etling faces pressure, as QBs do on a screen (in fact, that's expected and wanted). In the faces of defenders, he throws a perfectly placed 5-yard pass to Fournette. The big boys do the rest.
Iso: On first and 10, LSU RB Leonard Fournette runs for a 25 yard touchdown to make it 20-0.
This is an isolation play, or an "iso," says ESPN color analyst Ed Cunningham. The fullback, in this case J.D. Moore, is "isolated" on the middle linebacker, in this case Richie Brown. Moore isn't the only one on this particular play to shove Brown out of the play. Center Ethan Pocic and him (blue circle) both pop Brown.
Pocic and Moore's block is one of three to make this play work so well. Will Clapp, the play-side guard, pulls around the end and blocks DB J.T. Gray (red circle). TE Colin Jeter (black circle) takes care of State's top pass rusher, A.J. Jefferson. This opens a seam, as you can see between the red and blue circles, for Fournette. 
The seam isn't huge. In fact, it's tiny for a 230-pounder to squeeze through, but that's part of what makes Fournette so productive - his vision and ability to slide through small spaces.
Fournette's run in motion. #LSU pic.twitter.com/fkqO8fgoJc

— Ross Dellenger (@RossDellenger) September 18, 2016
Twist: On fourth and 8, LSU OLB/DE Arden Key sacks State QB Damian Williams to secure the win with about 1 minute left.
LSU runs a stunt on third down and then comes back with the same stunt on fourth down during State's last drive. Key (red circle), in a 3-point stance at end, moves behind Godchaux just after the snap, rushing through a wide open hole. Godchaux (black arrow) charges straight ahead, occupying two defenders. 
LSU finds two ways to distract State center Jamaal Clayborn (yellow arrow). In this shot, you can see that Clayborn has already turned his head to the right side of the line and misses Key running to his left. Earlier in the play, linebacker Duke Riley (black circle) fakes a blitz, distracting Clayborn.
On third down, the Tigers ran the same stunt, and Key came free to the middle of the line, pressuring Williams into an incompletion. He did not miss the sack on fourth down.
#LSU's last 2 defensive plays. Both Godchaux-Key twists
First: Key pressure on 3rd down
Second:Key sack on 4th down pic.twitter.com/9bKjbv8qyL

— Ross Dellenger (@RossDellenger) September 18, 2016
POSITION ANALYSIS 
Big Ugly Blips and Booms (O-line analysis)
This group had a rough game, but not because of production. Four of LSU's five starting linemen went down with an injury:
LG Will Clapp: He didn't miss time despite injuring his right shoulder/arm in the first quarter while blocking on a screen pass.
LT K.J. Malone: He suffered what LSU's Radio Network reported as leg cramping in his hamstring. He got the cramp late in the third quarter and returned for the final series.
RG Josh Boutte: He briefly missed part of a series after what looked like a knee injury
RT Toby Weathersby: His injury appears to be the worst of the group. ESPN reported that he sprained his right ankle. The below clip shows TE Colin Jeter falling on the ankle during the second quarter. Weathersby returned later in the quarter, but re-injured the ankle on the last two plays of the first half.
Weathersby appears to be the only #LSU lineman in doubt. He gets his ankle rolled as Jeter falls on it. #LSU pic.twitter.com/oxGy0pdqTn

— Ross Dellenger (@RossDellenger) September 18, 2016
Despite all of the mixing and matching, the Tigers did not give up a sack in the game, rarely allowing pressure. We charted Ethan Pocic's holding call as the only Blip in pass coverage. Pocic, going against State's A.J. Jefferson, committed the hold on his first snap at left tackle in replacement of Weathersby. 
Clapp seems to be rounding into shape after suffering a setback during camp because of hip surgery and then spraining his ankle three days before the season opener. He had 2-3 Booms (Booms are key blocks on successful running plays), often times pulling to lead Fournette through a hole.
Let's lastly touch on an interesting formation LSU used with its top two tight ends, Colin Jeter and Foster Moreau. The photo below shows a bunched formation with Moreau, Jeter and a receiver (on this plays, it's D.J. Chark). LSU ran this, eh, about four times on Saturday. Each time, they ran the ball, and Moreau and Jeter served as blockers. Be on the look out for this later in the season. I'm sure, at some point, the Tigers will pass out of it.
Monday Morning Quarterback (QB analysis)
For a second week in a row, Danny Etling illustrated three characteristics that have LSU fans excited: pocket poise/presence, touch and coverage-reading. But he also showed, for a second straight week, rust on some long balls in the second half. Here are his misses (we counted six of them and a majority were on 10-plus yard throws):
| | |
| --- | --- |
| Target | Throw was… |
| TE Colin Jeter | overthrown |
| WR Travin Dural. | overthrown |
| WR D.J. Chark | overthrown |
| WR Travin Dural | low |
| WR Travin Durla | overthrown |
| RB Leonard Fournette | overthrown |
Notice anything? Etling learned from a handful of underthrown passes last week (including an interception). He over-compensated, maybe, missing his target with an overthrown pass on five of the six misses. Here's one to Fournette:
Tough throw, but one Etling will want back. #LSU pic.twitter.com/B8fmrSfBKa

— Ross Dellenger (@RossDellenger) September 18, 2016
By halftime, Etling had completed 14 of 20 attempts. The 14 completions were to seven different receivers, a testament to the QB's ability to read coverages and go through his progressions. He often finds the safety valve (RB) wide open (see below). He's no dual-threat quarterback, but he's light on his feet to make the below play, which he's done a handful of times in seven quarters of action:
Etling hits safety valve, Guice, who goes from blocking to wide open in middle of the field. #LSU pic.twitter.com/B9VafT0dPi

— Ross Dellenger (@RossDellenger) September 18, 2016
Because of plays like the above, ESPN color analyst Ed Cunningham compares Etling to Matt Flynn, the former Tigers quarterback who led LSU to the national title in 2007.
If you think LSU's offense looks different with Etling running it, you'd be right. We're not talking about execution. We're talking about playcalls and formations. We'll get to the formations later, but, as for playcalls, take a look at LSU's first nine third-down conversion calls (Tigers converted six of them):
Pass
Pass
Pass
Pass
Pass
Run (TD)
Pass
Pass
Pass
It's clear that Les Miles and OC Cam Cameron trust Etling more than they did Brandon Harris, putting the ball in his hands on key downs. He converted many of them, too. 
Backing It Up (RB/FB analysis)
Leonard Fournette broke seven tackles against Mississippi State, gaining more than 25 yards after he wiggled free of those defenders. LSU made a concerted effort to get him free in space, twice running a planned swing pass to him out of the backfield (neither gained much). That wasn't the case with this middle route, where he shows off that tackle-breaking ability. 
Another example of #LSU getting Fournette in space. pic.twitter.com/zSKbhHJpIk

— Ross Dellenger (@RossDellenger) September 18, 2016
Fournette isn't just lining up in the backfield, either. Cameron put him in a wing back-like position here. He's circled in red.
If you were wondering how Fournette's stiff arm is doing, it's just fine.
Fournette, even with a high ankle sprain and bruising, still did a lot of this. #LSU pic.twitter.com/ko5s4TEwgx

— Ross Dellenger (@RossDellenger) September 18, 2016
Fournette did have two costly, second-half fumbles. One gave Mississippi State possession near midfield. The other, which is below, resulted in a failed fourth-down attempt and set up State's first touchdown.
Fournette's fumble late on fourth down. #LSU pic.twitter.com/Y52iBOersD

— Ross Dellenger (@RossDellenger) September 18, 2016 
Five-yard Out (WR analysis)
After a host of drops by this group over the first two weeks, they dropped just one pass Saturday (Chark at the goal line).
Malachi Dupre did not have a drop after dropping four passes in the first two games. There's a story behind this, and ESPN's announcers shared it to the thousands watching during the game: Coaches moved Dupre to the slot position last week to "give him some breathing room off the line of scrimmage." Basically, physical cornerbacks were handling Dupre on the outside in man-to-man coverage. At the slot, it's less of a physical battle. Dupre finished with fourth catches on, we think, four targets.
Coaches put Dupre in the slot more to free him of tight coverage on the outside. Example:#LSU pic.twitter.com/3jVmBeXT8g

— Ross Dellenger (@RossDellenger) September 18, 2016
Chark got many of Dupre's snaps as LSU's No. 2 receiver, split outside opposite Travin Dural. Etling, we believe, targeted Chark five times. He caught three passes, including this one:
If you haven't seen it, Chark's catch. #LSU pic.twitter.com/HDdgrLSnQW

— Ross Dellenger (@RossDellenger) September 18, 2016
Jazz Ferguson and Dee Anderson seem to be evolving into LSU's possession/run-blocking receivers, filling the spots vacated by John Diarse and Trey Quinn. 
Let's get to some formation talk when it comes to the wideouts. LSU ran 65 significant plays Saturday. We recorded the number of receivers on each of those plays. A "receiver" doesn't have to be an actual receiver. If a player is split out from the line by at least 1-2 yards and is not in the backfield, they are a receiver.
4 WRs: 4 plays (6.1 percent)
3 WRs: 19 plays (29.2 percent)
2 WRs: 31 plays (47.6 percent)
1 WR: 11 plays (16.9 percent)
So what does that mean? That LSU used three or more receivers more than one-third of its snaps. That's likely more than usual and speaks to the trust coaches have in Etling. 
Also, the Tigers really came out tossing it around. Their four-receiver formations all came in the first half. They threw it on 9 of their first 13 plays.
A negative for receivers Saturday: that onside kick. The ball, well placed, takes a high hop over receivers Chark and Dural on the onside coverage team.
Onside kick is well placed and gets a giant hop over Chark and Dural. #LSU pic.twitter.com/CnA1BueEv1

— Ross Dellenger (@RossDellenger) September 18, 2016
Lastly, let's talk tight ends. Etling really likes to use them. LSU busted out a rare formation on Saturday using both tight ends in wing back-type positions. The Tigers ran this formation, at least, three times. Each time, LSU's tight ends both ran out routes toward the sideline. Foster Moreau, in fact, got his first career catch on one of the routes out of this formation: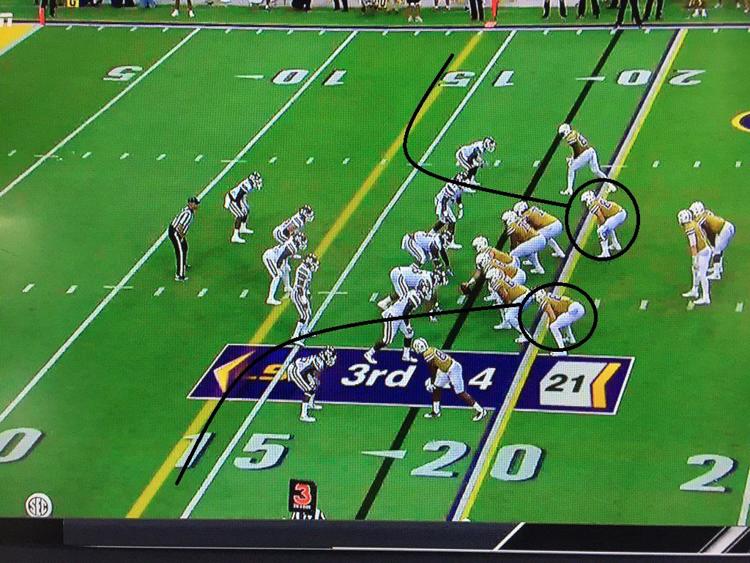 Front Seven (D-line/LB analysis)
LSU used its old four-man defensive front on nearly half of its defensive snaps on Saturday. We wrote about that at length here. And here's a shot of that four-man front (4-2-5 nickel):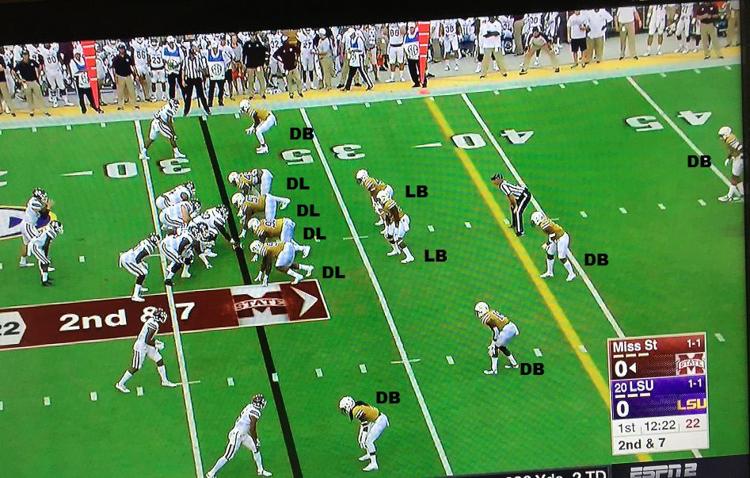 The heavy dose of the four-man front (about 28 in 64 snaps) resulted in an abundance of pressure on the QB. LSU had 13 QB pressures, with more than half of those (7) going to Arden Key. Davon Godchaux had 3 pressures.
Dave Aranda didn't call many blitzes. He believes his front four can get enough pressure, and he was proven right against the Bulldogs. Aranda blitzed just 10 times by our count. That's right - LSU rushed four on more than 50 of a possible 64 snaps and got significant pressure.
On LSU's 10 blitzing snaps, the fifth rusher was often Rover linebacker Duke Riley (5 times). CB Tre White blitzed twice. Donnie Alexander, replacing Beckwith for a couple of series, blitzed once. Beckwith blitzed once, and Devin White, replacing Riley for a couple series, blitzed once, too.
White saw his most playing time at linebacker this season, getting into the game on two series and flashing that speed and instinctive ability that coaches raved about during spring practice. He played just 6-8 snaps on defense. 
Riley acted as a "QB Spy" on nearly every play, it felt like. He was the guy watching State's big, running QB Nick Fitzgerald, making sure Fitzgerald didn't race from the pocket. This is probably why Aranda blitzed on just 15 percent of the Bulldogs' plays out of fear of containing a potential scrambling Fitzgerald. 
Break It Up (DB analysis)
A solid day from the DBs, but not their best. Rickey Jefferson had the play of the game for this group, batting away a would-be touchdown reception in the third quarter.
Rickey Jefferson's TD-saving PBU. #LSU pic.twitter.com/ZMPmGVT1Z1

— Ross Dellenger (@RossDellenger) September 18, 2016
State picked on two players specifically: Jefferson and Kevin Toliver. The Bulldogs targeted Toliver's man on at least seven passes. His guy caught five of those. State threw to Jefferson's man at least five times, catching one pass.
Look, State had a few receivers open, and Fitzgerald didn't hit them. He missed open TD passes on a play targeting Jefferson's man and missed another on a wheel route. Duke Riley was the closest man to that receiver.
Dwayne Thomas and Ed Paris saw some action, especially late in the game. State picked on Thomas, matching him up against Fred Ross, their best wideout. Ross caught two passes in the final 5 minutes against Thomas. Ross caught a pass against Paris, too, but Paris had great coverage. Ross is a good receiver.
The DBs accounted for at least eight pass-breakups in the game, including three straight on a key drive by Jefferson, Donte Jackson and Toliver.