Arden Key's rehabilitation from shoulder surgery has advanced to the next step.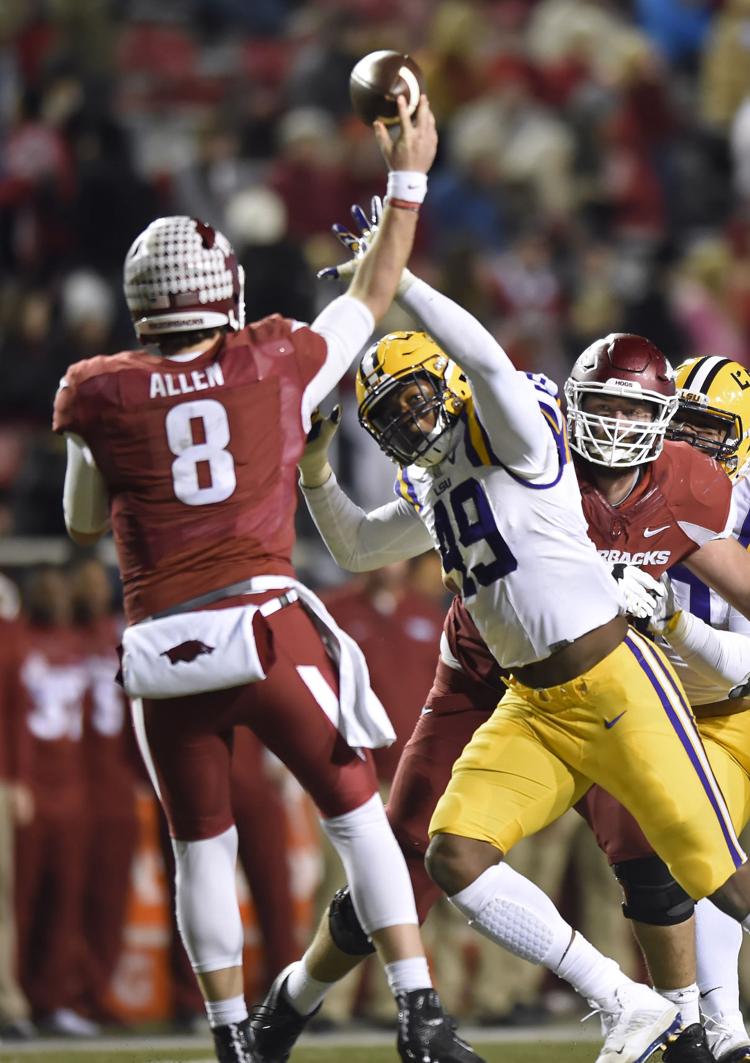 LSU's All-American, record-breaking edge rusher has started running recently, coach Ed Orgeron said Tuesday, but coaches are prepared if their much-ballyhooed junior is unable to play once the season arrives.
Coaches spent spring practice employing a defensive plan without Key in preparation for his potential absence in September.
"We have a defense without Arden," defensive coordinator Dave Aranda said earlier this summer, "and a defense with Arden."
Orgeron revealed last week that Key will not be ready to start camp with LSU on July 31. Key is making strides in his recovery from the shoulder procedure, but it's a slow rehabilitation, the coach said.
"He's starting back a little bit at a time, a little running. Little stuff," Orgeron said.
Key missed spring practice while taking a leave of absence from the team for "personal reasons." Orgeron said that Key played with the injured shoulder for much of last season, begging the question of why the team waited so late to have surgery. The shoulder worsened through the spring, the coach suggested. 
"You look at those things and it's eh … eh … and (the shoulder) got to the point where we needed to (operate)," Orgeron said.
The Tigers are prepared for his potential absence at the Buck, the team's hybrid defensive end/outside linebacker role. LSU begins the 2017 season against BYU on Sept. 2. Five players, Orgeron said, are in line to help potentially replace a guy who set the school's single-season sack record in 2016.
The list includes redshirt freshmen Ray Thornton and Andre Anthony, true freshman K'Lavon Chaisson, senior Corey Thompson and sophomore Michael Divinity. Coaches moved Divinity back to outside linebacker after switching him to inside linebacker during the spring, mostly because of depth issues at the position.
"Those five are a strong part of the football team," Orgeron said.
Just picture it: Receiver D.J. Chark is in LSU's offensive meeting room with other players, …
A different two-a-days
Orgeron will hold his own version of two-a-days at LSU.
The NCAA banned two-a-days over the offseason but is still allowing coaches to hold walk-throughs on the same day in which they have a full practice.
Orgeron is taking advantage. The Tigers' camp practices will include a morning walk-through followed by a two-and-a-half hour practice that runs from 4-6:30 p.m., the coach said. Walk-throughs must be pad-less and helmet-less and cannot include contact, according to NCAA rule.
Camp practices are expected to last longer than the ones the coach held during the season last year. He shortened in-season practices last year, one of the most notable changes he made upon taking over for Les Miles.
"We're going to keep on with the same thing that we did as interim coach, that got us to where we're going, same as we did in bowl practice," he said. "Obviously, some camp practices are going to be a little bit longer because you have a longer time. (When it) gets time to game week, we'll do the same thing (as last season)."
LSU plans to use its full 29 practices allowed ahead of the season opener, the coach said. Orgeron gave his assistants off most of the month of July. They'll all return to town July 26 to meet and begin preparation for camp.
Surprising duo
None of the freshmen have disappointed Orgeron this summer, but two have greatly exceeded his expectations, he said: safety Todd Harris and cornerback Jontre Kirlin.
"All those guys have met my expectations. I just didn't know Todd like I'm knowing him now. Going to be a tremendous player," Orgeron said. "Jontre played quarterback in high school. To see him move as a cornerback is pretty exciting."
Both players are competing for playing time in a secondary that could include several new faces by the end of the season. Harris, from Plaquemine, is competing with rookies Jacoby Stevens and Grant Delpit, both who enrolled early in January and participated in spring practice.
John Battle's college career has been extended. 
Nickel battle
LSU's fifth defensive back might be the most open position on the team, and for now a veteran is holding that spot as the Tigers approach preseason camp.
Donte Jackson is playing the nickel position, Orgeron said, and redshirt freshman Andraez Williams is playing Jackson's spot out wide. But there's a long way to go. Freshman Kary Vincent and redshirt sophomore Xavier Lewis are expected to see time, too, as the Tigers work to find the right guy.
"They're all in the mix," the coach said.
Alexander, Campbell healthy for camp
Linebacker Donnie Alexander and offensive lineman Donavaughn Campbell are healthy and "should" be ready for camp, Orgeron said.
Alexander, the Tigers' projected starting inside linebacker, underwent shoulder surgery in mid-April. Campbell underwent shoulder surgery in December and was limited through spring practice.