Saturday was supposed to be the big reveal of LSU's new offense.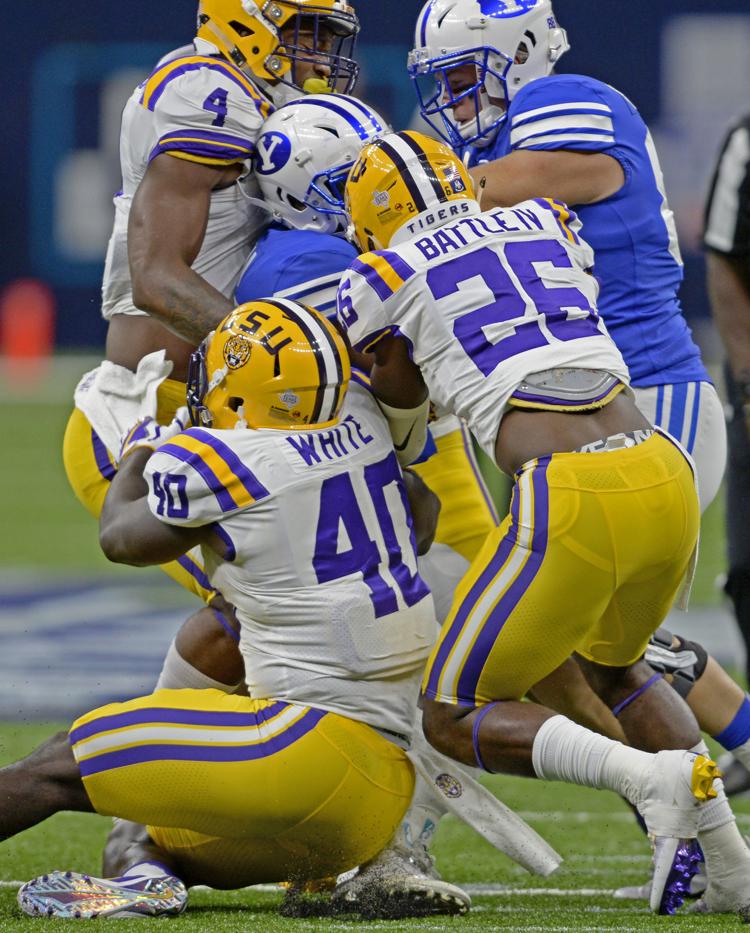 Instead, the Tigers pulled the shroud off their other unit, exposing a snazzy new defensive package with a cool name.
"Cheetah," coach Ed Orgeron called it Tuesday.
The cloak covering new coordinator Matt Canada's offense remains firmly attached, masking a scheme that's still very much hidden. Against BYU, LSU kept it basic, using a handful of running plays to finish off the Cougars for a 27-0, season-opening win.
On defense, they let it rip, so to speak.
"We're going to put four fast guys in there," Orgeron said, "and let them go."
Meet Cheetah, the Tigers' new speedy, pass-rushing defensive package that coordinator Dave Aranda used 16 times Saturday to stifle BYU. How do you hold a team to less than 100 yards, keep it from crossing midfield and shut it out on the scoreboard?
Cheetah certainly helped.
Not seeing the video below? Click here.
---
It's somewhat similar to the Mustang, the third-down scheme coordinator John Chavis employed during his time in Baton Rouge. They are both pass-rushing packages built with speedy personnel holding a similar objective: Disrupt the pass play however you can.
The Mustang included six defensive backs, three defensive linemen and two linebackers. The Cheetah is more linebacker-friendly, featuring five defensive backs, two down linemen and four linebackers.
Wondering how LSU's defense would change with the uptick in athletic, rangy outside linebackers? That was answered Saturday night, when Aranda kept on the field both outside linebackers, Corey Thompson and K'Lavon Chaisson. He pulled nose tackle Greg Gilmore and inserted nickelback Kary Vincent.
Ta-da! The Cheetah, a defensive look that one player described as "violent."
"First and second down, you've got the 18-wheelers in there, then third down you've got the Corvettes and the Mustangs," defensive end Christian LaCouture said Tuesday, explaining the package. "For us, it could be similar to Mustang, but I know with going through both of them, you need a lot of speed on them."
What's the goal?
"Get to the QB as quick as you can," he smiled.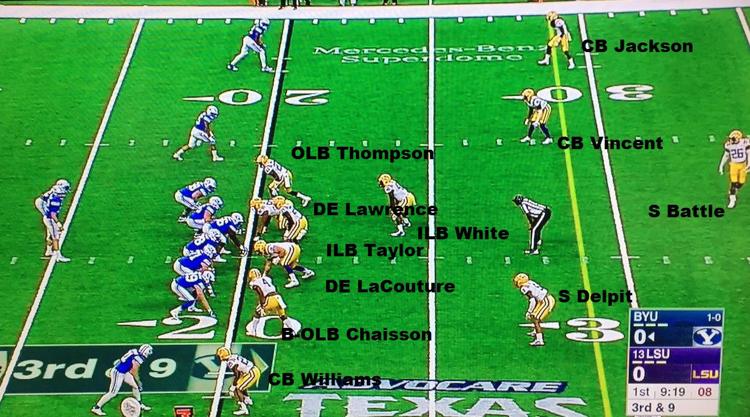 They accomplished it Saturday night. The Cougars and quarterback Tanner Mangum struggled to handle Cheetah. Excluding BYU's final desperation drive, LSU used the package 13 times in the first 31 plays.
Mangum completed 4 of 10 passes against the defensive scheme, was sacked twice, had a ball deflected at the line of scrimmage and was nearly intercepted because of the pressure. He felt the heat often when Aranda employed Cheetah, receiving pressure on six of those 13 plays. BYU gained 22 yards on those 13 plays.
With so many speedsters on the field, Aranda's blitzing options grow. At times, he rushed just four players. On other plays, he brought six. He disguised the blitzer, too, at times sending inside linebackers Devin White and Tyler Taylor or Vincent from his corner spot.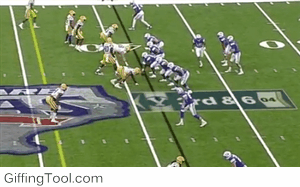 To the offensive linemen, it looked like a mess. LSU center Will Clapp knows the feeling. He went against this third-down defense for much of preseason camp.
"The main advantage is it gets a lot of speed on the field. So much stuff you can do from it with twists and blitzes," he said. "It was definitely tough for our line. Certain days were better than others, but it was a struggle."
You don't have to tell the Cougars that.
LSU ran the package on third down eight times in the first 3½ quarters. BYU converted one of those.
The Tigers also used the package late in the second half during BYU's hurry-up, pass-heavy final drive of the second quarter. They employed it late in the fourth, too, when BYU, down by double digits, leaned on the pass.
"It's more of a pass rush situation," LaCouture said. "Longer distances than shorter. We're expecting pass. We worked on it a lot during practice, a lot during camp. We feel like it's a great package."
The thing about Cheetah? It's not at full strength.
All-America edge rusher Arden Key is an essential member of the package. He's still sidelined while recovering from shoulder surgery.
Reporters got to witness Arden Key's expanded role in practice Tuesday. 
Thompson, a sixth-year senior, replaced Key in the package. All he did was get two sacks, both of them while in Cheetah.
"He did a great job, how he ran his blitzes and how precise he was with them, coming tight on the edge," LaCouture said. "I know he had two sacks, but he could have had three, four, five. He's been rushing the passer well, been dominant in camp."
While operating in Cheetah, White picked up two quarterback pressures, and cornerback Ed Paris nearly picked off a pass as rushers waved their hands crazily in Mangum's face.
Vincent forced a rushed throw during a Cheetah blitz on one third down, and defensive end Rashard Lawrence swatted Mangum's arm on another play, the ball wobbly finding the ground for yet another incompletion.
"It gives us fast defensive ends that can't be blocked," White said. "You've got so many weapons coming at you at one time, and you can come in different ways."
This package isn't completely new. LSU employed it last season intermittently.
Instead of using a fast, rangy outside linebacker, Aranda used defensive lineman Lewis Neal, sliding Neal outside as a rush end.
"Now we don't have a guy who can do that — strong enough to play inside and quick enough to play the quarterback," Orgeron said. "We have to substitute. We have more outside linebackers, so we can do that."
Cheetah will be wreaking havoc again Saturday, when the No. 12 Tigers (1-0) meet Chattanooga (0-2) in their home opener.
Quarterback Danny Etling will see it much sooner — like this week in practice. Etling played coy when asked about the scheme, unaware that his head coach has already discussed it openly.
The spoiler's out there. Now it's the offense's turn.
"I don't know," Etling smiled, "anything about a Cheetah package."
Several of the LSU players who did not travel with the team for the season opener will "work…
---
A DIFFERENT CAT
LSU ran the Cheetah package 13 times before BYU's final desperation drive. It produced impressive results:
| | | | |
| --- | --- | --- | --- |
|  Attempts-Completions |  Total yards |  Sacks |  Third downs |
|  4 of 10 |  22 |  2 |  1 of 8 |