Christian LaCouture's father planned to make a special delivery to the LSU defensive end Monday.
Pedialytes and food.
David LaCouture knew full well that his son played every defensive snap Saturday in an environment that, at kickoff, recorded a heat index of 100 degrees. Pedialytes, normally for children, help athletes quickly rehydrate and replace electrolytes after such a weekend.
Christian lost nine pounds during the 17-16 victory at a place appropriately dubbed the Swamp. That was after downing Chick-fil-A on the flight back from Gainesville.
"My dad called me today and said, 'I'm going get 12 Pedialytes,' and he got me a bunch of food," LaCouture said. "It was really hot and humid. I knew (weight loss) was going to happen, so you just have to rest up and rehydrate your body."
He'll spend this week doing just that in preparation for another afternoon game in sweltering conditions — this time at Tiger Stadium against No. 10 Auburn.
Another difference this week: He may get more rest. The unit gets what coach Ed Orgeron calls a "boost" this Saturday.
Frank Herron's back.
"Good to get another body out there," a smiling LaCouture said Monday during interviews.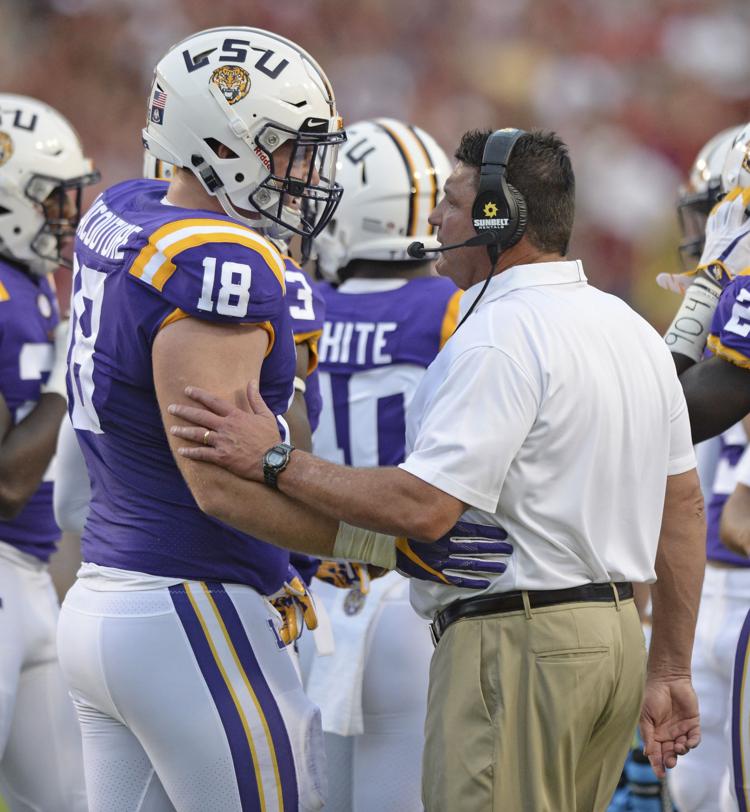 This group can use bodies, especially the fifth-year senior types like Herron and especially against a run-heavy spread attack like Auburn (5-1, 3-0 Southeastern Conference). Herron's most impactful play of his career came against those Tigers two years ago.
He sacked then-quarterback Jeremy Johnson, forced a fumble in the process and recovered it.
Orgeron, then the defensive line coach, remembers.
"Frank has played good against Auburn in the past," Orgeron said Monday. "I think he'll be hungry and ready to go."
Where's he been for the first six games? That answer remains somewhat of a mystery, but signs point to a suspension for, potentially, violating school rules. Orgeron does not announce suspensions, he's said in the past.
Herron has not dressed out for a game this season, despite practicing with the team. The length of his absence — six games — is aligned with what would be a school-mandated half-season suspension.
"Frank's a guy that has been here five years and knows when there's four guys (rotating) for three positions and knows he could have had a chance to be out there with us … that's what hurts him the most," LaCouture said. "Just not being out there and even on the sideline (during games), I think it's hurt him inside."
Welcome to Film Room, our weekly analysis of LSU's last football game.
No matter the reason for the absence, Herron is back. That's good news for a group that's battled depth problems and whose "bell cow," as Orgeron says, is still fighting injury.
Rashard Lawrence's status is questionable. He practiced with the team Monday, but he re-injured his right ankle late in the win at Florida before returning. He'll be "limited" at practice this week, Orgeron said Monday, and he's "a little sore." Trainers did give the coach positive news Sunday: "He was actually better than he was (Sunday of) last week," he said trainers told him.
The Tigers (4-2, 1-1) traveled with six true defensive linemen to Florida just enough to field two complete lines in its 3-4 scheme. In a game at Mississippi State earlier this year, they were down to four linemen for three defensive line spots.
A rotation this year has not really materialized. Lawrence and backup nose tackle Ed Alexander have missed five games between them with injuries, forcing a redshirt freshman like Glen Logan to play long stretches.
The line only briefly subbed Saturday at Florida. Logan spelled Lawrence, playing on a bum ankle, for a few plays, and Alexander replaced starting nose tackle Greg Gilmore for just one complete drive.
And LaCouture? He forms an 'O' with his fist when asked about the number of snaps that he got off.
"Goose egg," he said.
It's just the second time that he can recall playing every snap of a game. He did the same at Florida, coincidentally, in 2014.
"Usually (defensive line) coach Pete (Jenkins) will say, 'Hey, Glen Logan is going in or Deondre Clark is going in, Ed Alexander or whoever is going in,'" LaCouture said, "but I wasn't hearing that (Saturday)."
He'll hear another name this week.
Orgeron dubbed Herron a "co-starter" with LaCouture during preseason camp, and the coach said Monday that he'll be part of a regular rotation at end with LaCouture, Lawrence and Logan.
His production is the real question mark. A career reserve player, the 6-4, 310-pound Herron has not played a game since the win over Texas A&M on Thanksgiving night of last year — a span of about 45 weeks.
"Just like Arden (Key)," Orgeron said, "it's going to take a while to get him back in game shape. (He's been) practicing most days with us, and we'll see how he does in the game. But we're going to consider him as a rotating starter."
Herron's presence not only gives a boost to the defensive line. Inside linebacker Devin White was all smiles Monday about his return. Often times, the job of a defensive lineman is to prevent offensive guards from reaching the second level to block linebackers like White.
White's job is made much easier with a fresh nose tackle or defensive end battling against an offensive lineman.
"Christian is now going to have the ability to play even better than what he was playing because he gets to rotate with Frank," White said. "I know he's winded out there because he's a 300-pound lineman playing 75 snaps. That's unheard of. Having Frank gets those guys fresh to win their one-on-ones."
Sheldon Mickles contributed to this report.
For those LSU fans who loathe 2:30 p.m. kickoffs in Tiger Stadium, coach Ed Orgeron has a su…