LSU calls it the Buck, and you know him as Arden Key.
Alabama calls it the Jack, and they know him as Anfernee Jennings.
LSU calls it the F-outside linebacker, and you know him as Corey Thompson.
Alabama calls it the Sam linebacker, and they know him as Jamey Mosley.
The Tigers have the Mack and Rover inside linebacker positions. The Tide has the Mike and Will.
The two defenses on display Saturday night when No. 19 LSU and top-ranked Alabama clash aren't so different — schematically, at least. The 3-4 schemes from LSU's Dave Aranda and Bama's Jeremy Pruitt are, in fact, very much alike, players said this week.
One of the main difference might be those linebacker names.
"It's a lot of the same stuff," center Will Clapp said.
"Coach Aranda is a great coordinator," said tight end Foster Moreau. "It's a copy cat league."
A key objective of any 3-4 defense is disguising pass rushers. Bama and LSU do that with the best of them. They both leave offenses guessing.
Will both outside linebackers rush or will one drop into pass coverage? Will they both drop into coverage and who among the two inside linebackers then rushes?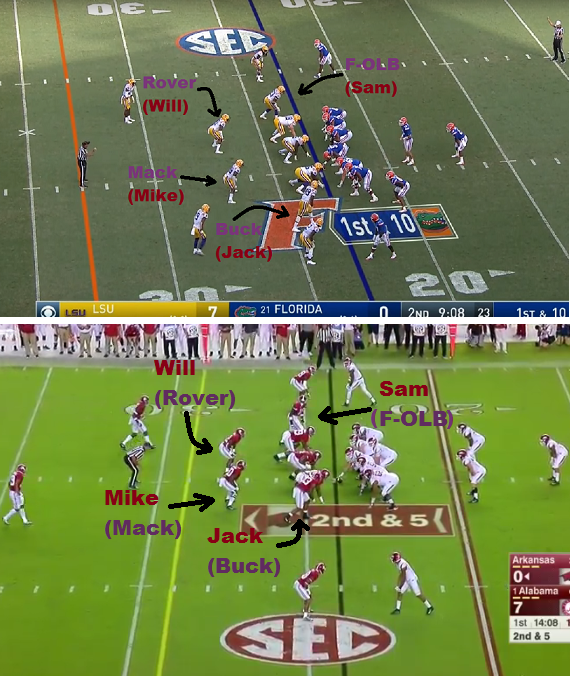 During passing downs, both units jump into a two-defensive lineman formation, trading personnel by pulling a D-lineman for a faster, rangy player — an outside linebacker in LSU's case and a defensive back for Alabama.
"(They'll) mostly stay in a 3-man front. They'll bring the Sam (inside linebacker) or drop the Sam. (They'll) bring the Jack," Moreau said. "(You) see Arden dropping off into a curl/flat or hook curl coverage. They'll do a lot of that stuff."
They adjust in a similar way that LSU's defense does, too, Clapp said.
Facing a similar defense for the last two years, LSU's offense should be prepared, right? Well, sure, but that doesn't mean Matt Canada's unit will put up 30 points. It's not necessarily the scheme that has Bama first nationally in three of the four major categories (total defense, rushing defense and scoring defense).
"You kind of know what to expect," Clapp said, "but they're really good at what they do. That's what makes them very good."
Danny Etling is battling the normal ails that come with being quarterback of a football team…
Devin White recalls the blow as if it happened last week.