Ed Orgeron is seated in his expansive office in the top northwest corner of LSU's football operations building.
A sectional couch and two chairs form a circle around the centerpiece — a glass-enclosed case that serves as a coffee table and a recruiting tool. Under the glass are wrist watches, lots of wrist watches, all of them from the various bowl games that the Tigers have played in during one of the longest active bowl streaks in major college football (18 years).
Orgeron wants to replace the wrist watches with championship rings, just like his top competitor, Nick Saban, shows to visitors from inside his Alabama office.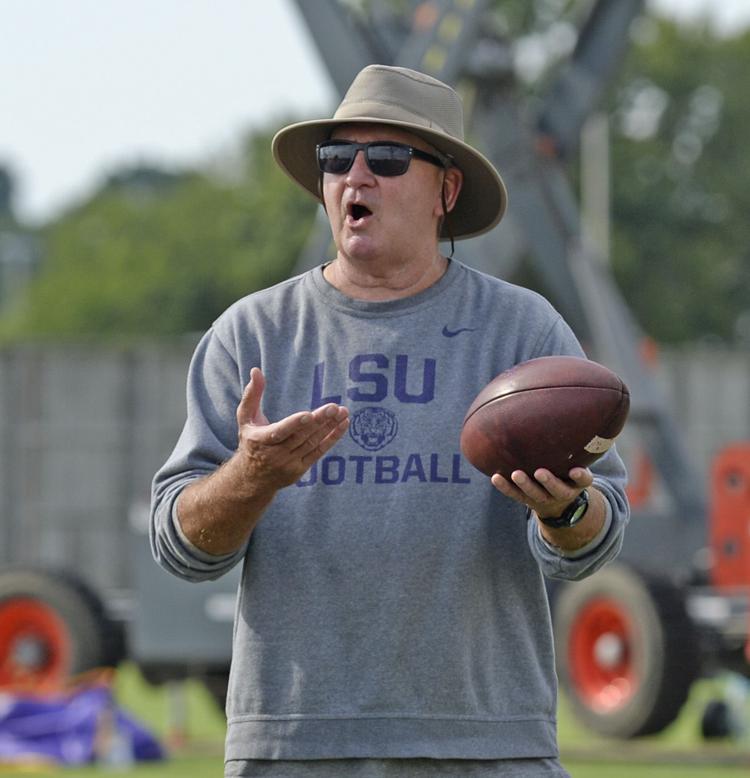 To do it, he's promoting tight ends coach Steve Ensminger to offensive coordinator.
Orgeron does not want to lose, he says with a chuckle. He's got more at stake with this hire than any of the critics blasting him on social media or any of the rabid fans who have emailed The Advocate to say they are canceling their season tickets.
Orgeron says he has listened to the fans. He hears them. This is what they want, he says, even if a vast majority of them don't know it just yet.
"This is going to be an offense that can score points," he says. "We're going to be multiple. We're going to have quarterback runs, a short, quick passing game. We're going to be mainly out of a spread offense and one-back (set).
"This offense is what every LSU fan has been wanting, and I'm going to give it to them."
•••
Orgeron introduced Ensminger as the replacement for Matt Canada on Thursday afternoon, painting this inside hire as what's "best" for the program after the failed experiment with an outsider.
It seems like a turning point for LSU football — whether for the good (those championship rings) or the bad (that bowl streak snapped). Orgeron's future at his dream job is in the hands of a 59-year-old who has not served as a permanent offensive coordinator in 20 years.
Can't see video below? Click here.
And Orgeron is OK with that because this is a person he "trusts" and believes in.
"He's going to do great. He did great when he took over (in the interim in 2016)," Orgeron said, leaning back in his office chair, cross-legged with a purple tie draped over his barrel chest. "Think about what he did when he took over. Thing I know about Steve and I, we're on the same page. We're all going to be on the same page. With the experience we're putting together, we're about to create a great offense."
What kind of offense?
The hiring of Steve Ensminger this week was the first of four new staff moves coming to LSU.
The coaches described a scheme that is more "simple" to learn than the past two under Canada and Cam Cameron, one dictated by its quarterback — whomever that might be, either pro-style passer Myles Brennan, the odds-on favorite, or dual-threat QBs Lowell Narcisse or Justin McMillan.
With Brennan at the helm, Ensminger's unit would be more of a West Coast-style offense, heavy on short and intermediate passing out of a one-back set. A dual-threat playcaller would bring a more spread, QB-run heavy look, likely out of the shotgun.
Either way, the offensive scheme will lean on LSU's strengths, Ensminger said: receivers. It is a stark contrast to LSU's offense of old, a battering ram of a unit that used burly, between-the-tackles running backs to move the ball.
"Strength of our offense is our receivers. We have depth there we haven't had in the last couple of years," said Ensminger, a Baton Rouge native and former Tigers quarterback. "You watch (the 2017 LSU-Alabama game), and look at our talent. We have to put three to four receivers out there, be a (run-pass option) team, have to be a more pass ball team, have to go no huddle. That's the direction we're going."
Less than two minutes into Ed Orgeron's opening statement introducing new offensive coordinator Steve Ensminger, the coach declared the top pr…
Coaches are putting more of an emphasis on the receiver position than in past years, something Orgeron emphasized by hiring longtime NFL receivers coach Jerry Sullivan. The 73-year-old will have a heavy hand in the passing attack and will assist wideouts coach Mickey Joseph.
LSU's offensive staff met Wednesday to discuss and evaluate its personnel, Ensminger revealed. The meeting, he said, was the first of its kind in a "long time," he said.
The Tigers are moving on from Canada's shift-heavy scheme. Ensminger spoke about changing LSU's terminology completely, simplifying its passing system and having the ability to run any play out of any formation. His specific scheme is still taking shape.
"I want our staff to be involved with it so we're all on the same page and learn it together," Ensminger said. "Instead of me just telling them, 'Here it is. Learn it and let's go.' It is my offense. I will call the darn plays. I will lead this thing, but it is our offense and they need to be a part of it."
This hire was a long time coming.
Orgeron suggested he wanted to go this route after being named the permanent coach in late November of 2016. For whatever reason — maybe outside pressures or a deal with university leaders to hire a splashy name — he picked Canada, a decision that resulted in a $1.7 million divorce last week. The coach — or anyone from the university — cannot speak negatively about Canada without risking a breach of their mutual settlement. 
After "researching" several potential candidates this time around, Orgeron hired a man whom he served under as a graduate assistant at McNeese State in the 1980s.
It's a busy week and a busy weekend for LSU – and it has nothing to do with the coaching staff shuffling.
It is a hire that received a wave of negative criticism from an LSU fan base that hasn't tasted an Southeastern Conference championship since the school's last win over Alabama: 2011.
"I don't read the damn paper, don't read Twitter, don't go on Facebook, and I tell my family to stay off it," Ensminger said. "All I can do is what I can do. 'Hey, you're not good enough' or 'You can't do this.'
"Bull****!" the coach spouted. "I'll do it."
Ensminger suggested he has turned down this job in the past, and he explained why he hesitated in taking the interim role in 2016 — because it was not his offense, he said.
He's got eight months to shape his baby before what's already a hype-filled 2018 opener against Miami in Arlington, Texas.
"He's going to be really good," center Will Clapp said. "He knows how to use what he has and keeps it simple. There won't be any confusion, because (Ensminger) is all about every one being on the same page. I think we will be pro-style with a lot of good run schemes, but I know he will have that pass game working all spring to make it to what it needs to be."
The passing game made a small improvement last year, but the unit has not finished inside the top 80 nationally since 2013, a slide that cost former coach Les Miles and Cameron their jobs in 2016. Orgeron believes he's got the answers, and they were all in the building already in lower-tier roles — Ensminger coaching tight ends and Sullivan as a consultant.
"I knew the best coordinator for LSU was Steve Ensminger," Orgeron said. "I knew that deep down in my heart. I've always known that."
Said Ensminger: "I promise you, we're going to make this state proud."
You don't have a heart if you watched or listened to Steve Ensminger's news conference Thursday and didn't find yourself rooting for LSU's new…
---
ORLANDO, Fla. — Sept. 25 was so "crazy," Steve Ensminger said, that he didn't even have time to meet with his offense until three days after b…