It's a feeling Devin White gets.
He can't really explain it. It brews deep down, built into his being. It emerges like an animal instinct, rushing to his brain as the opponent snaps the football.
"I can feel the snap count for some reason," LSU's inside linebacker said earlier this week. "I time it out just right a lot of times. That's what coach (Dave) Aranda prides me on."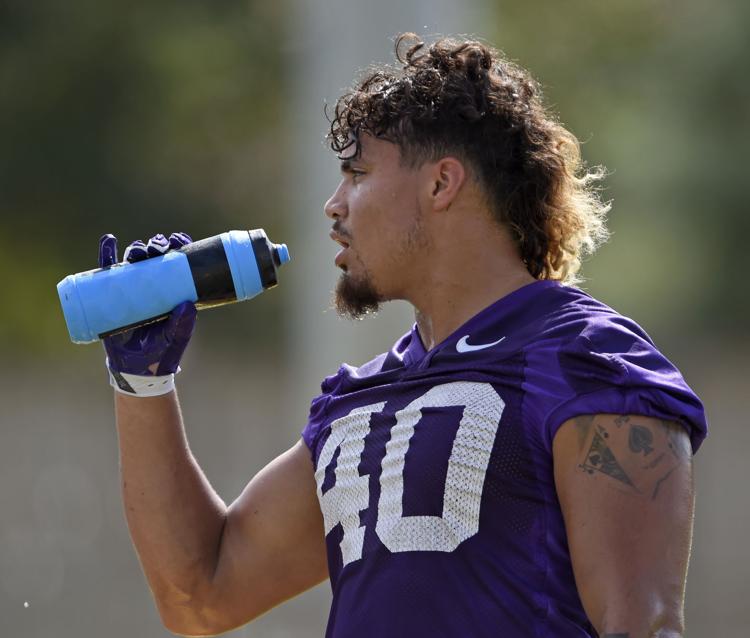 There is, indeed, an explanation to this feeling. And there's a reward, too. Partly because of White's feeling, Aranda, LSU's defensive coordinator guru, has picked the sophomore to be his blitzing inside backer, replacing current Atlanta Falcon Duke Riley.
Last year, it was Duke. This year, it's Devin.
Identical roles played by drastically different players physically, but each with that same — let's call it — snap feeling. They time it out, and they go. They go very, very quickly, darting from their position at linebacker, to the line of scrimmage and into the backfield.
"I like it," White said. "I'm glad he gave me that role. Last year, Duke had that role. Duke was a smart one, and he knew when to go and how to go. It's my first time really doing it a lot."
White's new role emerged quickly in last week's season-opening 27-0 win over BYU, and you can bet it will shine this Saturday in the Tigers' home opener against UT-Chattanooga, a Football Championship Subdivision foe.
White carried out a blitz or delayed blitz about a dozen times against the Cougars, roughly five of those plays causing enough havoc in the backfield to affect BYU quarterback Tanner Mangum. He came inches away from at least a pair of sacks, shoved offensive guards into the quarterback's face and even churned around the edge, giving tackles fits.
Saturday was supposed to be the big reveal of LSU's new offense.
At 6-foot-1 and 250 pounds, White is sturdily built, much bulkier than Riley's LSU playing size of 6-1, 225. That just gives him extra power. And don't worry about his speed. As one of the nation's most sought-after running backs two years ago, White has wheels.
It's that snap feeling, though, that pushes White's blitzing potential over the top.
"The athletic instinct he has is real special," Aranda said last month in an interview conducted by the school's play-by-play radio man, Chris Blair. "He's taking on a much bigger leadership role. I'm proud of him and what he's put into it."
White split his time this offseason in Aranda and Ed Orgeron's offices, the coaches say. With Aranda, it was Xs and Os. With Orgeron, it was on-field leadership, something needed at a position in which a second-year player like White is leading a trio of true freshmen: Patrick Queen, Tyler Taylor and Jacob Phillips.
The talks with coaches helped. The talks with Riley helped more. After all, White did switch jersey numbers from 24 to 40 this season, taking you-know-who's digits.
"God bless Duke Riley and what Duke Riley brought to our team last year. He made a really big impression on Devin, from the (jersey) number to communication, to the way he handles himself, to the way he prepares," Aranda said in May. "Duke really rubbed out to a real positive way on Devin."
Now Devin is Duke — the No. 40 blitzing linebacker. He's just got a few more pounds on him.
Riley is still very much in his life, too. The second-round NFL draft pick called White after Saturday's game.
"Told me, 'That's the way to lead the defense,' " White said. "He said he could see me out there communicating. That was the No. 1 thing I needed to do coming in, make sure I communicate."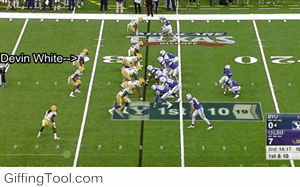 He's got the "talking" down, as Aranda puts it. And he's putting to use those instincts, probably acquired from playing running back all those years. He's sometimes reminded of his old running back role. As an inside linebacker, his stance is that of a running back, crouched over, hands on knees in what he calls an "athletic" position before the snap.
White signed as a running back out of North Webster High School after a career there that included 81 rushing touchdowns and more than 5,000 yards. Former running backs coach Frank Wilson, Orgeron said this summer, suggested coaches move him to linebacker, an area of need and a position he also played in high school.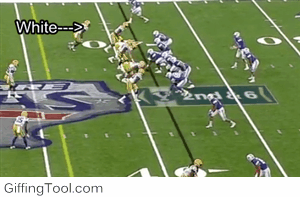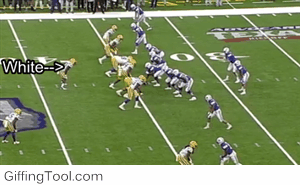 White didn't like it at first, he admitted this spring. Now here he is, timing snap counts and jetting into backfields. He spent plenty of time there Saturday, but came up empty, inches away from two to three sacks.
"My arms are too short," White laughed. "Got to start diving more."
His rushes weren't wasted.
He opened BYU's second possession by darting into the backfield on a delayed blitz. He caused Mangum to chunk up the ball, right into the hands of LSU cornerback Greedy Williams for an interception.
Those delayed blitzes are read plays.
White watches the quarterback. A three-step drop could be a quick pass — no blitz. A five-step drop normally takes longer to materialize — blitz.
He watches the running back, too. A running back staying in to pass block means he's not needed in pass coverage — blitz. A running back wheeling out of the backfield could be trouble — no blitz.
On that pressure leading to Williams' interception, White watched the offensive line.
"When I seen the guard block out, like a fan block, and center stayed on the nose (tackle), I had an open lane," he said. "I got there and the QB's eyes got big and the guard came off and kind of blocked me into the quarterback. Threw off his back foot."
This is still all new to White. He played in a reserve role last season, rotating into the game with Riley for short spells.
Now, just a year later, he's the one receiving breaks from a backup. He's the new Duke.
"When I used to get in, it was three and out a lot and then I got to wait," he said. "Now I'm in every series. I'm just getting a feel for it."
Several of the LSU players who did not travel with the team for the season opener will "work…