When Michelle Green returned in August to her home in Greenwell Springs, she was greeted by more than the already-bad-enough four feet of floodwater that destroyed her kids' toys and wrecked keepsakes from her husband.
Someone painted "Can't Catch A Break" in block letters on the face of her Chaumont Avenue house. Green does not know who wrote the phrase, but it certainly captures what her life has been like since floodwaters soaked 130 homes in her neighborhood.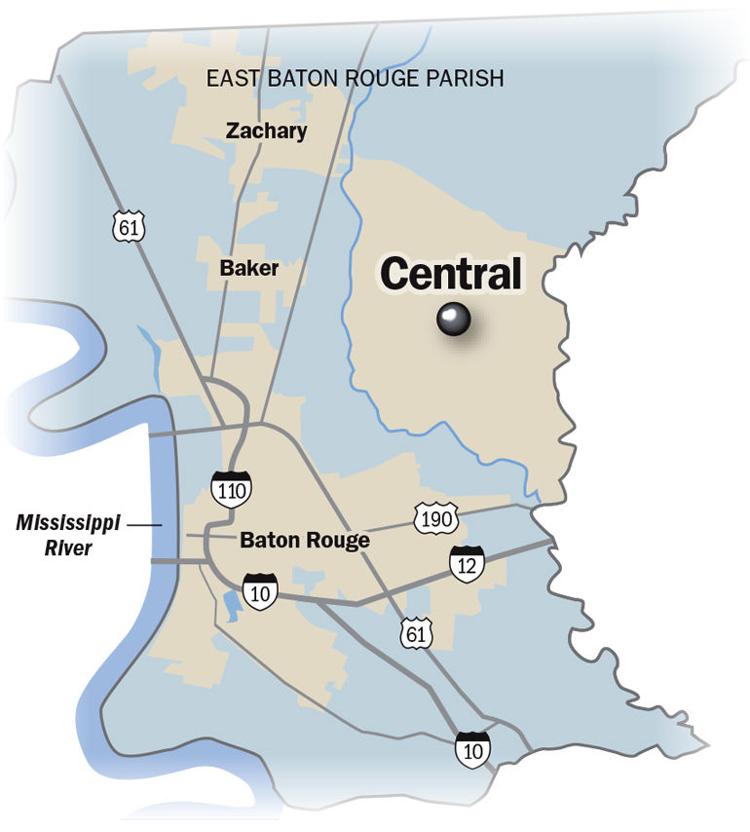 While many people across Central, Greenwell Springs and the surrounding areas have started or even finished renovating and moving back into their flooded houses, Green is still waiting on the payout from her insurance company. The first check that came was in the name of her husband of 25 years, Bryan, who died a year before the floods hit.
"For eight months, I've been waiting on the succession," said Green, 52. "Until the succession happens, I can't do anything."
Green and her children tried Shelter at Home's basic repairs, and briefly lived in one room of their otherwise gutted house. But when a mouse scampered across a mattress one night, they decided it would be better to live in a FEMA trailer that's three times smaller than their house.
Nearly half of the August flood victims surveyed by the state after they got help from Louis…
Pockets of Central and Greenwell Springs — neighborhoods like Bellingrath Hills, Bridlewood and Evergreen Hills — have seen quick rebounds from the floods, with people rebuilding in droves. But recovery is slower in parts populated by senior citizens, or where people simply do not have the money or the will to rebuild.
In the Tanglewood neighborhood, Cynthia "Sis" Prestidge begged her husband, Billy, to stay and rebuild after 33 inches of water rushed through their brick house on Rustling Oaks Drive.
Students and teachers returned to the renovated Tanglewood Elementary in January, but 76-year-old Sis and 78-year-old Billy are still living in a 32-foot motor home in their backyard.
Billy wore a camouflage LSU cap as he recently stood outside of their home, alternating between his descriptions of the laborious process of getting cabinets and doors and his tales of trips to Omaha to watch the LSU baseball team. The Prestidges had flood insurance, but also have had to dip into their savings to rebuild, and hope to finish soon.
"It's terrible — it's ruined our neighborhood," Sis said, pointing to the houses of at least three families she believes won't return to their block. "A lot of them are not coming back at all."
Their Metro Councilman, Scott Wilson, listened as the Prestidges and others in his district told their tales of recovery. He told all of them that he expects it to be years before Central and Greenwell Springs fully rebuild.
Ryleigh Rogers spent just one day of first grade at Tanglewood Elementary before several fee…
In some parts of Central, not everyone had a place where they could return.
Stacey Beck heard that her house on corner of Frenchtown Road and Central Throughway flooded in 1983, and took precautions in August to save her grandfather's cedar chest and some framed prints. But she put other keepsakes as high as they would go in her house, not expecting the nine feet of water that doused her house up to the ceiling. It took four days to drain.
"There were dead fish all over the floor in our house," remembered Beck, 48. "That is a smell that I never want to smell again in my life."
When engineers looked at her house afterward, they said repairing it was not possible. The insurance money that was supposed to cover the contents of her home had to go toward the down payment on a home they bought in Alford Acres. 
Despite 85 percent of structures flooding in Central, the house in Alford Acres stayed dry in August. Beck and her husband liked the rural feel of Central and wanted to stay there.
They recently finished demolishing their original home, but since their flood insurance money has gone toward buying another home, Beck said they have been lucky to get furniture donations from family and friends.
For the amount of money FEMA is spending on temporary mobile homes for flood victims, the fe…
The headaches over insurance — having enough of it and having the right kinds of it — throb throughout areas that flooded. South of Central in the Village Cote neighborhood, Timothy Love said he had to pull $22,000 out of savings to rebuild his home there despite having flood insurance.
Amos Spikes, also in Village Cote, described using money from both his 401(k) and his savings to furnish his house, as his flood insurance only covered the structure and not the contents. Debris still tarnishes yards and some houses show no signs of work aside from being gutted since the floods swept through the neighborhood just south of the Comite River.
Even before the flood, Love said property values were going down, and he worries that the trend will only worsen in Village Cote. As he worked on his home and Spikes worked on his, each said they hope their neighbors will stay and rebuild with them.
"You pray they come back," Spikes said.
Tension over Louisiana's recovery from last year's catastrophic floods became the focus of a…