Oysters make people happy. It goes beyond satisfying an appetite or even a craving. It's something as visceral as the raw oyster itself, bursting with the essence of the tides. For aficionados and true believers they can instill a feeling of well being bordering on euphoria.
In New Orleans today there are many more ways to chase this bliss. As the number of eateries serving oysters has increased, so have the variety of oyster bar types and styles of service in which to partake.
Maybe your ideal is an old-school stand-up oyster counter, with an elbow propped on marble. Perhaps the experience is better with your own seat, a waiter and a long wine list to accompany them. For some the local bounty is more joyous at a happy hour bargain, while others are willing to shell out a little more for exotic imports or the highly-cultivated local product now coming in from specialized oyster farms.
Below, I've assembled an overview of different ways to dive into a dozen, with representative examples of different types. Hopefully, one will fit your wheelhouse or, better yet, you'll find inspiration to tour a few different types on one grand oyster outing.
The Classic New Orleans Oyster Bar
The stand-up oyster bar stands alone at Pascal's Manale. It has its own cove in the cocktail lounge, and it has its own character and rituals too, very often emceed by Thomas "Uptown T" Stewart, who this year marks a quarter-century opening oysters here. He still mints new regulars at this century-old stalwart with his easy banter and expert ways around an oyster.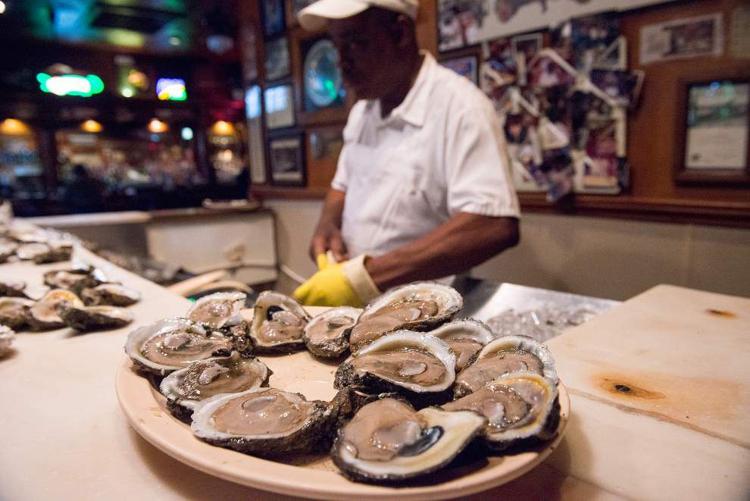 Pascal's Manale proprietor Sandy DeFelice said the format has been essentially the same since at least the 1960s. The bar had to be rebuilt after the Katrina levee failures, but the original, shell-worn marble top was reused. DeFelice himself added the token system, with customers buying chips from bartenders across the room redeemable for half or full dozens. Today this homemade point-of-sale solution from the pre-digital age is one of many house traditions.
Tradition also pulses through Casamento's, where the gleaming tile work all around can bring to mind the interior of an oyster shell. The shuckers work from a station that's more an oyster ledge than an oyster bar, but a bracingly chilled half dozen gulped down on the spot, perhaps while waiting for a table to open at lunch, is part of the time-honored process here.
By comparison, Mr. Ed's Oyster Bar & Fish House looks much more modern, but at its heart – and at the prow of its oyster bar – it's the continuation of a very old tradition too. In 2013, Mr. Ed's took over the former Bozo's, a seafood restaurant with roots stretching back to Mid-City in the 1920s. The menu and décor are all new, but the oyster bar functions just as it did in the Bozo's era.
"All we did with the oyster bar was change the grout," said proprietor Ed McIntyre. "It's the same bar, same top, same supplier. We didn't want to change a thing."
It's another stand-up counter that engages all the senses – one where you can see the oysters on ice, hear the clatter and clank of knives, shell and lead and taste the oysters mere moments after they're opened, washed down with thick, frosty schooners of beer.
1838 Napoleon Ave., 504-895-4877
4330 Magazine St., 504-895-9761
Mr. Ed's Oyster Bar & Fish House
3117 21st St., Metairie, 504-833-6310
The Modern Oyster Bar
Variety on the half shell in New Orleans once meant alternating oysters with or without cocktail sauce. That's changed with oysters from different waters, and entirely different regions, now identified and specifically featured on some oyster bar menus.
Pêche Seafood Grill was an early adopter of local oyster variety, especially those grown using off-bottom cultivation, a technique just now taking root across the Gulf Coast that produces intensely flavored specialty oysters. The Pêche raw bar menu usually has three or four types from different parts of Louisiana and Alabama. And a renovation of Borgne this summer established a new oyster bar in the dining room, under a blackboard now listing both standard Louisiana oysters and specialty local oysters sold by the piece.
The month-old Kenton's has added another oyster perch Uptown, this time a seductively handsome, brass-topped counter with an iced bin of oysters on prominent display just across from the bar's amber-hued mural of bourbon choices. Oyster types vary here – East Coast imports appeared in November, this week they hailed from St. Bernard Parish – and they're served with a classic mignonette alongside the lemon and Tabasco.
800 Magazine St., 504-522-1744
601 Loyola Ave., 504-613-3860
5757 Magazine St., 504-891-1177
The Neighborhood Oyster Bar
At the neighborhood oyster bar, oysters are simultaneously the center of the attention and no big deal. They can get the blood pumping, but they're also an everyday, dressed-down indulgence that's as natural a birthright for New Orleanians as a ham and cheese po-boy or a bag of Zapp's.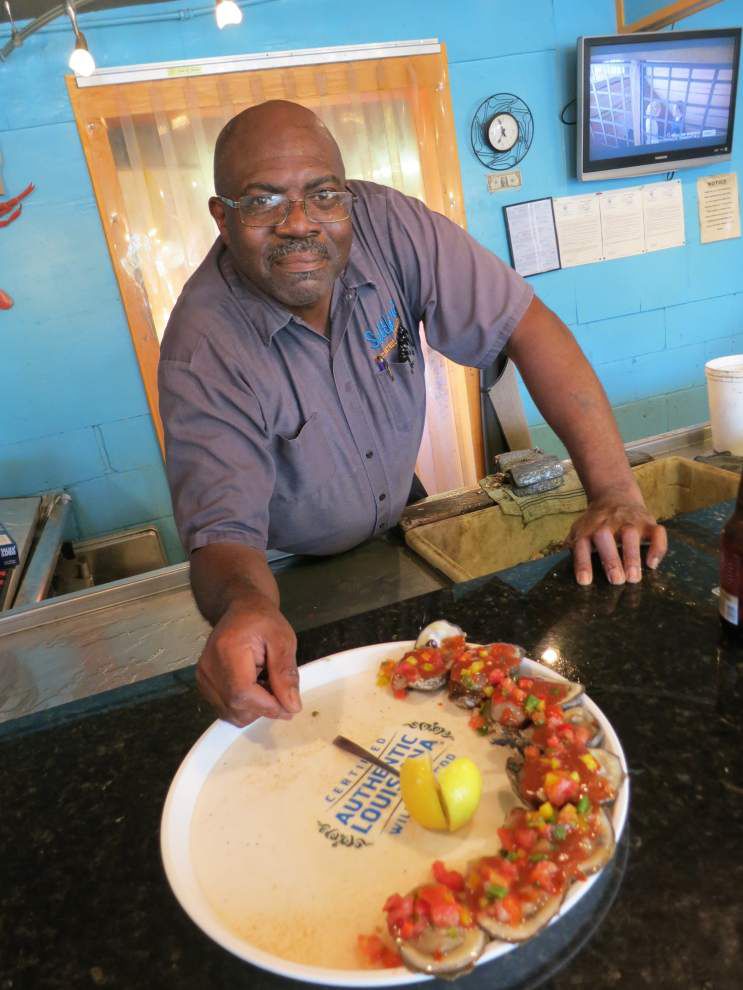 Casual treatment doesn't mean any drop in quality, but rather signals the deep comfort level that oyster culture has attained here. You get a sense of that at Seither's Seafood, which converted its one-time retail market into a small oyster bar. Separate from the main dining room, but sharing the full menu, it feels like a clubhouse for oyster lovers out between the warehouses and workshops of its blue collar neighborhood. Rodney "Doc" Jones can make any dozen extra memorable with his souped up "mojo" cocktail sauce, and he'll make anyone feel welcome – with the possible exception of fans of the Atlanta Falcons, for which he stokes a grudge regardless of record, standings or season.
Harbor Seafood serves practically every type of Louisiana seafood commercially available, thanks in part to the related Big Fisherman seafood market that shares its roof. But look around the tiny, bustling dining room during oyster season and it seems most of the tables are gathered around a blue platters of raw oysters. A few seats at the far end of the bar have direct access to the oyster station, and very cold pitchers of beer make the rounds, especially during Friday lunch.
On the northshore, K. Gee's Oyster Bar serves much the same role, with the oyster station at its bar overlooking a dining room exclusively of locals getting into the classic casual Creole fare.
While Frankie & Johnny's dates to the 1940s, it only added its new oyster bar in 2013. But it fits right in at this Uptown side street seafood. Walk inside from the gravel lot, listen as the sounds of the riverfront and railway are replaced by oldies from the vintage jukebox under the low rafters, order a quick dozen and you'll see what I mean.
279 Hickory Ave., Harahan, 504-738-1116
3203 Williams Blvd., Kenner, 504-443-6454
2534 Florida St., Mandeville, 985-626-0530
321 Arabella St., 504-243-1234
Oysters with Accompaniments
Bourbon House is a sparkling example of an upscale oyster bar that goes beyond oysters. The curving marble bar has a center display for all sorts of raw and marinated seafood salads, and the shuckers will top your oysters with mignonette and local choupique (a.k.a. bowfin) caviar. Though the restaurant has a view to one of the rowdiest stretches of Bourbon Street, a seat at this bar can feel like a world unto itself for oyster lovers.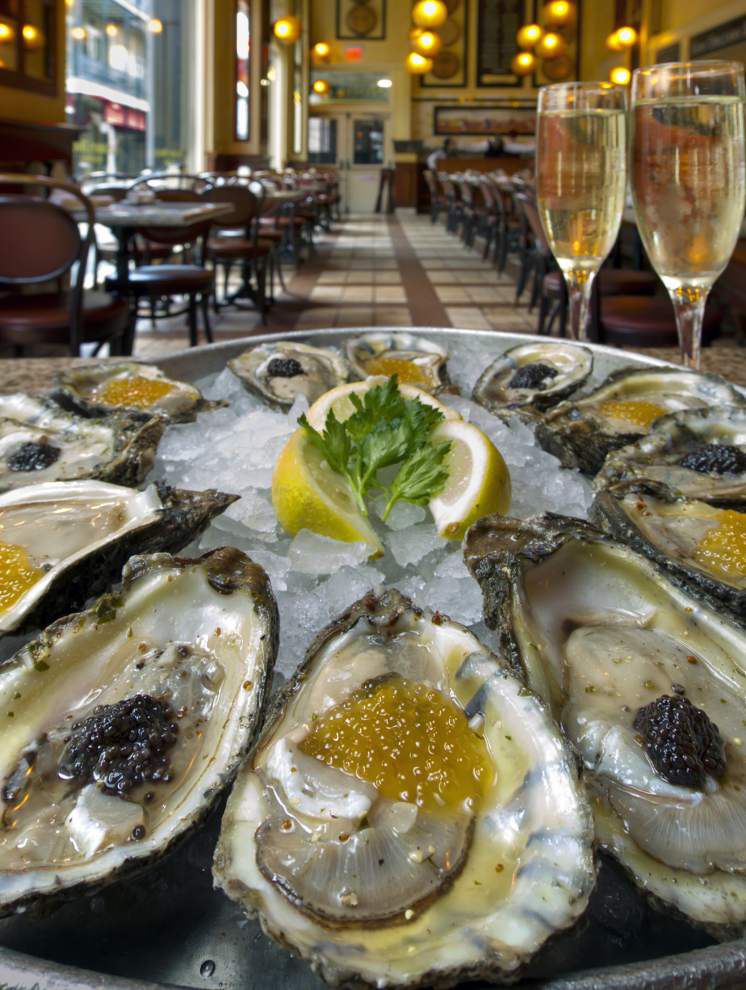 A year-old downtown addition, and a transplant from Florida's Emerald Coast, Trenasse prides itself on oysters "all day, all ways." That translates to straight up raw beauties next to oyster shooters and others topped with ceviche, for their own palm-sized raw seafood cocktails. If you want to mix the raw and the cooked (and provided you brought backup) order the "oyster log," a coffee table-sized presentation of three dozen variously broiled and sizzling oysters.
144 Bourbon St., 504-522-0111
444 St. Charles Ave., 504-680-7000
Oysters with a View
The recent spurt of lakefront redevelopment in the West End did more than just return more restaurants here – it also added a pair of oyster bars with a view. From their mast-height elevated perches, the bars at Brisbi's and the Blue Crab offer a vista over the marinas and out to a Lake Pontchartrain sunset.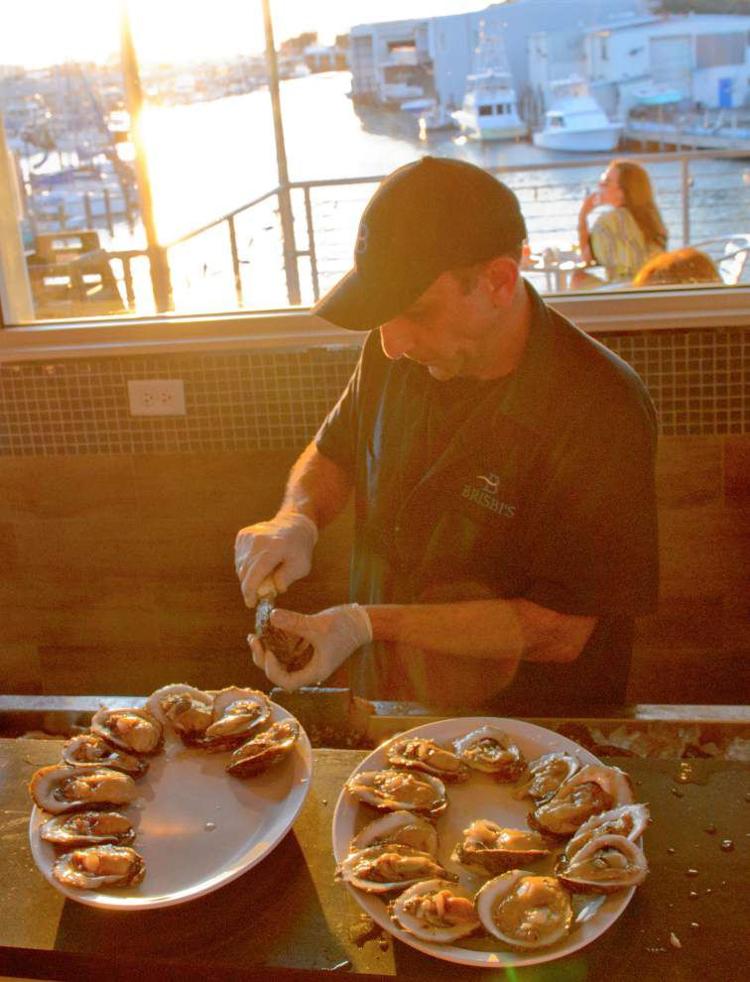 Across the lake in Frenier, a cluster of camps outside LaPlace, the waterfront restaurant Frenier Landing is another oyster destination with a view, this time looking back toward the city.
Blue Crab Restaurant & Oyster Bar
7900 Lakeshore Dr., 504- 284-2898
Brisbi's Lakefront Restaurant & Bar
7400 Lakeshore Dr., 504-304-4125
113 Dottie Lane, LaPlace, 985-224-2178
Late Night Oysters
Cooter Brown's Tavern & Oyster Bar changed hands last month, but the new owners of this venerable watering hole at the elbow of the Riverbend are taking a slow and careful approach to any changes. Oysters, naturally, remain a key part of the program, opened until at least midnight and often much later. Longtime shucker Vince D'Aquila is often at the helm at the station beside the beer coolers.
Cooter Brown's Tavern and Oyster Bar
509 S. Carrollton Ave., 504-866-9104
Happy Hour Bargains
Louisiana oysters are a precious resource, but these gems can also be a steal. Normally a bargain compared with the oysters produced elsewhere, special happy hour deals amount to practically give-away prices. Some special caveats apply, usually requiring you to buy a drink to wash them down.
The Lower Garden District bar Blind Pelican has maintained one of the best deals around, at 25 cents each from 4-8 p.m. daily, while the Uptown bar Le Bon Temps Roule does in fact give them away during its long-standing Friday happy hour, starting around 7 p.m. while a piano player holds court by the pool tables.
Blind Pelican
1628 St. Charles Ave., 504-558-9399
4801 Magazine St., 504-895-8117
Click here to see a baker's dozen of more oyster happy hours around the New Orleans area.
Follow Ian McNulty on Twitter @IanMcNultyNOLA.