When "Home for the Holidays With the Victory Belles" premieres at the Stage Door Canteen in the World War II Museum, a month of arduous rehearsals will have gone into it. And no one will have been more instrumental in molding this production than writer and director Victoria Reed, who holds the august title of Bob & Dolores Hope Director of Entertainment for the museum.
"It's a one-hour musical variety show, with a lot of familiar songs like 'Deck the Halls' and Louis Armstrong's 'Christmas in New Orleans' and some wonderful dance numbers choreographed by Heidi Malnar," Reed said.
"We currently have 10 different Belles in New Orleans," Reed said. "I chose four for the Christmas show, based on seniority, availability and their individual talents for this particular show."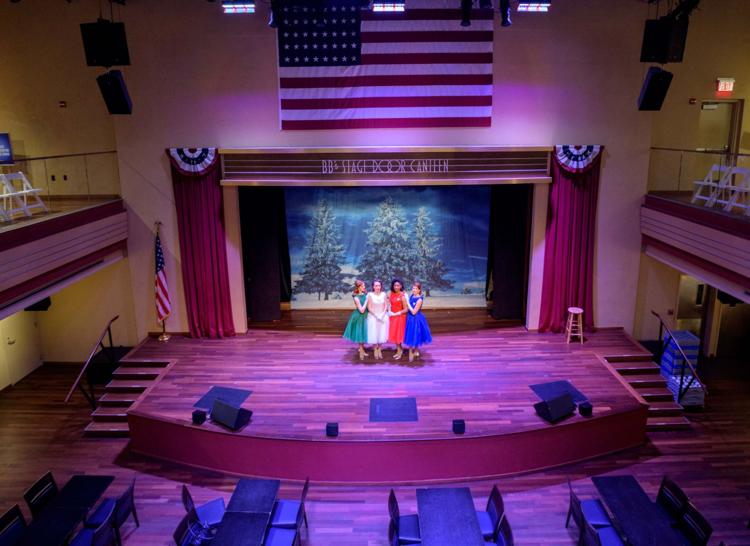 Reed is no stranger to musical genres of the 1940s and '50s. She worked for the USO for 10 years while living in New York City, before breaking off to form her own business to do entertainment around the globe. She called her company Red White and Blue Music with the American Belles, to set itself apart from the Liberty Belles, a group she performed with for the USO. When the then D-Day Museum approached her to put together a group for New Orleans, she formed the Victory Belles originally in New York. She was one of the three performers.
"I didn't know anything about the talent pool here in New Orleans," Reed said. "It was 2008, and I knew I needed a group who was ready to spring into action. But, once I had auditions here at the museum, it was clear that there was no shortage of talent in this city."
That talent brings to the stage Rockette-style dancing, intertwined with a musical review including seasonal favorites.
 The Christmas show attracts a cross-section of the city to weekday performances, which include a buffet, and Friday and Saturday shows that offer plated dinners. On Sunday, it's brunch, to the accompaniment of local harpist Ashley Toman, prior to the show.
Of the three original Victory Belles, one of them, now rehearsing for the Christmas production, is Mandi Mueller, who graduated from college in musical theater.
"I had come home after college, and my grandmother was living with us. I woke up one morning to a clipping with a sticky note attached to it from my grandma. It said 'Your pawpaw would have loved this.' My grandpa had served in the Navy and passed away when I was 15. The clipping she left for me was the audition notice for the Victory Belles."
One of the other Victory Belles in this year's Christmas production is Shelbie Mac, of Texas, whose original passion was drawing and painting at the conservatory arts school she attended outside of Dallas.
"It was my younger sister who discovered theater, and watching her I became entranced, and knew this was my calling," Mac recalled. "In 2013, I moved to New York City to start out with a manager, but became ill and moved home, right around the time my dad got a new job in New Orleans. I began doing regional theater here, working at Rivertown in Kenner, when I noticed the auditions for the Victory Belles. The rest is history.  ... I'm also playing Patty Andrews in the museum's tribute production to the Andrews Sisters."
Alongside Shelbie in the Andrews Sisters production is Emily Gyan, a Victory Belle who never dreamed as a young child she'd have anything to do with being an entertainer.
"In elementary school, I was so self-conscious that every time one of my classes would do a play, I'd run off and cry," Gyan recounted. "In an attempt to get me to overcome this paralyzing fear, my mother sat me down and told me I was going to audition for a part in 'Snow White,' and there would be no tears. I got the part of the enchanted vixen, an advisor to Snow White. Being forced to face my fears, I realized I loved singing, and could also transform myself into another character, and make people smile.
"From then on, I was hooked."
For Victory Belle Jessica Mixon, performing in "Home for the Holidays" is another opportunity to venture out and showcase her talents.
"As a black woman, there are still far fewer auditions for people of color, but it's certainly changing," Mixon said. "I knew when I was cast as the narrator in 'Joseph and the Amazing Technicolor Dreamcoat' at Tulane Summer Lyric Theater that I could break out of traditional black roles like 'The Color Purple.' I remember years ago seeing singer Brandy on television playing Cinderella, and I realize we've evolved quite a bit over the decades."
"Home for the Holidays" (not to be confused with the 1995 Hollywood film about a dysfunctional family) is sheer escapism, with polished sets, costumes and no plotline to follow. It's the eighth new Christmas Show at the Stage Door Canteen since 2010, with performances running from Nov. 29 through Dec. 27.
Visit stagedoorcanteen.org to buy tickets or call the box office at (504) 528-1943.