Early discussions about staging a "nautical visual presentation" of composer Yotam Haber's "New Water Music" imagined a procession of canoes on Bayou St. John.
But in collaboration with New Orleans Airlift, the local arts organization best known for the fantasy-land Music Box Village in Bywater, the production grew bigger. Much bigger.
Saturday's presentation of "New Water Music" on Lake Pontchartrain near the Seabrook Bridge boat launch will be part classical concert, part art installation, and part "Waterworld"-inspired spectacle.
It will involve the Louisiana Philharmonic Orchestra and an additional 100 or so local musicians – some on land, some on the water. It will feature a "water ballet" of shrimp and oyster boats and a barge with custom-designed sets. A temporary village, built with nets, will be staffed by coastal advocacy organizations and people who make their living from Louisiana's waterways and coast.
"It's a very, very ambitious project," Delaney Martin, New Orleans Airlift's artistic director, said this week. "It's a little overwhelming."
The village, with food and beverages, opens at 4 p.m. Saturday. The "New Water Music" performance is from 5:30 to 7 p.m. Admission is free.
The site is best accessed by following Lakeshore Drive to its eastern terminus at the bridge spanning the mouth of the Industrial Canal. Attendees are encouraged to bring blankets or festival chairs.
Anyone wanting to watch from the lake in canoes should be fine, Martin said, but motorized boats must keep their distance. "And the performance is geared toward land," she said, "so people watching from boats won't have the best views or audio."
"New Water Music" is partly inspired by the first public performance of classic composer George Frideric Handel's "Water Music" in London in 1717. King George I watched from a royal barge on the River Thames, as ordinary citizens flocked to the riverbank to listen.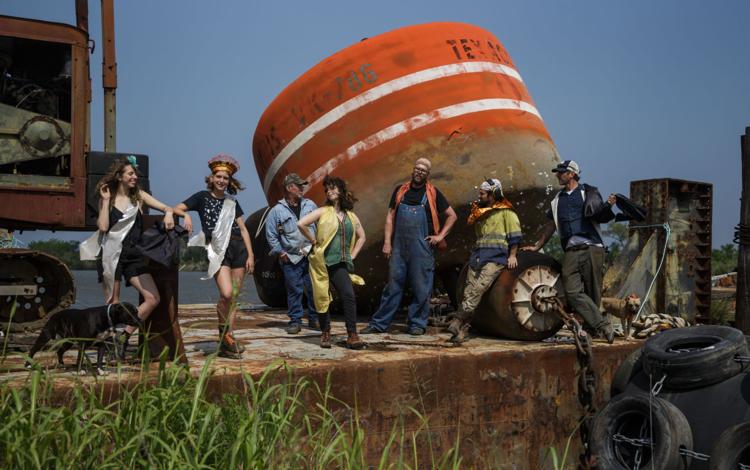 Haber, a Guggenheim fellowship recipient, Rome Prize-winning composer, and University of New Orleans assistant professor of music, wanted to create "Handel's 'Water Music' Plus," with a focus on the Louisiana's coastal culture.
"I wanted to write a piece for New Orleans that was different than a regular, sit-down, classical music recital," Haber said. "As the vision broadened, it really needs visual drama and a narrative. Airlift came to mind."
He had previously worked with the collective on a much smaller project. This one grew quickly, as Martin and the Airlift team brainstormed.
Nick Spetsiotis, a New Orleans-based movie industry marine coordinator whose credits include "Titanic," the "Pirates of the Caribbean" franchise, and Kevin Costner's "Waterworld," provided logistical support and advice on everything from safety boats to the show's location.
Bayou St. John was ruled out in part because its bridges are too low. Also, the neighborhood lacks the industrial maritime backdrop Martin wanted.
At one point, she hoped to stage the production on the Industrial Canal alongside the Music Box Village. Spetsiotis explained that shutting down such an essential marine thoroughfare was impractical. And to have shrimp boats idle in the Mississippi River's current, awaiting their cues to cruise into the canal, would burn up hundreds of dollars of fuel.
They eventually settled on the Seabrook boat launch, where the Industrial Canal empties into Lake Pontchartrain. It has the "industrial charm" Martin desired, but also "this sublime, regatta-looking lake vibe."
That the beach near the bridge is frequented by Hispanic and African-American families was also appealing. The producers want to attract an audience beyond the orchestra's usual patrons, as did the original "Water Music" along the Thames in 1717.
"I think we made the right decision" to move to Lake Pontchartrain, Haber said. "Bayou St. John wouldn't have been as dramatic a place to do it, or as important a place. And the more folks that are introduced to the hidden gems of the city, the better."
The experience gained by building the ambitious Music Box Village better prepared New Orleans Airlift to take on "New Water Music." Having a permanent workspace where seamstresses could sew costumes and sets could be fabricated also helped. 
"We're better at it, and we have this awesome infrastructure," Martin said. 
One of the stars of the show is an 11,000-pound, 8-foot-tall, 13-foot-wide, barnacle-encrusted orange buoy from DCL Mooring and Rigging. Martin drives past the industrial maritime supply yard en route to the Music Box Village, and had long admired its massive anchors and buoys. She had always hoped to use one as a prop; "New Water Music" provided the opportunity.
"That's just one of the very exciting relationships that have come out of this project," she said.
At one point, the Airlift team considered building their own boats. But after realizing that effort and money could best be spent elsewhere – the show's $70,000 production budget was funded entirely by grants – they hired shrimp and oyster boats.
Members of the LPO will be arrayed on different boats by section – percussion, woodwinds, brass, etc. Additional musicians will be onshore. They'll engage in a land-and-sea call-and-response.
Given the sprawl of the production, Haber can't simply conduct the orchestra with a baton "and hope musicians a quarter-mile away can see you." Instead, large signal flags will be used.
Though the musicians must play together at times, Haber's composition also leaves room for improvisation.
"There's a real freedom for every musician, which is different from most orchestral pieces," he said. "Within each section, every single musician gets to make their own choices."
Attendees will receive programs containing sheet music and lyrics. The music incorporates elements that many locals will find familiar, including spirituals and Mardi Gras Indian music.
"Nothing would make me happier than if the audience recognizes what they're hearing and start singing along," Haber said. "That would only make the piece better."
Last Sunday afternoon, alien sounds drifted over a rusty 15-foot-tall corrugated metal wall …