On the first night of the 2016 Essence Festival, Kenny "Babyface" Edmonds went for a run, the members of New Edition sweated to their own oldies, and Maxwell was on time.
As patrons approached the Mercedes-Benz Superdome on Friday, they ran a gauntlet of vendors set up in downtown parking lots. Prince and Muhammad Ali memorial merchandise factored prominently in the offerings. There would be at least one opening night Prince remembrance inside the Dome, too.
Edmonds, who as a producer and songwriter helped launch the New Jack Swing movement in contemporary R&B in the late 1980s, has had his hands on dozens of hits, including several of his own. On Friday, he returned to Essence for the first time in more than a decade to occupy the middle slot on the main stage.
His repertoire is heavy on ballads, which, in the vast expanse of the Dome, can bog down a show. But the 57-year-old Edmonds is an engaging, eager to please entertainer. He gave a shout-out to longtime Essence favorite Frankie Beverly & Maze. He dialed up a roster of swooning, fondly remembered slow jams.
To stamp an exclamation point on the set, he resorted to a surefire gambit. As his band vamped on "End of the Road," the massive 1992 hit he co-wrote and produced for Boyz II Men, he took off running through the audience. He didn't just go out a few rows and turn around – he sprinted to the far side of the Superdome floor like Brandin Cooks going deep for a Drew Brees bomb. His shirt unbuttoned all the way, he actually outran his security. After high-fiving folks leaning over the railing of the plaza-level stands, he finally found his way back to the stage.
With that, his show was finished, but Edmonds wasn't. During the second song by reunited R&B boy band New Edition, he jumped in for a bout of choreographed steps. Perhaps because his pink coat didn't exactly match the red tuxedo jackets worn by the five members of New Edition, he didn't stay long.
Inspired by Edmonds' example, New Edition, too, went all out. They didn't go jogging amongst the people, but poured sweat as they essentially ran in place. Ricky Bell, Michael Bivins, Ronnie DeVoe, Ralph Tresvant and Johnny Gill – Bobby Brown did not join his old bandmates this time at Essence – gamely synchronized their classic moves: The spins, the dips, the side-kicks.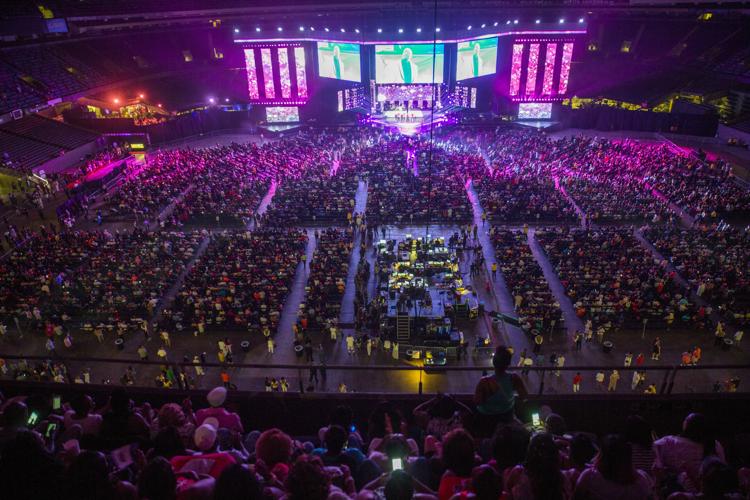 Early on, they favored the more hip-hop flavored songs in their catalog. During a series of solo turns, Tresvant lofted his ladies' man soprano with his shirt open and his blinged-out fedora at an especially rakish angle. Bell, Bivins and DeVoe stepped out with a couple of Bell Biv DeVoe favorites, including a spirited "Poison," a set highlight. They eventually revisited their youth with the early New Edition hits "Candy Girl" and "Mr. Telephone Man," grown men pretending to be boys -- boyz? -- once again.
New Edition left the stage a few minutes behind schedule. But thanks to an especially speedy set change, Maxwell's band started more or less on time. In 2009, he kept the Essence audience waiting until after 1 a.m. – past his scheduled stopping point – before finally arriving at the stage.
On Friday, there were no such shenanigans or star trips. Looking especially GQ-like in a smartly tailored, slim-cut suit and skinny tie, Maxwell was confident, comfortable and cordial throughout his fourth Essence appearance (he mistakenly designated it as his third). He thanked the audience repeatedly, and noted how happy he was to be at the festival: "This is black Christmas, baby. This is Kwanzaa in July."
For slightly more than an hour, he ranged around the stage like a natural-born showman. He plugged his new album, "blackSUMMERS'night," but not gratuitously. He playfully tossed a bottle of water in the air, grinned broadly and often, and gleefully urged the audience to pose for a Snapchat photo.
Maxwell's calling card is his falsetto. If there is such a thing as too much falsetto, he walked right up to that line. But on "Lifetime" and elsewhere, he demonstrated that his huskier, craggier voice in its natural range is adequately expressive and romantic.
A Maxwell show is not designed to be incendiary. Rather, it is a slow burn. Such modest expectations are a tough sell as the hour grows late at Essence, but the singer did his part to keep folks interested. After "Fortunate," the R. Kelly written and produced hit Maxwell recorded for the 1999 film "Life," he and his band briefly went to church.
Then, just as he did last weekend during the BET Awards, he saluted Prince with a modified "Nothing Compares 2 U." "It's been seven hours and 69 days since you took your music away," he sang, altering the lyrics to reference Prince's death. At the end, he made the sign of the cross, gazed heavenward and said, "We love you, Prince."
With that, he reached back to his own classic 1996 nouveau soul debut, "Maxwell's Urban Hang Suite," for the singalong chorus of "Ascension (Don't Ever Wonder)." Those that remained celebrated the song and its singer's promptness.