"As a rapper," Chance the Rapper said during his Sunday night headlining set at the 2017 Essence Festival, "you've got to have smooth transitions."
He didn't always follow his own advice. Neither did Percy "Master P" Miller, the New Orleans rap mogul who presided over an ambitious but inconsistent reunion of his No Limit Records roster from the 1990s.
The two main-stage acts at the Mercedes-Benz Superdome that did, in fact, pull off smooth transitions were the two non-rappers: Solange and Trombone Shorty & Orleans Avenue.
Size-wise, Sunday's closing night audience fell somewhere between Friday's scant crowd and Saturday's much fuller house. 
Solange Knowles, performing for the first time on the main Essence stage, orchestrated a show of ultra-cool R&B and funk that bordered on performance art. She and her band were dressed entirely in red, also the dominant shade of the lighting scheme. The musicians who weren't bound to a drum kit engaged in near-constant choreographed steps, a new skill for local bassist Charles Lumar.
Knowles' commitment to, and belief in, what she was doing was apparent, even when she wasn't thrashing around or striking a pose. She stayed completely in character — she's a master of the thousand-yard stare — as she romped out into the seats and sang directly to a fan.
She didn't even bat an eye when the car alarm went off on a 2018 Ford Mustang waiting to be given away in a promotional event.
A 20-piece brass section, its members also clad entirely in red, joined in her coming-out party in her adopted hometown. "I want to thank the city for embracing me as my new home," she said of New Orleans. The city inspires her art, she said, and the "people are golden, so filled with pride."
Playing to a large room with lots of empty seats, Troy "Trombone Shorty" Andrews wasn't taking any chances. He expanded Orleans Avenue with a second drummer, a percussionist, an extra horn and a trio of backing vocalists. The airtight ensemble treated their 40-minute set like one long, uninterrupted song. They never let up on the gas, starting with the version of the Meters' "It Ain't No Use" that appears on Shorty's current CD, "Parking Lot Symphony."
"We bringing the funk all the way from the 6th Ward in New Orleans!" Andrews proclaimed, referring to an area roughly six blocks from the Superdome.
For his Essence debut in 2015, which made him the first New Orleans act to earn a main-stage slot at the festival, Andrews brought in guest rapper Mystikal to juice the show. This year, he leaned on another local rap star, Juvenile. With the percussion and horns behind him, Juvenile fired up the audience with his hit "Back That Azz Up."
Back in the day, Juvenile recorded for New Orleans rap powerhouse Cash Money Records. At Essence on Sunday, he essentially warmed up the stage for the reunion of rival No Limit Records.
Give Percy "Master P" Miller credit: He certainly tried to make No Limit's Essence debut too big to discount. He kicked off the show parading through the crowd with Mardi Gras Indians and a brass band.
Upon arriving at the main stage, however, momentum quickly flagged; the presence of a live band helped but sometimes wasn't enough. Just as some rapper would engage and excite the audience, an awkward delay or a B-list act would squander the moment.
Miller trotted out pretty much every surviving artist from the old No Limit roster, but some would best have been left as memories. Was anyone really pining for a revival of the vocal quartet Sons of Funk?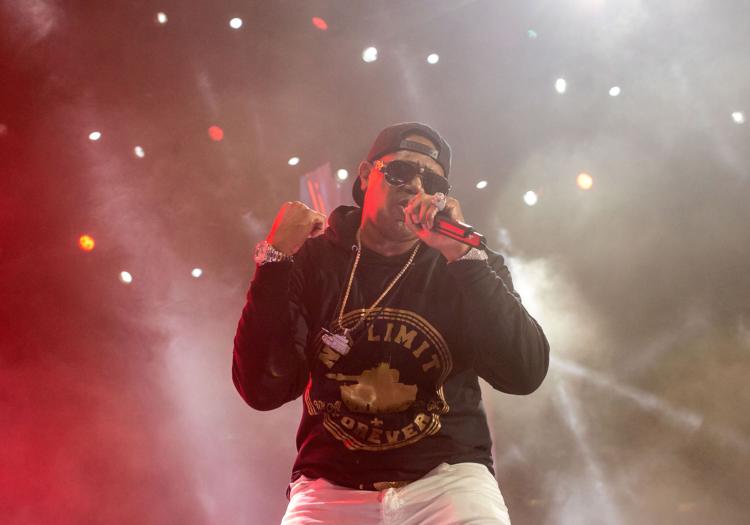 Truth be told, Miller, his brother Silkk the Shocker and his son Romeo aren't especially skilled rappers. Miller isn't a natural performer, either; he seems far more comfortable calling the shots offstage.
The strongest rappers both then and now were Mystikal and Mia X. Michael "Mystikal" Tyler's charisma is very much intact. His "Man Right 'Chea" and "Danger" electrified an audience that was in need of resuscitation.
So, too, did Choppa's one hit, "Choppa Style," and the semi-surprise appearance by Snoop Dogg. Backed by the band, Snoop rocked his signature "Gin and Juice," which predated his tenure as a No Limit artist. He stuck around as the Southern University marching band backed Miller on his "Make 'Em Say Uhh," with Mystikal, Mia X and Silkk helping out.
The final, wooden "I Miss My Homies," an ode to the departed, won't be mistaken for Sean "Puff Daddy" Combs' similarly themed but far more melodic and nimble "I'll Be Missing You."
Neither would "I Miss My Homies" be mistaken for a Chance the Rapper track. The young Chicago rapper and his team deftly craft songs that borrow from R&B and gospel, with an inspirational or overtly religious message to match.
As the final act of the 2017 Essence, he filled the Sunday night slot that Kendrick Lamar, another critically acclaimed rapper, held the past two years. Chance scooted onstage aboard a mini-motorcycle. Backed by his drummer, trumpeter, keyboardist and vocal quartet, he jumped into arrangements as tidy as his attire.
But like the No Limit crew, he struggled to string together a set with continuous flow and momentum. The breaks between songs revealed a silent audience.
Still, he pressed on. "Make some noise if you want to go to heaven!" he said. In "All We Got," he rapped, "I get my word from the sermon/I do not talk to the serpent."
At a far corner of the stage, two sign-language interpreters tag-teamed on the exhausting task of acting out Chance's sometimes machine gun-paced lyrics; he'd apparently invited numerous hearing-impaired fans to watch the show for free.
The night very nearly ended with too much excitement. During his final song, "Blessings," Chance strayed too close to the edge of the stage as a pyrotechnic fireball popped off. "I'm Chance the Rapper," he said by way of farewell. "I almost just died."