To conclude his typically crowd-pleasing set Saturday at the 2016 Essence Festival, Charlie Wilson sang an a cappella version of his contribution to the Kanye West single "Bound 2." He very nearly had to do his entire show similarly alone and unplugged.
His musicians were scheduled to fly to New Orleans from their Detroit home base on Friday. But outgoing flights to New Orleans were canceled; the next available commercial flight wasn't until Sunday, the day after the Essence show.
And so at midnight on Friday, Wilson's manager scrambled to charter a private plane. It picked up the musicians in Detroit at 2 a.m. Saturday morning and dropped them off in New Orleans at 5 a.m. At 10 a.m., they arrived at the Mercedes-Benz Superdome for a sound check. Eleven hours later, on minimal sleep, they helped Wilson rock the Dome as if nothing was amiss.
The former Gap Band frontman turned adult contemporary R&B star is smart enough not to relegate his supporting cast to the background. There's a reason his musicians wore sneakers with their suits: They hustled, soloing and playing off Wilson. When their leader disappeared for a costume change late in "There Goes My Baby," the saxophonist and guitarist ended up wailing away on their knees, earning their own ovation.
But nobody worked harder than Wilson himself. His set largely followed his standard blueprint; why fix what isn't broken? He and his dancers' LED-equipped suits ignited during "Burn Rubber." He mashed up Mark Ronson's "Uptown Funk" with the Gap Band's "Oops! Upside Your Head," showing the former's debt to the latter.
A chill section that included his wedding standard "You Are" may have stretched a bit too long. But as usual, a church-style revival and a rap about his recovery from substance abuse reignited the crowd. By the time the band locked into "Outstanding," chants of "Go, Charlie! Go, Charlie!" filled the Dome. Audience members danced and grooved in the aisles just like they did years ago for Frankie Beverly & Maze.
Tyrese's bad timing
Wilson's private jet solution was more successful than Tyrese Gibson's. Tyrese was scheduled to sing on the Essence main stage at 7:30 p.m. Friday. But he was also shooting the film "Fast and Furious 8" that day in Atlanta.
On the first night of the 2016 Essence Festival, Kenny "Babyface" Edmonds went for a run, th…
He documented on Instagram how he borrowed rapper Ludacris' jet in a last-ditch effort to get to New Orleans in time. But his scheduling was several hours off: he arrived at the Superdome too late to perform, bitterly disappointing fans who specifically bought tickets to see him.
As a consolation prize, he made a brief visit to Bourbon Street and a Saturday appearance at the daytime Essence Empowerment Experience at the Ernest N. Morial Convention Center.
Mariah finds her way
Mariah Carey wasn't nearly as tardy as Tyrese. She arrived on the main stage Saturday only 30 minutes behind schedule, but in grand fashion: Draped across a chaise lounge borne, Cleopatra-style, by her buff male dancers.
Carey's American concerts of late have been limited to a Caesars Palace engagement in Las Vegas that showcases her 18 No. 1 songs. Presenting a shorter show on a different stage without her usual props caused some confusion at Essence. "I'm just trying to get used to this stage," she said. "It's like a half-diamond and something else."
As she wandered far out on the stage right catwalk. she wondered out loud, "Am I supposed to go over here? Nobody gave me the rules. Somebody talk to me in my ear (monitor) and let me know."
Trying to exit for the first of several momentum-killing costume changes, she scooted to the back of the stage and stopped, unsure of where to go.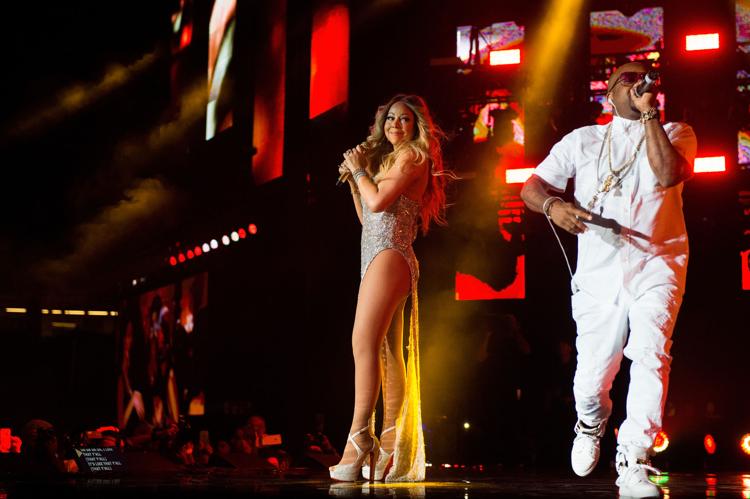 Before bringing up a guy from the audience to blindfold during "Touch My Body," she asked her dancers, crew and musicians, "Are we doing this like we've been doing this?"
In short, she came across like the similarly unfiltered and unperturbed Kathie Lee Gifford. She wasn't shy about thinking out loud.
Neither was she shy about discussing the glittering pair of custom Christian Louboutin heels that caused her some difficulty when negotiating steps. Or about checking herself out on the Superdome Jumbotron. Or asking the audience if a pink leotard with a poofy pink tail was too "princess-y."
Or about letting fly her multi-octave voice, one that can, and did, climb into dog-whistle register.
That voice is her claim to fame, and it was in good form Saturday night. She slid effortlessly up and down her remarkable range, mostly resisting the temptation to oversing. "Emotions" opened quietly, with just her and music director/pianist Jim Wright, before quickly expanding to a big, full band arrangement. Frequent collaborators Jermaine Dupri and Da Brat joined her on "It's Like That" and "Honey." Two dozen red-robed members of the Voices of Unity gospel choir helped out on "Make It Happen."
Carey didn't need any help for "We Belong Together," which she sang well and with obvious enjoyment and enthusiasm.
With that, abruptly, it was over, after approximately a dozen songs, an hour and 10 minutes, and some entertainingly genuine Mariah moments.