Even for someone skilled in the art of selling pre-planned stage banter as "spontaneous," Blake Shelton seemed genuinely awed to find himself in a space as vast as the Mercedes-Benz Superdome.
He was even more wowed when, late in his Sunday night closing set at the 2017 Bayou Country Superfest, he finally noticed the smattering of folks high above him in the Dome's sparsely populated upper terrace level.
Had he realized they were there, he said, he would have looked their way sooner.
Shelton could be forgiven for missing them. According to festival organizers, total attendance in 2017 was approximately 60,000.
That number was significantly lower than in 2016, when the festival featured three nights of performances at Tiger Stadium in Baton Rouge. For the inaugural year in the Superdome, the Superfest cut back to two nights, plus a free Friday night show at the adjoining Champions Square.
Even when adjusted for having one less night, the 2017 total of 60,000 — which includes Friday's free show as well as free outdoor "Fan Fest" activities on Saturday and Sunday — continued a trend of declining attendance for the eight-year-old festival.
In 2014, George Strait drove the total three-night attendance at Tiger Stadium to a record 135,000. The 2015 Superfest drew 125,000 fans, with the largest crowd turning out for an opening night Taylor Swift show that technically wasn't part of the festival itself.
In 2016, without a superstar on par with Strait or Swift, three-night attendance dropped to 100,000.
None of Sunday's three main acts seemed bothered by the empty seats in the terrace level.
Hank Williams Jr. careened through a short, madcap set that saw him swapping off on various instruments as his musicians and crew members scrambled to keep up.
Armed with an electric guitar bearing his "Bocephus" emblem, he and the guitarists in his band churned out hard Southern rock. They veered into ZZ Top's "Waiting for the Bus," mimicking the stuttering crunch of the original, and whipped through "Kaw-Liga," his daddy's ode to a wooden Indian whose "heart was made of knotty pine."
He channeled his inner Jerry Lee Lewis at a piano for "Whole Lotta Shakin' Goin' On." He took a seat center-stage for a solo acoustic segment. The town of New Iberia earned a shout-out in "A Country Boy Can Survive"; Williams shifted the refrain to "America gonna survive," earning a huge cheer.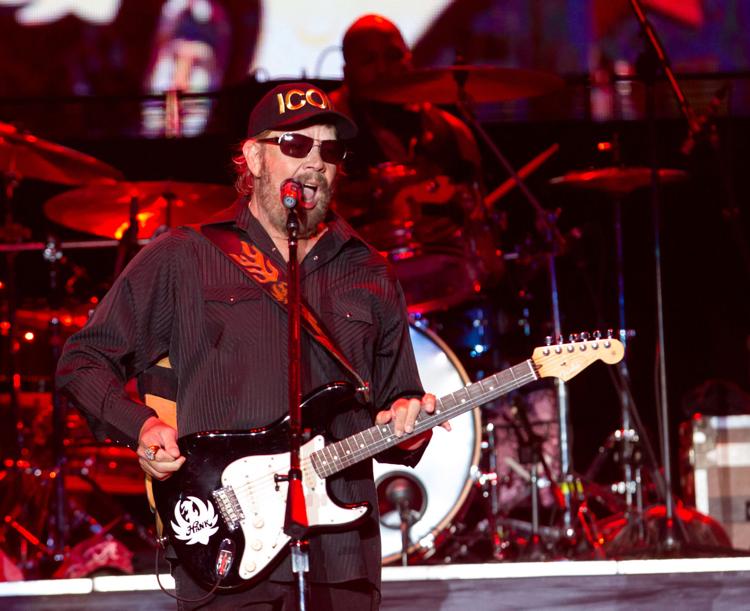 "You're looking at a real old fool from the real old school," he said. Rejoined by the band, he mostly let the audience sing the chorus of "Family Tradition." He cited a long list of essential artists, prefacing each name with "If you don't like …" in a sort of personal litmus test. His personal Hall of Fame included Johnny Cash, Waylon Jennings, Fats Domino and "my little Kings of Leon."
The conclusion of the set was as random as the rest of it. Less than an hour after arriving onstage, Williams exited. The band then played an instrumental without him. They're a solid unit, but a Hank Williams Jr. show requires the mercurial personality that is Hank Williams Jr.
The agreeable temperament of Thomas Rhett, one of contemporary country's ascendant stars, was the polar opposite of Williams'. The 27-year-old Rhett, performing in a domed stadium for the first time, stuck to the plan despite his obvious excitement. "I think this is the most people I've ever played to in my whole life," he gushed.
Shades of hip-hop and R&B seep into his songs, some more openly than others. He rendered the final chorus of "Get Me Some of That" acoustically; it worked surprisingly well unplugged. His new single "Cravin' You" was essentially a rock song, all driving drums and fat guitar chords.
A home video interlude showed Rhett as an 8-year-old aspiring songwriter. The video introduced another family moment: Rhett welcomed his father, '90s recording artist turned professional songwriter Rhett Akins, who said his only other visit to the Superdome was to watch his Georgia Bulldogs beat Notre Dame in the 1981 Sugar Bowl. "I never dreamed I'd be standing here with my son," he said.
Together, they performed Akins' 1995 hit "That Ain't My Truck." Rhett asked his pop to sing one of his hit songs for another artist. He went with "Dirt on My Boots," a recent hit for Jon Pardi. He then relinquished the stage so his son could continue his own hit parade. That included "Vacation," with its "Low Rider"-like groove, and his smash love song "Die a Happy Man."
An audience member handed him a blanket decorated with an image of Akins. "Is this to sign or to keep?" Rhett asked. "I really want to keep this."
Shelton prefaced his arrival with a truck commercial and a recording of Billy Squier's "The Stroke." Then, over the next hour and 45 minutes, he sampled from throughout his ever-growing catalog. His "impromptu" interactions with the audience always seemed to end up as the perfect introduction to the next song on the set list.
Along the way he arrived at "Hillbilly Bone," "She's Got a Way With Words," "Austin" and "Drink on It." Choosing to cover George Strait's "All My Ex's Live in Texas" was no accident: Shelton's ex-wife, Saturday night headliner Miranda Lambert, hails from the Lone Star State.
He requested audience members to illuminate their cell phones during his cover of Michael Bublé's "Home." A constellation of lights sparkled across the expanse of the Dome.
He wound down the regular set with a couple of songs co-written by Thomas Rhett's daddy: "Honey Bee" and "Boys 'Round Here." Before the latter, Shelton paused the show as a couple in the crowd got engaged.
In the encore, "Footloose" served as a last dance and "God Gave Me You" was the benediction for the Bayou Country Superfest's Superdome debut.