The population of New Orleans did not double during the 2016 Essence Festival.
And Essence did not "outsell" the New Orleans Jazz and Heritage Festival. In fact, it wasn't even close.
Hours after Sean "Puff Daddy" Combs' finale at the Mercedes-Benz Superdome on Sunday night, Essence officials announced that the festival had "attracted more than 450,000 attendees to New Orleans."
That figure has been widely misinterpreted, in addition to being based on what appear to be some overly generous estimates.
The wording in the Essence news release seems to imply that 450,000 people — more than New Orleans' entire post-Katrina population — descended on the city over the Fourth of July weekend.
That isn't remotely accurate. Many Essence attendees were locals, as evidenced by a surge of last-minute ticket sales and the fact that the Superdome sold more parking spaces this year than in 2015. 
More to the point, the figure of 450,000 "attendees" does not refer to distinct individuals.
Some patrons went to all three nights of concerts at the Dome and all three days of the festival's free daytime seminars and speeches at the Ernest N. Morial Convention Center. They were counted each time. Thus, one person could be counted several times toward the total attendance, just like Jazz Fest patrons who attend more than one day.
Sean "Puff Daddy" Combs made a classic miscalculation to open his Essence Festival-closing s…
Some media reports have compared Essence's 450,000 total to Jazz Fest's 2016 attendance of 425,000 and concluded that Essence sold more tickets than Jazz Fest.
But Jazz Fest's total is based on a verifiable number of patrons who passed through the gates of the Fair Grounds. Some used free tickets or tickets that were part of sponsorship packages. But the vast majority purchased tickets.
By contrast, actual ticket sales accounted for less than a quarter of the overall Essence attendance figure.
The Superdome's seating capacity for Essence is 47,000. It's far less than for a Saints game because seats can't be sold behind the massive Essence stage.
On each of the three nights at the Dome last weekend, large swaths of seats to the sides of the stage, in the upper terrace level and even on the floor were empty.
Based on the number of unsold seats, attendance at the Dome likely fell somewhere between 25,000 and 30,000 each night. Superdome officials declined to provide specific attendance figures but did not dispute that range.
Thus, total attendance over the three nights at the Dome added up to 90,000 at most, including free tickets.
Bottom line: Jazz Fest outsold Essence by a wide margin.
What is less clear is what the total Essence attendance really was.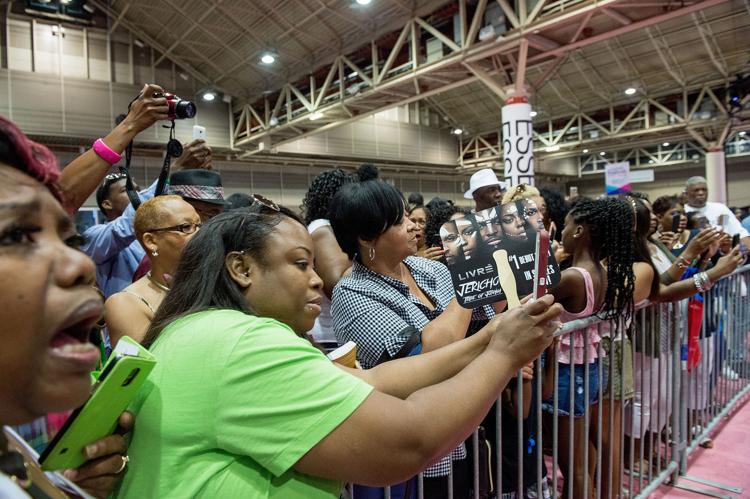 If the 90,000 maximum total from the Superdome is subtracted from the announced overall total of 450,000, that means Essence counted 360,000 attendees somewhere else.
If it was at the Morial Convention Center, daily attendance there over three days had to average 120,000.
Because no tickets were issued, Essence's daytime attendance — like that of the French Quarter Festival — is impossible to calculate precisely.
However, the 120,000 daily figure seems unrealistic, if not logistically impossible.
The Essence Festival's Empowerment Experience, with its elaborate sponsor displays, speeches, expos, celebrity autograph booths and other attractions, took up most of the vast Convention Center, from Hall A to Hall G.
The main Empowerment Experience stage, where Oprah Winfrey spoke Saturday, was in the 60,300-square-foot Great Hall. The Great Hall's maximum, standing-room-only capacity is 6,500.
Were another 110,000 people — nearly one-and-a-half times what the Superdome holds for a sold-out Saints game — somewhere else in the Convention Center that day?
Regardless of what the actual total was, Essence officials acknowledged that attendance has dropped the past two years. The 2016 announced total was 50,000 less than 2015's, which was 50,000 less than for 2014.
Some drop-off was to be expected. In 2013, Essence featured Beyoncé , and in 2014 the festival hosted Prince for what turned out to be his final New Orleans concert. Both performers filled the Superdome to capacity.
None of the 2015 or 2016 Essence headliners was likely to sell as many tickets as those two superstars.
How many they did sell is open to interpretation.