Charlie Wilson's 2003 Essence Festival debut did not go well.
"I didn't too much like that show," the singer recalled this week. "It was OK. But I remember it felt weird that night, for some reason. It took a minute to lock in."
At the time, he was trying to relaunch the Gap Band, the hitmaking funk ensemble that included his two brothers. On the comeback trail, they hadn't encountered many venues as big, or unforgiving, as the Mercedes-Benz Superdome.
"I just didn't know the room," Wilson said. "I didn't know how long it takes for that crowd noise to bounce back at you. If you can't hear it, you think ain't nobody jammin'."
Fast forward 13 years. On Saturday night, Wilson returns to Essence for the 10th time as one of its most beloved acts and most dependable crowd-pleasers. He's mastered the Superdome, despite its dicey acoustics and distant seats.
"I know that room like the back of my hand," he said. "I've been there enough times to know it. Now I just look at people's body language. When I'm looking at those balcony seats and I see everybody moving like ants, then I know I'm rockin' the place."
Wilson walked a long, hard road to become a 10-time Essence mainstay. He chronicled his remarkable story -- hardscrabble Oklahoma childhood; platinum albums and non-stop partying with the Gap Band; drug addiction and homelessness; hard-won sobriety; surviving cancer; remaking himself as a grown-up R&B leading man -- in his 2015 memoir "I Am Charlie Wilson."
The paperback edition was published this week; he'll sign copies at the Ernest N. Morial Convention Center on Friday at 1 p.m., Saturday from 1 to 3 p.m., and on Sunday at 11 a.m.
His book signings during Essence last year drew huge crowds: "The fire department was trying to shut us down. The crowd was basically following me all around the building, cameras going. They followed me to a place that was already packed with people waiting to get an autograph on the book."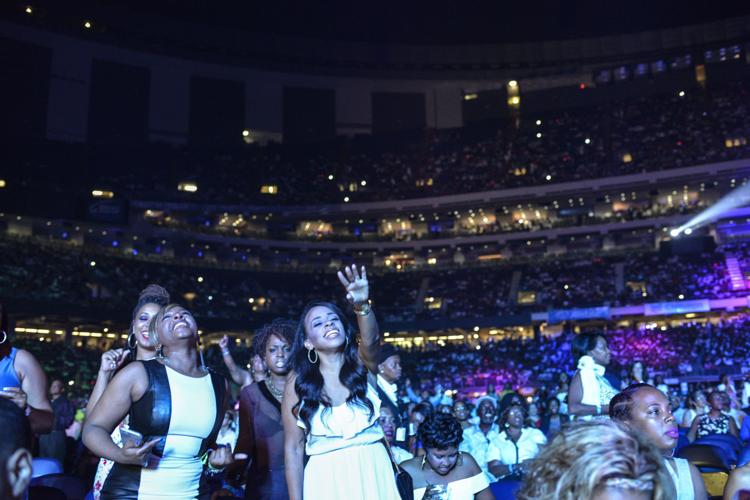 He's in the early stages of assembling his next album. The plan is to release it in 2017, then embark on an arena headlining tour. His 2015 tour was the most successful of his entire career; it included a sold-out night at the Smoothie King Center. "Hopefully we can do it again, and fill those buildings back up."
Elements of his show are now standardized. He generally opens with the Gap Band classic "Party Train," playing the role of the conductor.
"We bring the party train to every city. When you come on the stage, you're on the train. So you just get off. This is the stop. Once I get off the train in a city, then we about to shut it down."
At some point, the stage goes dark to reveal Wilson and his dancers in suits and fedoras lined with LED lights. "Every time I want to take the lighted suits out (of the show), people say, 'Man, don't take the lighted suits out!' Everybody seems to still love what I'm doing."
It was his 2005 album "Charlie, Last Name Wilson" that established him as a solo star. During his first Essence appearance under his own name, the stage crew mistakenly dropped the curtain before he'd sung the album's hit title song.
"I was so upset. Somebody thought I was finished. That was my hit – why was somebody closing the curtain on me? I remember trying to open up the curtain and go back through."
His recent Essence shows have gone off without a hitch. The festival has invited him back every year since 2009.
"I think that speaks volumes," he said. "I don't think they'd call me back if I slacked on the show. I think they know what they're getting when they call me. I work hard, and I love what I do. I'm quite sure it shows onstage.
"I go hard in the paint," he says, deploying a basketball metaphor. "I'm very passionate about it."
Essence is a highlight of his schedule. "It's the time of the year, and the festival itself, and those fans. They're the ones that are there all the time for me. They fly in for me, and they give it all they've got. They know I'm going hard for them, and they go hard for me. It's definitely one of the greatest shows that I do.
"When I see my crowd movin' and rockin' and responding, it just amps me. If I don't seem somebody on their feet, then they must not be hearing the music. I always talk to my house (sound) man before we go onstage. I try to keep him locked in. If he's feeling good, then I know we all gonna be feelin' good. He'll have that crowd rockin', because we're rockin' onstage."
Wilson is scheduled to hit the Essence main stage at 9:10 p.m. Saturday. Mariah Carey follows at 11.
He "can't wait to see Mariah Carey. I am a really, really big fan. I'm so happy to be on the same night with her. I haven't seen her in a long time. It will be incredible for me to watch her work."
She will be at a distinct disadvantage. Not only must she follow Wilson's high-octane show, but she'll do so within the vast, unforgiving and unfamiliar expanse of the Superdome.
"You want to hope that your fans are in that room -- you've got to have that support from your own fans," he said by way of advice. "If you've got that, you done dug half that mountain out. The way to get rid of the other part of that mountain is, you've got to put on a great show."
If recent history is any indication, Charlie Wilson will.