It's a great time for the Irish — and everyone else — when St. Patrick's Day appears on the calendar in the New Orleans area.
Colorful parades and block parties celebrating the Emerald Isle and its long-standing connection to the Crescent City make this occasion one of the most fun times of the year.
Six Irish-themed parades roll and stroll through the streets of New Orleans, Metairie, Slidell and Chalmette between March 11 and April 14. In several of them, riders on Mardi Gras-style floats will pass down cabbages and other vegetables and seasonings.
If the luck of the Irish is with you, you might catch enough of these ingredients to go home and make an Irish stew that can feed your whole family.
"Everyone is Irish on St. Patrick's Day," said Donald Bock, captain and president of the St. Patrick's Parade Committee of Jefferson that stages the annual Metairie Road parade in Old Metairie. "This is a fun event, and we're all out there to have a good time."
Sunday, March 11
Metairie Road Parade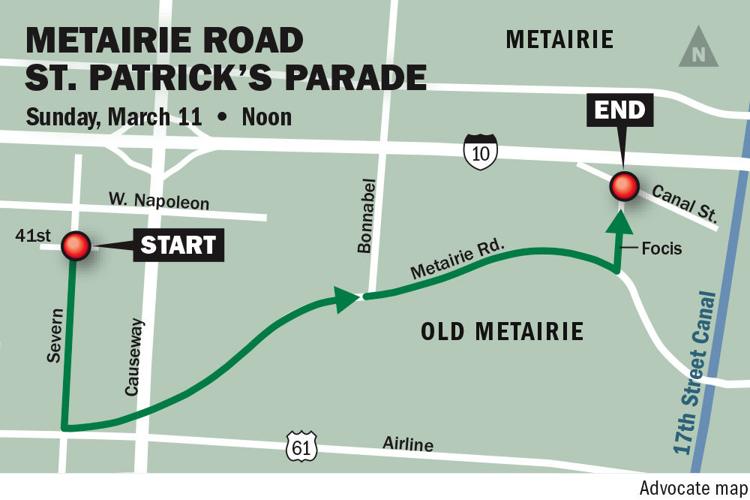 The St. Paddy's festivities begin six days early when the 46th annual Old Metairie parade rolls at noon, led by the "Paddy Wagon." The route begins at Rummel High School on Severn Avenue and runs along Metairie Road to Focis Street near the Orleans Parish line.
The parade's theme is "Make Leprechauns Great Again!" and will feature close to 100 floats and trucks, plus 12 marching groups. Men dressed in Irish outfits will hand out green-and-white paper flowers to the ladies in exchange for kisses, and women's groups — not to be outdone — will be seeking out single men for brief exchanges of affections as well. "It's an old, fun tradition," Bock explained.
This year's grand marshal is Al Spitale, and the queen is his wife, Terry Spitale.
Spectators are advised to bring strong plastic bags to hold the cabbages, potatoes and other ingredients that are handed down by the float riders. Other trinkets and beads will be thrown, especially green beads with shamrocks on them. If you catch one, you are advised to wear it for the rest of the day. It'll bring you good luck!
Slidell St. Patrick's Day Parade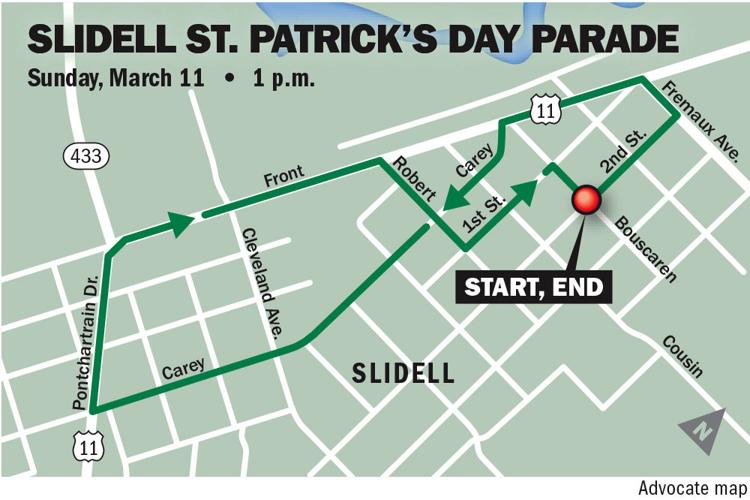 The 45th Annual Olde Towne Slidell Association St. Patrick's Day Parade will roll at 1 p.m., following a toast to this year's king and queen at Slidell City Hall (Second and Bouscaren streets).
The parade route will take in parts of Fremaux Avenue, Front Street, Pontchartrain Blvd. and several other streets before making the loop back to City Hall. Throws will include cabbages and other vegetables, plus beads, stuffed animals and various trinkets. Floats, trucks, open-air autos, horseback riders, dance groups and school bands will all be participating.
Friday, March 16
Jim Monaghan Molly's at the Market Parade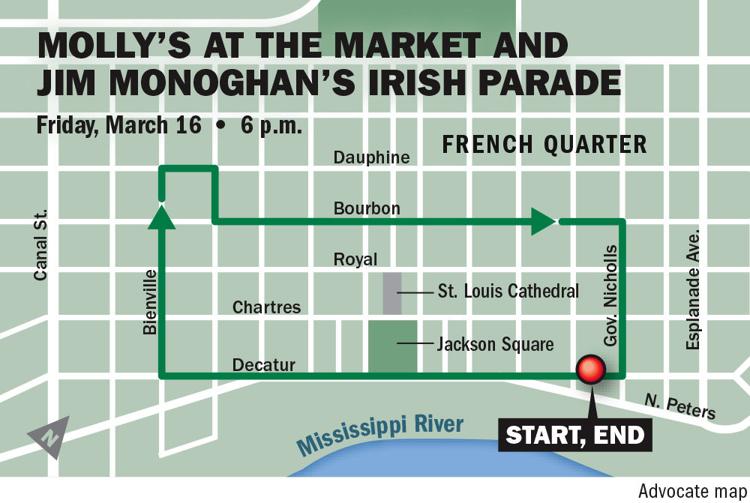 After a long, busy day of celebrating and toasting at Molly's at the Market bar (or participating in their annual pub crawl through the French Quarter starting at 9:30 a.m.), St. Paddy's Day revelers are ready for a parade. Carriage riders and walkers will depart Molly's, 1107 Decatur St., at 6 p.m., wending their way through the French Quarter and back to Molly's for more revelry. For information and pub crawl reservations, call (504) 525-5169.
Saturday, March 17
Irish Channel Parade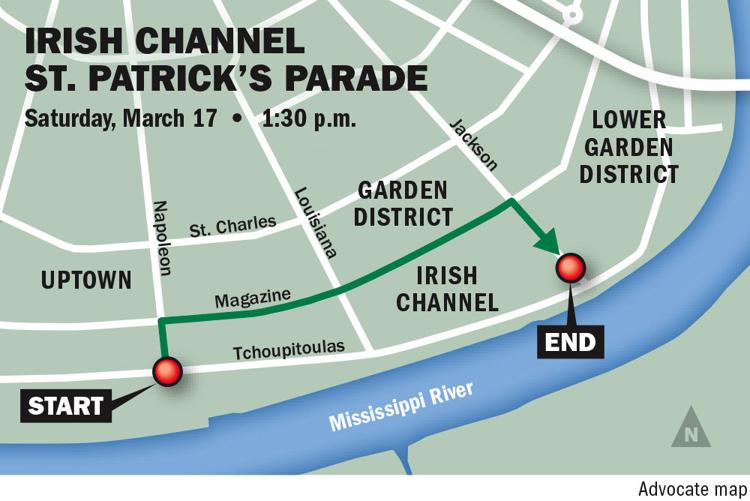 The Irish Channel St. Patrick's Day Parade rolls at 1:30 p.m. at the corner of Napoleon and Tchoupitoulas. Float riders will be handing down cabbages and other vegetables and throwing beads and other trinkets. Marching clubs and bands will be walking between the floats.
Grand marshals of this year's Irish Channel Parade are the six Haggerty brothers (Bryan, Dan, Eddie, Mike, Pat and Timmy).
Downtown Irish Club Parade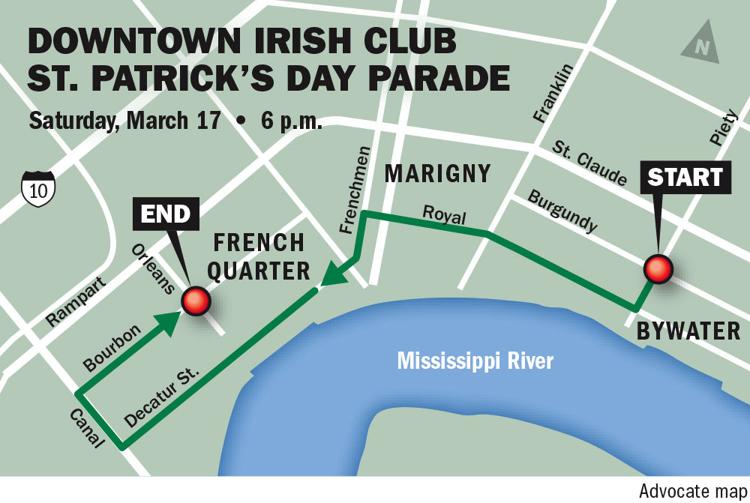 Later in the evening on St. Patrick's Day, starting at 6 p.m., the Downtown Irish Club will stage their walking parade through the Faubourg Marigny and French Quarter, beginning at Burgundy and Piety streets in the Bywater neighborhood. The parade will take in the "music club strip" along Frenchmen Street and the river side of the Quarter down Decatur Street to Canal, making several "pit stops" along the way to the ending point at Bourbon and Orleans streets.
Sunday, March 18
Louisiana Irish-Italian Parade
The Louisiana Irish-Italian Parade will roll at noon along the traditional parade route in Metairie, starting at Clearview Shopping Center. It proceeds on Veterans Boulevard, passing up one side of Severn Avenue to 17th Street, then down the other and continuing on Veterans to Martin Behrman Drive.
This year's Irish grand marshal is Scott Korndorffer, and the Italian grand marshal is Mike Nicholl.
April 14
St. Bernard Irish Italian Isleños Parade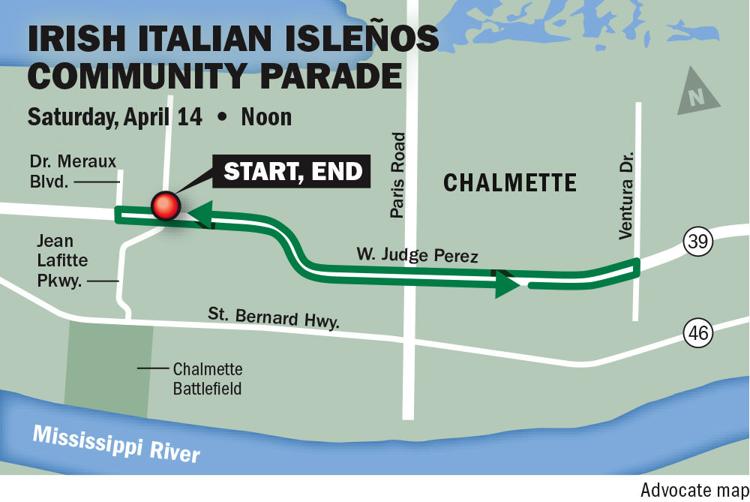 The final ethnic celebration of the season will take place in St. Bernard Parish when the St. Bernard Irish Italian Isleños Community Parade stages its annual procession along West Judge Perez Drive through Chalmette. In addition to the Irish and Italians, the parade also honors the parish's Isleños residents, descendants of settlers from Spain's Canary Islands.
The parade starts at noon and consists of 50-plus floats and about three dozen marching groups. The parade and marching club's 1,500 members will be distributing roughly 350,000 pounds of produce, in addition to the usual beads, trinkets and other throws.
*****************
Block parties
Thursday, March 15
The Irish Channel St. Patrick's Day Club Block Party takes place on St. Patrick's Day and is located at Annunciation Square in the 1500 block of Chippewa Street. It features Irish music and dancers, plus food and drinks, the proceeds from which benefit St. Michael's Special School. 10 a.m.-6 p.m.
Saturday, March 17
The St. Paddy's Day Irish Channel festivities kick off with two blockbuster block parties, the first of which is at 10 a.m. at Parasol's Bar, 2533 Constance Street, and the other at 11 a.m. on the next block at Tracy's Original Irish Channel Bar, 2604 Magazine St.
Both parties are free and open to the public, with green beer and food available for purchase. The Parasol's party runs until 8 p.m.; the Tracy's party lasts till 6:30 p.m.
For more information, call Parasol's at (504) 302-1543 or Tracy's at (504) 897-5413.
*****************
Other parades around the metro area