When chefs throw a party, food naturally gets the spotlight, and Bal Masqué, the gala that Donald Link and Stephen Stryjewski host this week, should have plenty.
The two chefs run some of the city's most acclaimed restaurants – Cochon, Pêche Seafood Grill and Herbsaint among them -- and they've invited a brigade of culinary heavyweights from around the country to join in.
Behind the event, however, is the idea that restaurateurs and chefs can bring more to the charitable table than their cooking.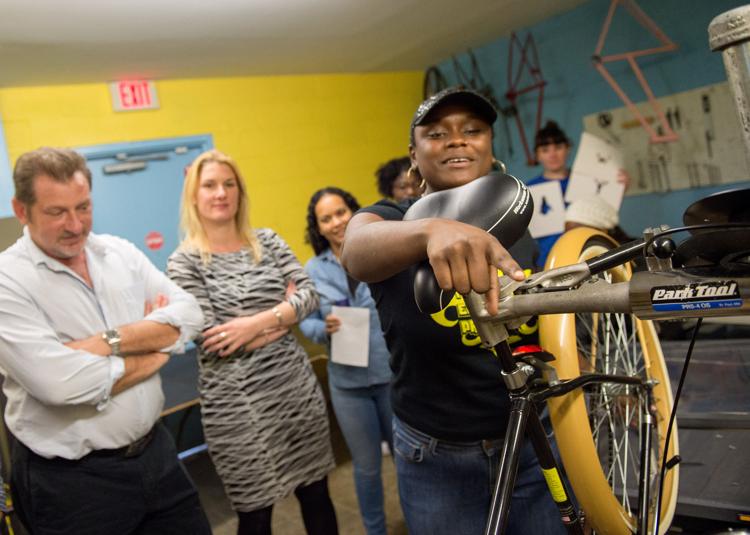 That turns up in a storefront bicycle shop in Central City from the Youth Empowerment Project, and it's in the mentoring that makes the gears turn here. It happens in a community center kitchen at the Irish Channel nonprofit Kingsley House that was designed by Link himself and now furnishes everyday meals for hundreds of seniors and kids.
It carries in the thump, blare and pride emanating from the Roots of Music youth marching band, and it's in the leadership lessons delivered between the crop beds at Grow Dat Youth Farm in City Park.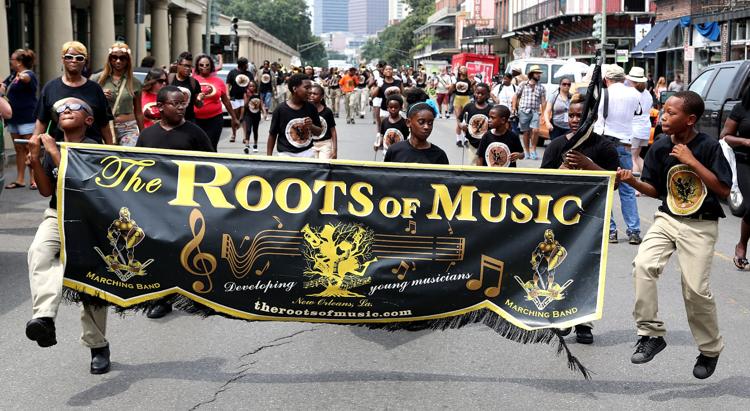 These are organizations supported by the Link Stryjewski Foundation, the nonprofit the two chefs formed in 2015. Their common thread is work that opens new opportunities for New Orleans youth.
This foundation isn't the largest funder for any of these groups. But some who have worked closely with Link and Stryjewski say its impact is amplified by the chefs' particular approach.
"They've helped move the needle for us, like they've moved the needle in fine dining," said Keith Liederman, CEO of Kingsley House. "I think the main ingredient is the same, it's that passion for excellence all the time, that passion for a mission."
From gifts to partnerships
Bal Masqué, held Jan. 7 this year, is the marquee fundraiser for the Link Stryjewski Foundation. It's a high-end event, with a $1,000 ticket, a masquerade ball theme, Dr. John on stage as headliner and, for the food, seven visiting chefs joining the Link Restaurant Group's own team. Even superstar chef Mario Batali is taking part with a preview dinner for top donors the night before.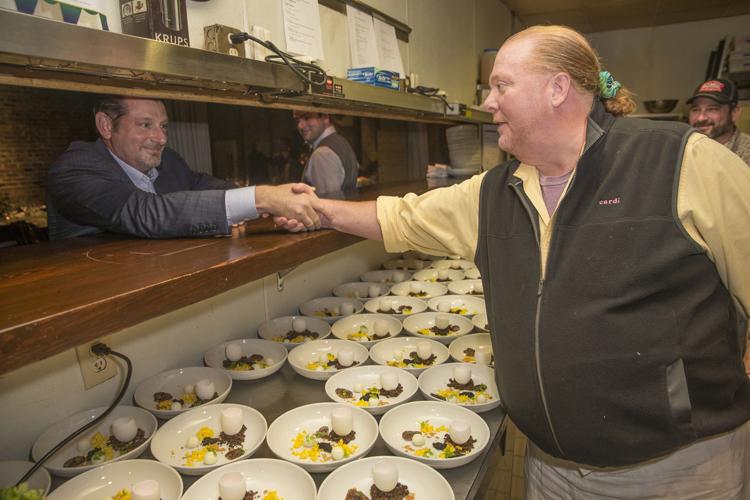 For its debut last year, Bal Masqué brought in $150,000. It also served as the public introduction for the chefs' foundation, which works mostly behind the scenes and is largely directed by the chefs' effort to change the way their company handles civic engagement.
"It's about being connected in our community, and having a role in the community," said Link. "This is our way of shining a light on what we think is important."
People in the restaurant business field requests for community support daily. It might come from parents at a local school asking for food for a benefit, or it could be event planners in distant cities fishing for gift certificates for their own fundraisers. This is the stock in trade of restaurant philanthropy.
But Link and Stryjewski said they wanted to take a deeper run at the biggest problems they see in New Orleans, the intertwined cycle of poverty and violence.
"We wanted to make something that would be more impactful," said Stryjewski. "It's nice to feel good about what you're doing, but it's a lot better to know that what you're doing has an impact."
Prominent chefs draw attention in our food-crazed age, and chef-led foundations around the country tap their fame and following for fundraising potential. In New Orleans, Emeril Lagasse started a charitable foundation in 2002 and John Besh created his in 2011. Link and Stryjewski said they decided to form their own group to formalize their community giving and show a long-term commitment. 
Ten years ago, Jeffery Vannor was a high school dropout with little hope for his future. But…
"It's another aspect of being part of a community," said Link. "I have no notion that what we're doing on its own is going to save the city, but we have to help, we have to play some part in it."
The long play
If the problems the chefs have targeted seem entrenched, the answers at the Youth Empowerment Project play out one day and one kid at a time. Gerald, a student who was running the front desk at the nonprofit's office one recent day, can attest to the turn around (like other youth in the program, he's identified by first name only).
He came to the program when he was eight, and, as he puts it, when he was "troublesome at home, troublesome at school, troublesome." Renell Gibbs, the program's lead youth advocate, has been his mentor through it all.
"Mentoring is one on one, every day you talk about stuff," Gerald said. "Without that, I wouldn't be here now, I'd probably be on Canal Street or something. But now I'm 16, I'm graduating high school this spring, because I had YEP, because I had my mentor Renell. It guided me where I needed to go in my life."
Melissa Sawyer, executive director of the Youth Empowerment Project, said changes like this draw on many different programs and relationships under her group's umbrella. Pulling it off takes partners who are in for the long haul and trust the process, and that's what she's found with the Link Stryjewski Foundation.
"They came to me and said 'how can we help you and what do you need,' as opposed to saying 'here's what we fund,' and those are two very different approaches," Sawyer said.
A decade before he walked through the door of the Work & Learn program in New Orleans, D…
The foundation's grants are unrestricted, giving organizations the freedom to use them around multifaceted operations. And the Youth Empowerment Project has plenty going on. One day at the group's Central City home base, some students were learning design skills in the computer lab while across the stree,t others at the bike shop were refurbishing old bicycles to sell to the public. The same students are also building special tricked-out art bikes (one with a crawfish boil theme, another decked with Mardi Gras beads) that will be auctioned at Bal Masqué.
Sawyer said the chefs have found ways to support her group throughout the year beyond grant making, and that they "have really become part of the organization."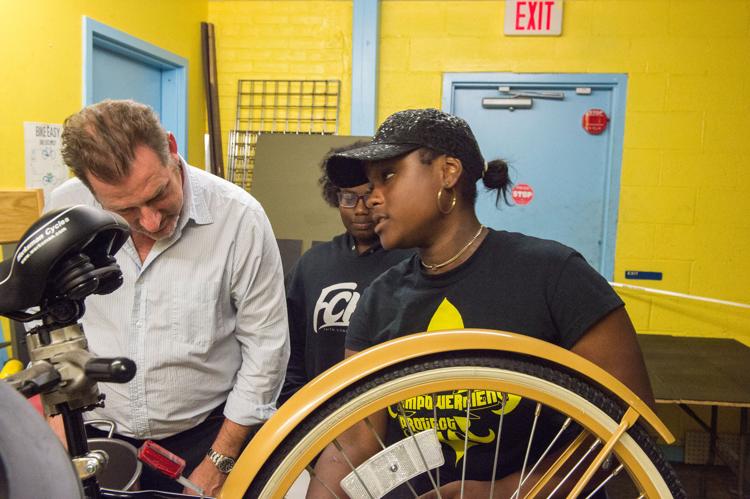 "Donald and Stephen approached us with a level of humility, commitment and responsibility, and I think that's because they probably never expected to be in a position to do something like this," Sawyer said. "Their success has been hard-earned, but they're in a position to give back now and they're doing it their way. They're not stuffy, they're serious but there's an element of fun to what they do and that's a good fit for us."
The Link Restaurant Group knows how to cut loose. Its after-parties following big events are the stuff of service industry legend. Costumes replace uniforms when its employees volunteer at the Hogs for the Cause cook-off. Even its delivery van, dubbed "Pig Slayer," has fantastical, 1970s-style murals on its flanks.
But on the business and culinary end, the company is known to run a tight ship. Its chefs have hauled in a stack of James Beard awards, and its restaurants are perennial top picks in a crowded dining scene. Link himself is not shy about sharing critical feedback, especially on the traditional Louisiana food he grew up eating.
Liederman, the CEO at the social services agency Kingsley House, sees a connection between how the chefs have built their business and how they're now pursuing a bigger role in civic leadership.
"They're ambassadors for their work and for New Orleans food for sure, but they've become some of the greatest ambassadors for our work, too," he said. "They're constantly looking for ways to help us do our work and also make sure that work is as efficient and effective as it can be."
He describes their impact on Kingsley House as "transformational." It's one that goes back for years, predating the foundation itself, and its been growing as the chefs have developed their own organization.
"They are partners in that they're always connecting us with the people they know around the country, around the world," said Liederman. "They're always talking about us as their partners, and whenever I hear that I melt. It's such an incredible feeling to know these folks are that passionate about what we do."
Saturday, Jan. 7, 7 p.m.
Orpheum Theater, 129 Roosevelt Way
Tickets: $1,000
See balmasque.linkstryjewski.org
Want to know what makes New Orleans such a great food town? Look down at your plate, then lo…
Dining in New Orleans always has been big, but these days, it's been growing and changing li…