Let's just call this po-boy appreciation week.
The spur is the Oak Street Po-Boy Festival, (which has been rescheduled to Nov. 12). This always gets me thinking about why we love this sandwich so much, and that gets the appetite working in ways that go beyond any one-day event.
The Po-Boy Festival draws vendors that range from high-end restaurants to neighborhood joints, and what they serve can veer from traditional to original. What I find so interesting these days, though, is the way you can find that kind of balance every day under the roof of some dedicated po-boy shops.
The roast beef on "the sandbag" po-boy at Avery's on Tulane is a mix of irregular strands an…
One of the wonderful things about po-boys is how the same basic idea of the sandwich can dial into our deepest New Orleans food cravings but also open the door for new flavors. I think we understand that the humble po-boy is durable and ingrained enough to stand some tinkering and creative interpretation.
New Orleans actually has a history of messing with po-boy tradition. There's the Peacemaker, a Solomonic split between oyster and shrimp that lives on at Acme Oyster House (various locations) and many other menus. And the Ferdi Special at Mother's (401 Poydras St., 504-523-9656), named for a customer who combined ham and roast beef, now qualifies as a vintage hybrid.
Flash forward a few generations, and we now have spots that were drawn up to be very different, bringing a global lens to the equation. Killer PoBoys (219 Dauphine St., 504-462-2731; and 811 Conti St., 504-252-6745) was inspired by the po-boy, borrows the pistolette framework of the banh mi and folds in flavors like rum-glazed pork belly, Mexican chorizo and barbecue chicken confit.
And for years now, if you've had a hankering for a roast lamb po-boy, finished with sour cream and candy-apple-red Thai chili sauce, the quest led to the Milk Bar, where a sideline of unusual po-boys joins the ciabatta bread sandwiches.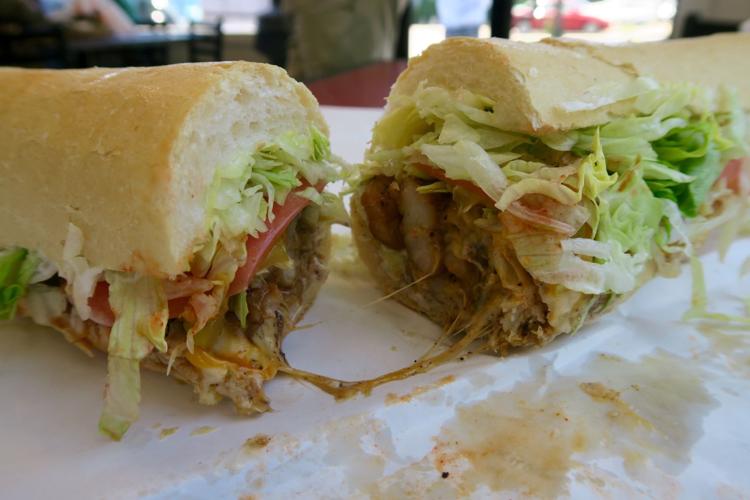 But other peculiar po-boys have emerged at much more traditional po-boy shops. One prime example is the Bomb at Guy's Po-Boy's (5259 Magazine St., 504-891-5025), which also started as a customer customization (credit goes to members of the band Galactic). Today, the Bomb gives you griddled catfish and shrimp stuck together with cheese that pulls apart in strands when you open the loaf.
Bevi Seafood Co. (236 N. Carrollton Ave., 504-488-7503, 4701 Airline Drive, 504-885-5003) is a smart, subtle reinvigoration of the old boiled seafood market, and it updates the po-boy list, too. I'm a fan of the fried oysters with smoky pastrami bacon and havarti cheese, though to really do it up try the Messi Swine (at the Mid-City location only). This is a three-pork harmony of ham, roast pork and crisp pork belly, with a bit of bite from pickled peppers in between.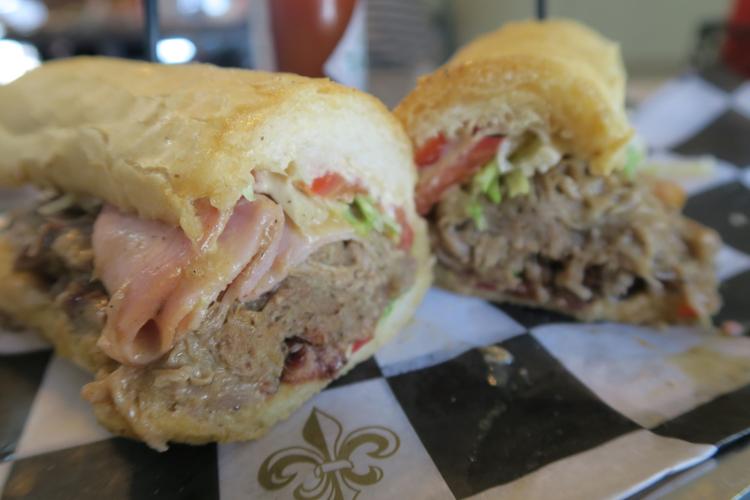 In Gretna, a newer addition called Seersucker Restaurant & Catering (938 Hancock St., 504-702-8040) presses some of the same buttons with its three little pigs po-boy — chunky hot sausage patties, ham, crinkly bacon, American cheese.
Seither's Seafood (279 Hickory Ave., 504-738-1116) in Harahan takes the idea of the seafood po-boy to new heights with an assist from the sushi bar (avocado and sriracha are just as important here as fish fry and pickles). And Crabby Jack's (428 Jefferson Hwy., 504-833-2722), the lunchroom spinoff from Jacques-Imo's, has long been the place for duck cooked down to debris and packed into a po-boy (both of those are making Po-Boy Fest appearances this year).
What I like about these evolutions is how they start with a local staple, add a dose of imagination and come up with something original that still feels like it belongs in New Orleans.
They have that crunch of our bread, we find them in perfectly ordinary, wonderful, unassuming New Orleans joints, and they have the company of the po-boy classics there next to them on the menu. They're still po-boys, and we still love them, even if they're dressed a bit different.
Each year, the Oak Street Po-Boy Festival extends along an Uptown stretch that feels like th…
The teams that convene at Hogs for the Cause each spring cook for a festival crowd and raise…