After the excesses of Mardi Gras, seeking redemption at a draft tap may sound like the hair of the dog.
But the taps from Big Easy Bucha dispense kombucha, not beer, and this growing local company sees a perennial boost in business after big celebrations in New Orleans.
Kombucha is a fermented tea with a gentle effervescence, ancient roots and a modern following among those who crave its flavor, seek its purported health benefits or, perhaps, need some hangover relief.
Big Easy Bucha now operates its own brewery in New Orleans, and is making kombucha increasingly visible around the city. It's sold by the bottle from grocery coolers, served by the pint from taps at a circuit of cafes and stores, and it has even found a place at the bar as an alternative to more familiar cocktail mixers.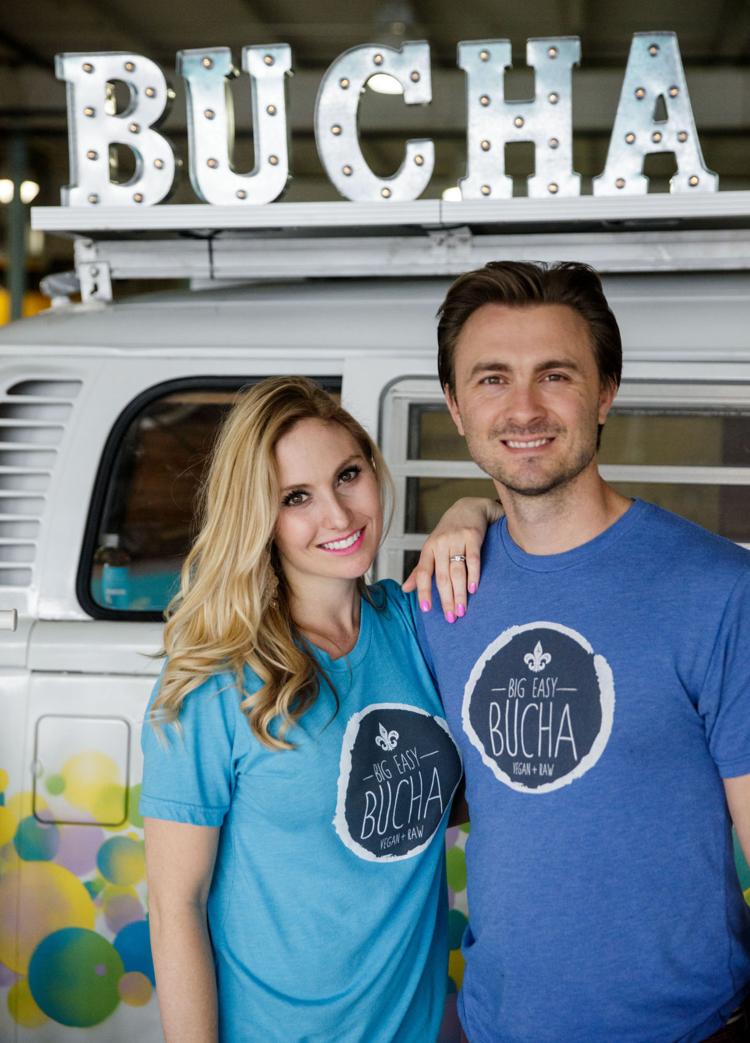 "It's a drink that people say makes them feel good," said Alexis Korman, who founded Big Easy Bucha with her husband, Austin Sherman. "Being a healthy, functional beverage is the main factor that gets people interested. From there, they can get into the idea of it as a hangover helper, or something that can replace that sugary soda."
Kombucha is a perishable, non-alcoholic beverage that is served cold, and it must be kept cold. It flows from the tap in a bubbly stream, and it bursts from the bottle with an audible pop and blossoming fizz. Its base flavor is both acidic and slightly sweet, more tangy than sugary. It's zesty and a bit like dry cider.
The tea has a reputation as a healthful elixir, though any discussion of its possible therapeutic benefits comes with the caveat that kombucha has not received the sort of clinical trials to officially validate them.
What the Big Easy Bucha proprietors can point to is a low-calorie, low-sugar beverage that is packed with probiotics, thanks to the fermentation process. Probiotics, or beneficial bacteria that aid in digestion, has lately seen a higher profile on grocery labels. Yogurt with live cultures may be the best-known example.
That fermentation is what has some people hitting the kombucha after a big night. Probiotics can help restore the balance of good bacteria in the gut that are depleted by over-consumption. Others find the fizzy, tangy, not-so-sweet drink a refreshing countermeasure to the dehydration and fatigue that mark a rough morning after.
"There's usually some point of discovery for people with kombucha," said Sherman. "They're looking for something different, they want an alternative."
Local brew
Kombucha's origin story reaches back to ancient China, though in the United States it was largely the domain of homebrew hobbyists and health enthusiasts. Modern brands began appearing in the 1990s, and in the last few years new kombucha labels have proliferated.
The drink fits the trend for more health-conscious beverages in the marketplace and also for more locally produced brands. 
Big Easy Bucha is Louisiana's first commercial kombucha brewery. It shows its local roots vividly in its branding and in its recipes, with flavors like Streetcar Sipper made with satsuma and Basin St. Blues, with blueberry and mayhaw. The Cajun Kick has ginger and a hint of heat from cayenne, and Ponchatoula strawberries go into the tart Bayou Berry. 
"People in New Orleans get behind local brands," Korman said. "People may have never heard of kombucha but they have heard of Ponchatoula strawberries, and they like seeing it used in different products. They'll give it a shot."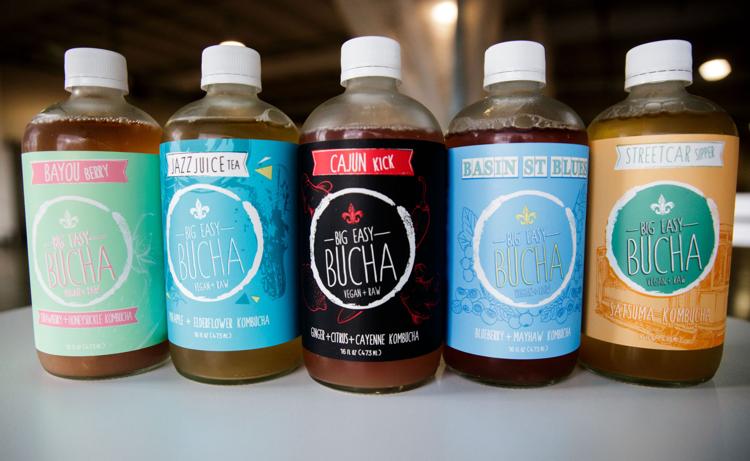 Sherman started out as a kombucha homebrewer. The couple began turning that pursuit into a business in 2014, working initially from Edible Enterprises, a food business incubator in Norco. They expanded significantly in November by opening their new brewery, located in an industrial zone just off Earhart Boulevard.
It shares many of the trappings of the new microbreweries now fueling the city's beer scene, including a warehouse setting lined with steel fermentation tanks and stacks of kegs. The focal point is a vintage Volkswagen microbus, which sprouts taps and serves as the bar for curious newcomers to taste samples and for repeat customers to top off refillable growler bottles to bring home.
"A lot of what we do here is similar to making beer and wine, but we don't produce alcohol," said Sherman.
Put the kettle on
The brewery gives visitors a wide-open view of the kombucha-making process. At Big Easy Bucha, that starts by boiling an industrial-sized pot of sweet tea, made from a blend of white, green and black teas. The tea gets a dose of yeast and bacteria and fermentation begins. This creates a trace amount of alcohol, which must remain less than 0.5 percent for kombucha to qualify as a nonalcoholic beverage (by comparison, familiar domestic beer brands like Budweiser have 10 times that alcohol content).
Flavors are added later using fruit and natural ingredients. During satsuma season, for instance, Big Easy Bucha bought a few tons of the local fruit and froze it to add by the batch through the year.
The finished product goes into pint-sized apothecary-style bottles that zip off an automated labeling line, or it's piped into kegs to be served at about a dozen local venues. One of them is Small Mart, a hole-in-the-wall sundry shop on Decatur Street with a kegerator for kombucha that draws a daily procession of regulars.
Since opening late last year, Big Easy Bucha's own brewery has doubled as a venue for health-focused events, including a night for vegan food pop-ups last month that exceeded Sherman's expectations.
"We had an event with no alcohol, no meat, in New Orleans, and 300 people showed up. We were amazed," he said.
Still, even a beverage marketed as healthy has fallen under the sway of the city's drinking culture. Big Easy Bucha plans to participate in this summer's Tales of the Cocktail conference, and it was part of the related Tales of the Toddy holiday drinks event last year.
Sherman, a former bartender, recommends the ginger-heavy Cajun Kick for a dark and stormy or Moscow mule, two cocktails normally made with much-sweeter ginger beer. 
"Even when people get into kombucha for health reasons, the cocktail scene is so strong here it just feels inevitable it would wind up there," Korman said. 
After all, New Orleans may be in recovery mode after a long Carnival season, but the next party can't be far off.
The wood-burning oven at the Uptown eatery Pizza Domenica turns out Neapolitan-style pies th…