Next week, on Aug. 19, a restaurant known broadly for Cajun cooking and particularly for pork will set the tables with fried chicken and Champagne. It's a special party at Cochon, dubbed Louisiana Saturday Night, and the idea has proved popular (it sold out early).
It also sets up an expanded approach to community engagement from the chefs behind it all, and you'll be seeing more such gatherings in the months ahead.
The party is hosted by the Link Stryjewski Foundation, the nonprofit created by chefs Donald Link and Stephen Stryjewski, partners in the Link Restaurant Group. The foundation's best-known event is its annual Bal Masque, a high-dollar gala held in January in New Orleans. The upcoming fried chicken dinner introduces a new series of events from the Link Stryjewski Foundation that cut a different profile and are more accessible to more potential supporters.
"We want to broaden what we do. This is about more than a once-a-year party we throw. We're committed to the foundation year round, and we want to show that this is ongoing," said Link. "You have to keep it fun and interesting; people don't want to do the same events all the time."
To that end, the foundation is planning an Oktoberfest, styled as a ticketed block party outside Cochon and the adjacent eatery Butcher on the afternoon of Oct. 1.
In November, the foundation will hold a dim sum dinner upstairs at the restaurant group's event space Calcasieu (the date is still to be determined). The dim sum format will unveil one of Link's own personal food obsessions, going back to the days early in his career when he worked in San Francisco and explored the city's dim sum parlors in his downtime.
When chefs throw a party, food naturally gets the spotlight, and Bal Masqué, the gala that D…
Since then, Link has gained prominence as a top New Orleans chef and the restaurants he runs with his partners have garnered wide acclaim. The foundation came about as a way to leverage that rising profile for civic leadership in New Orleans and to focus how his company directs its own contributions.
The foundation's aim is to help community organizations addressing some of the biggest problems the chefs see in New Orleans — the intertwined cycles of poverty and violence.
"We wanted to make something that would be more impactful," Stryjewski said in an earlier interview, describing his motivation for the foundation. "It's nice to feel good about what you're doing, but it's a lot better to know that what you're doing has an impact."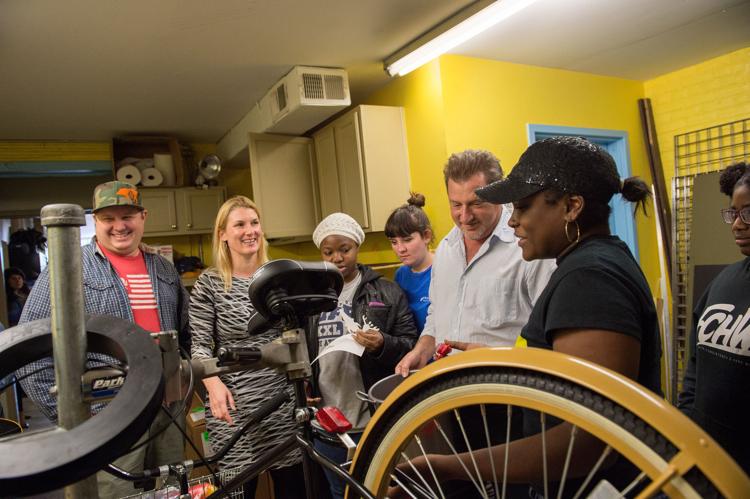 They focus their efforts on a few organizations, including Kingsley House, the Youth Empowerment Project and Grow Dat Youth Farm, and stick with them year-round, from grant funding to volunteer participation from restaurant staff.
With more different types of events on the books with lower price tags for buy in, Link hopes the foundation can connect a broader base of supporters and open up the idea of fundraising through culinary events to more people.
"This is for the city," Link said. "Everybody is part of this, so it can't just be about going to a formal ball. We have different clienteles at our restaurants. We want to bring more of them into it."
As the new dining series progresses through fried chicken, Oktoberfest and dim sum, plans are proceeding for the next Bal Masque. This year's event is scheduled for Jan. 20, with a chef's dinner led by Mario Batali on Jan. 19.
Ten years ago, Jeffery Vannor was a high school dropout with little hope for his future. But…
Christmas season is a busy time for the grand Creole restaurants of the French Quarter, wher…