Frenchmen Street is awash in beer. It flows from bars and restaurants along the busy stretch here, and it's carried into the street by people reveling in their New Orleans go-cup freedom.
But just around the corner, some duck into a quieter hole in the wall for special beers they can only get under this roof.
Brieux Carre is a brewery and tap room that opened in April. It's an ancient-looking building on the dogleg block running between Frenchmen Street and Elysian Fields.
The ambiance feels homemade, and the confines are tight. Just beyond the narrow plank of the tap room bar, gleaming steel vats and tanks wind around a corner, contrasted against the patina of an old plaster wall.
"We're the biggest little brewery around," proprietor Robert Bostick said proudly.
Working with about as space as a submarine engine room, he and fellow brewer Taylor Pellerin keep the wheels moving on multiple batches of beer in progress and pour off pints and tasting flights for visitors. The range of beers is always changing, with up to three new arrivals weekly, and they're served exclusively at the tap room.
That exclusivity is a matter of scale for a new start-up, but also part of a business philosophy.
"We don't sell our beer anywhere else and no one else can sell their beer here," said Bostick. "When the competition is us against ourselves, we'll always get better."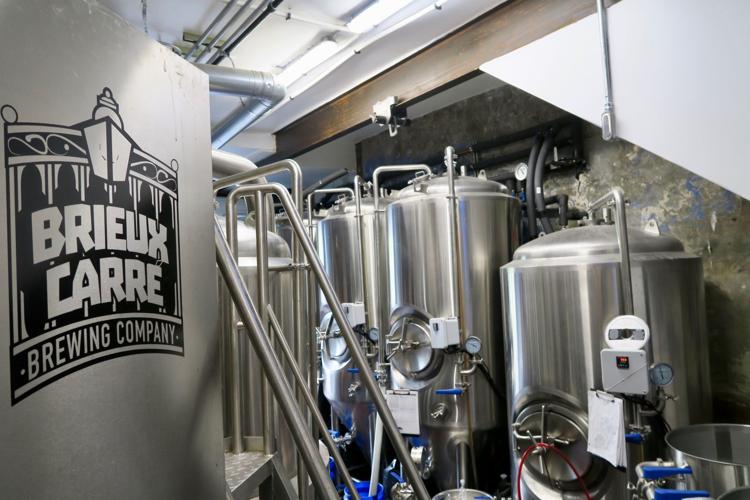 The size of Brieux Carre informs the type of beer it produces. The brewery isn't supplying outside clients, who tend to want a consistent flow of the same beer. Instead, it caters to beer enthusiasts who seek the place out for a taste of something different. Each batch produces about 44 slim kegs of beer.
"We're set up to be consistently different, we have that flexibility built in," said Bostick.
With trains rolling just outside and ranks of shining steel vats closely clustered within, P…
This tap room-only model is a different approach for the growing ranks of the New Orleans craft brewing scene, and it's one shared by Parleaux Beer Lab, which opened last month about two miles away in the Bywater. The two-year-old Courtyard Brewery in the Lower Garden District follows a similar format, serving its own beer in house only, though Courtyard also stocks beer from other local and out-of-town brands.
Like these other contemporaries, Brieux Carre makes beers that are distinctive, and they tend to be potent, with many in the range of 7-8 percent alcohol (for comparison sake, Budweiser is 5 percent).
On a recent visit there were seven beers flowing, including the Falcon Warrior double IPA and a dark, strong though surprisingly refreshing Baltic porter. There was a (relatively) lighter wheat beer with lemongrass, and a weizenbock with flavors of smoked hickory and bitter chicory.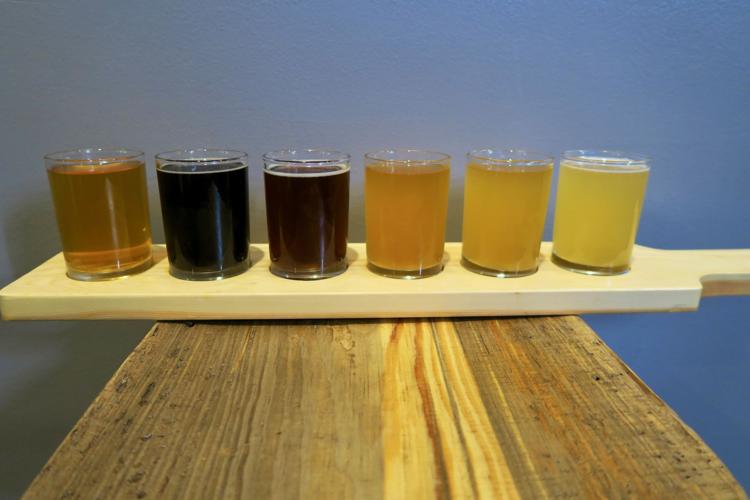 While business end of this brewery is on plain view, the feel around the tap room remains mellow, especially compared to the nearby nightlife carnival on Frenchmen.
One evening, a man seated at the bar was writing in a travel journal, his bag at his feet and a spectrum of short beer glasses lined up by his side. Nearby a couple was playing a board game, and sipping beers. The brewer's golden retriever, Barley, lolled contentedly on the floor behind a barrier of kegs.
In back, a stockade fence and a few picnic tables under a  languorous tung oil tree define a beer garden that feels like a courtyard tucked between the surrounding rooftops.
Bostick has plans to expand Brieux Carre by developing the second floor, where he'll add more brewing equipment and room for tastings. But he has no plans to branch out from the tap room model, even with its built-in limitations.
"You're cutting out the potential to distribute, but you're creating a job for yourself that you have more control over," Bostick said. "I just want to make my living and make beer for the rest of my life. My only competition is myself, so if our beer sucks we'll go under. If it's good, we'll do okay."
2115 Decatur St., 504-304-4242
Daily 11 a.m.-10 p.m.
At a glance: just off Frenchmen Street, a hole-in-the-wall brewery and taproom for small batch beer. A small beer garden in back, an affinity for the tabletop game Klask at the bar.
On Saturday, June 10, Brieux Carre hosts a release party for a beer produced in collaboration with fellow New Orleans craft brewer Wayward Owl. Called Je M'appelle Hop DIPA, it's a strong "double IPA" with heavy hops. The pop-up Brügger's Barbecüe will prepared a Hawaiian-style pig roast. The party from 1-10 p.m.
It's not hard to find a drink in New Orleans. But getting a beer straight from the source at…
A new brewery builds a reputation one beer at a time. At the latest brewery to emerge in New…
At Royal Brewery New Orleans, you can feel the rumble of trucks rolling in adjacent storage …