Vaucresson sausage has been a staple since the first year of Jazz Fest in 1970, and when French Quarter Fest debuted in 1984, these distinctive, Creole-style links were part of the food line up, too. In fact, in the years since Hurricane Katrina, festivals have been the primary spot for fans of the spicy sausage to get a taste. 
But that's now changing as this old homegrown New Orleans brand partners up with a much newer one. Dat Dog, the chain of local eateries for hot dogs and sausages, has a new deal with Vaucresson Sausage Co. that puts the company's hot sausage on its menus year round.    
"Dat Dog prides itself on providing the best gourmet hot dog and sausage experience, and the Vaucressons pride themselves on their locally made sausages," said Constantine Georges, who co-founded Dat Dog in 2011 (he is also the brother of John Georges, owner of the Advocate).  
A sausage supplier and a sausage specialist teaming up sounds straightforward enough, though this story also reaches back to long-running family ties between the two companies. Georges' father Dennis, who immigrated to New Orleans from Greece in 1953, shared business ventures with Sonny Vaucresson through the local wholesale food distributor, Imperial Trading Company.
"Sonny Vaucresson and my father saw eye-to-eye in business and life," said Georges.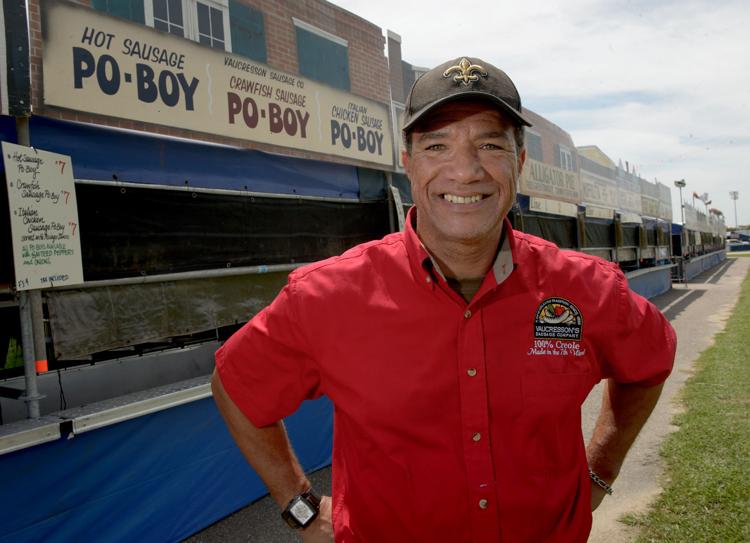 Vance Vaucresson, the son of Sonny Vaucresson and now president of the sausage company, said a family narrative has been a driving force for his business through the years, and it's one he's proud to continue.
"Our family has a vast background that we pull from," said Vance Vaucresson. "My dad said that he always wanted to make a product that, when you ate it, you knew it was made with the love of our family, with great interest in our history, and in the traditions of our family and culture."  
Links with history 
The Vaucresson family got its start in the food business in 1899 as butchers. The business was passed from one generation to the next and evolved through the years. By 1964 that included a restaurant called Vaucresson's Creole Cafe on Bourbon Street (in what is now part of Pat O'Brien's). Vance Vaucresson said the restaurant was the first African-American owned business on Bourbon Street since Reconstruction.
When the first Jazz Fest got underway in Congo Square, just outside the French Quarter, Vaucresson's Creole Cafe was one of the vendors that festival organizers tapped to showcase the flavors of New Orleans for the crowd. Today, Vaucresson Sausage Co. is the last remaining original vendor at Jazz Fest. 
Eventually, the company's long experience with festivals became its saving grace. Before Hurricane Katrina, Vaucresson's home base on St. Bernard Avenue stood as a landmark Seventh Ward business, its flank decorated by a mural of fat sausage links. Floodwaters ruined that facility, but Vance Vaucresson has been gradually rebuilding the business, making sausage at a shared facility and keeping the brand in circulation with frequent appearances at events, from this weekend's French Quarter Fest to the Oak Street Po-Boy Fest.    
A handful of local restaurants use Vaucresson sausage, including Creole icon Dooky Chase's Restaurant and newer additions like the Munch Factory in the Lower Garden District and the Backyard in Lakeview. The new deal with Dat Dog marks a big step up for the brand's distribution.      
Through the years, the two companies have discussed a possible alliance of some sort, and Vaucresson said the idea came to fruition as his own production capacity had increased.  
"Timing and preparation played a part," Vaucresson said.
"The response has been overwhelmingly positive," said Bill DiPaola, the president and chief operating officer of Dat Dog. "Vaucresson has a really special place in this city and people from everywhere in the world know it."
Dat Dog 
5030 Freret St., 504-899-6883
3336 Magazine St., 504-324-2226
601 Frenchmen St., 504-309-3362
3301 Veterans Blvd., 504-304-7005
The natural habitat for boudin is Cajun country, and across its range, you find the deliciou…
Jimmy Pareil, legs weary but feeling no pain after three hours at the Jazz and Heritage Fest…