Review: For adventurous eats, find great bang for buck at Marigny's Bao & Noodle
A sticky cluster of peanuts spiked with chiles that temporarily numb the tongue. Homey, aromatic bakery buns topped with drifts of wooly "pork floss" that bring an earthy, jerky flavor as they moisten in your mouth. A salad that gives the crunch of fresh-cut slaw and also a bona fide caffeinated buzz from bits of fermented tea leaves strewn throughout.
These are not special effects from modernist cuisine or riffs of tasting menu showmanship. Instead, they're part of a deep trove of tradition from an ancient cuisine, several of them in fact. And they're cooked up in a come-as-you-are setting that's as casual as a coffee shop. 
This is Bao & Noodle, a restaurant serving robust renditions of regional Chinese cooking in a quiet, easy-to-overlook corner of its well-traveled Marigny neighborhood. Mix the refreshingly affordable menu with a BYOB policy (no corkage fee) and it also ranks among the best bangs for your buck for adventurous eats in New Orleans.  
Bao & Noodle does take-out and delivery, but this isn't the type of Chinese restaurant for sweet and sour pork or shrimp fried rice. Instead, the namesake bao and noodles supply the cornerstones.
Bao are cousins to dumplings, with ground pork encased in cakes that have golden, crusty bottoms and puffy, toasty-flavored tops that readily absorb the deep dark vinegar/soy sauce you pour over them.
A variant, rousong bao, are topped with that "wool." It's a fibrous rendering of pork that looks a little like a blond toupee sitting on top of the sweet dough cakes. There's more inside, and it all tingles slightly as it reconstitutes on your tongue, mingling with a creamy scallion-flecked sauce.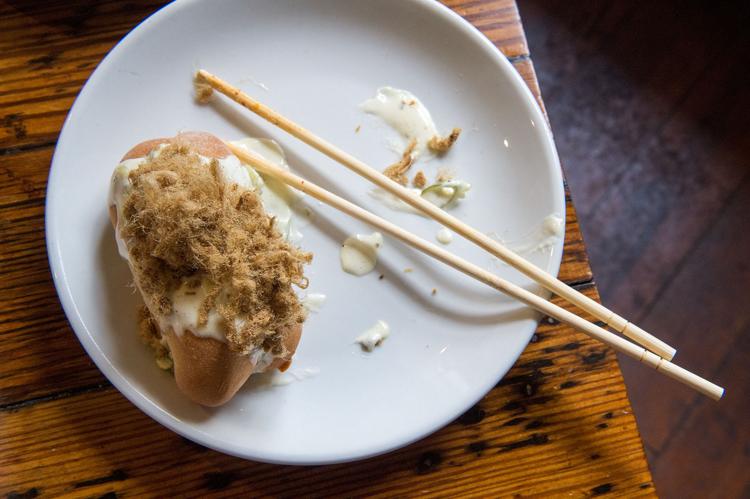 Noodles are covered a few different ways. There are springy, swirling dan dan noodles coiled around ground pork and a funky/fermented sauce. And there are biang biang noodles. These are broad, delightfully chewy, irregular ribbons that seem endless as you unfurl them through braised lamb heady with cumin and interspersed with crunchy carrot and radish and cool cilantro.
It's easy to picture that lamb dish on any regional Italian menu (just call it pappardelle with ragu), and its unexpected familiarity points to its roots. Biang biang noodles are a staple of Xi'an, a terminus of the same Silk Road traveled by Marco Polo.
All in the family
What's it doing at a modest Marigny café, alongside "strange flavored peanuts" with their tongue-twisting Szechuan spice and a menu that roams between Burmese tea salads and shrimp shumai worthy of a Cantonese dim sum shop? That's a more modern West-meets-East story. 
Douglas Crowell, chef and proprietor of Bao & Noodle, didn't grow up eating this kind of food, much less cooking it. His last gig was at Donald Link's bistro Herbsaint. But his wife, Asia Wong, is from a large Chinese family with roots in New York. When they started planning their own restaurant, Crowell turned to the kitchens of his in-laws and the family travels they shared.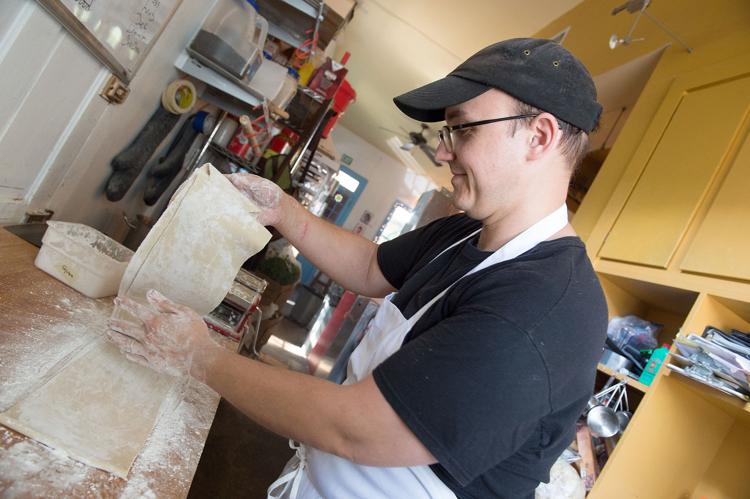 Bao & Noodle's address was previously the coffee shop Sound Café, and today it still feels a bit like a coffee shop where a pop-up has settled in.
The kitchen is open to the dining room and has the arms-length dimensions of a galley. You can both hear and smell particular dishes coming together. Look over and you might see Crowell hand-pulling those biang biang noodles to order or shaking oil from the bottoms of bao. 
Bao & Noodle opened in late 2014. Coincidentally, that was just before Red's Chinese opened eight blocks away in the Bywater. The two restaurants are very different. But Red's, with its mash-up-modern Chinese/American menu and clear lineage to the much-lauded Mission Chinese restaurants in New York and San Francisco, overshadowed Bao & Noodle at the time.     
If the restaurant missed out on some attention at its debut, that's unfortunate. But if you have a taste for true Chinese cooking and you still haven't been, now you are the one missing out.
Street food, priced to move
Put some time aside for the pork shank, which comes out lustrously dark, the meat dense and full and cleaving into big chunks. We turned them into bite-sized wraps with the kale and rice served around the meat.
Pork shank can be irresistible after long, slow cooking and deep seasoning like this. But it's never a regal cut. It shouldn't be expensive, and at $12 this entrée is an unqualified bargain. 
Much of Bao & Noodle's menu comes from street food customs. It's supposed to be cheap and immediately satisfying, and hats off to Crowell for keeping this part of the equation intact. No appetizer on a recent menu was over $5. The most expensive dish was a $16 duck entrée, with pink-hued slices that gushing juice and giving a subtle tea smoke flavor.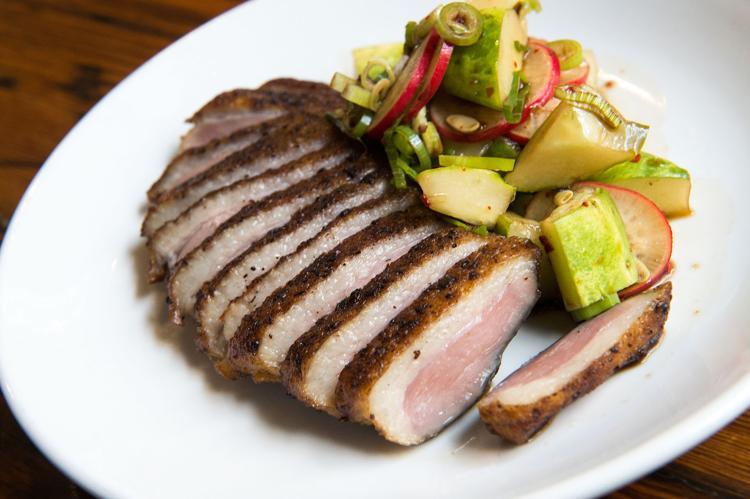 There are enough meatless dishes to satisfy vegetarians (and several vegan dishes), though the scarcity of seafood on Bao & Noodle's menu is disappointing. Fish and shellfish are major specialties on Cantonese menus in particular and could be a bigger part of this one. 
Still, one of the pleasures of eating at Bao & Noodle is the diversity of flavors Crowell draws from the vast patchwork of Chinese cooking styles. You can fill a table with different dishes, alternating something exotic with straightforward, handmade dumplings or a plate of stir fried vegetables. The cost of entry is low, the pay off is high.  
2700 Chartres St., 504-272-0004
Lunch and dinner Tue.-Sat.
Price range: appetizers $2-$5; entrees $10-$16
Follow Ian McNulty on Twitter, @IanMcNultyNOLA.