The "Ave." in Ray's on the Ave. originally signified St. Bernard Avenue, and the stretch of businesses where this Creole soul eatery from a veteran local chef and musician found its first roost.
But earlier this year, Ray's relocated to new digs about a mile away. Conveniently, it's also on an avenue — two actually — so the name still fits.
Ray's on the Ave. is now at 714 N. Claiborne Ave., (504) 518-6952, at the corner of Orleans Avenue in a busy cluster of Treme. The address had been the long-time home of Cohen's Formal Wear. It shares the block with the established neighborhood eatery Tiger's Creole Cuisine (1612 Basin St., 504-939-0744), located a few doors down.
Ray's is run by Elray "Chef Ray Boom Boom" Holmes, who along with his wife Tammy opened the first location in 2016. Holmes is a chef and also a musician. Today, he sings and plays the horn with his exquisitely named outfit, Chef Ray Boom Boom and the Pot Stirrers.
A decade ago, his club Ray's Boom Boom Room was a fixture of the early post-Katrina scene on Frenchmen Street (the same venue is now called Maison). Holmes later ran an eatery and club on Bienville Street in Mid-City, where Bayou Meat Market is now taking shape.
The new location for Ray's on the Ave. has potential to grow. It will soon have live music — only a periodic feature at the last spot — and there are plans to renovate the second floor for more dining room space, private events and a musician's green room. 
Just like at the first address, this relocated Ray's serves traditional Creole soul food and has a niche in bargain lunch plates. Look for catfish Tam with cream sauce, the Treme brass po-boy with grilled shrimp, turkey and remoulade, gumbo and red beans, fried pork chops with greens and, for the marquee dish, the soul platter, made with a frame of chicken wings filled in with fried shrimp and catfish over fries and toast.
Tex-Mex or the cause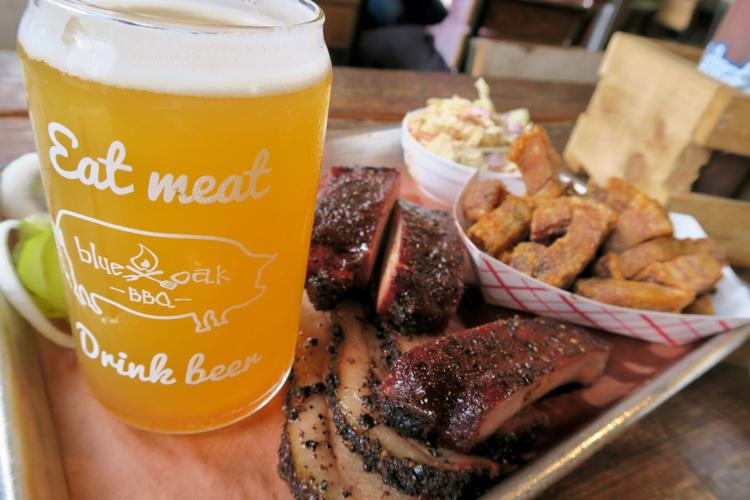 As per the norm around New Orleans, the barbecue at Blue Oak BBQ (900 N. Carrollton Ave., 504-822-2583) represents a diversity of regional styles, with ribs prepared St. Louis style and pulled pork drawing more from Alabama barbecue. On two upcoming Mondays, however, the focus at this Mid-City restaurant will be on something else: Tex-Mex.
Blue Oak BBQ is hosting a pair of fundraisers for Hogs for the Cause on Feb. 26 and March 12, from 6 p.m. to 9 p.m. Each is dubbed a Tex-Mex dinner, and the menu will go over to tacos and queso dip, fajitas, yellow rice and a few creations like boudin chili rellenos and smoked sea salt flan.
The restaurant will follow its normal service format — order at the counter a la carte, and find a table inside or along the newly-expanded patio. The bar will have themed drinks, as well.
Proceeds benefit Hogs for the Cause, the huge barbecue cook-off and fundraiser that supports families dealing with pediatric brain cancer. While Hogs for the Cause is scheduled for March 23-24, again outside the UNO Lakefront Arena, it's common for teams to hold their own fundraisers in advance to prime their fundraising haul.
Blue Oak BBQ has its own cook-off team in the event, and last year, that team nabbed the event's Grand Champion award.