A few of Bernie Jolet's regular customers were waiting when he pulled into an empty bank parking lot on Veterans Boulevard during rush hour one November afternoon. They had their orders ready, and they had hot tamales on their minds.
Jolet opened the handmade, steel-lined chest attached to the tailgate of his truck, and with a whoosh of aromatic steam Mamita's Hot Tamales was in business.
One woman started eating her hot tamales while walking away, her arm held at a grease-avoiding angle. Another hauled off a shopping bag full of frozen hot tamale packs. The holidays were coming, she explained, and visiting relatives would be looking for them.
"When people come home to New Orleans, they know it's one of those things they can't get anywhere else," said Jolet, who sells his hot tamales at a circuit of stops, updated weekly on Facebook, between the West Bank and the north shore. "They have tamales everywhere, but not New Orleans hot tamales."
Tamales are a Christmastime tradition in some Latin-American communities. But something else makes the holiday season prime time for the New Orleans hot tamale, and it has to do with hardwired cravings.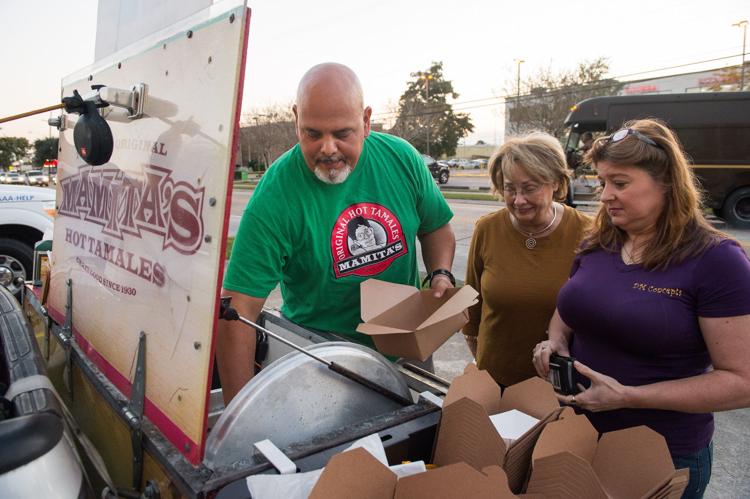 Hot tamales are one of those portable tastes of home, in a league with chicory coffee or your favorite brand of olive salad. They may not make it onto the holiday table with the turkey and the dressing, but when ex-pat New Orleanians come home, hot tamales sell like hot cakes.
"For some people, the hot tamale stand is first place they want to stop when they come back," said Joy Buwe, who stocks a half-dozen stands around the West Bank and in Slidell from her Gretna-based company Old Style Hot Tamales.
Buwe ships her hot tamales around the world, she said, even to places where other types of tamales are easy to find.
"Wherever they are now, they don't have their boiled seafood and oyster sandwiches and they don't have tamales like this," she said.
Tamales with family ties
Though it shares a name and basic format with a Latin-American staple, the tamale type that has taken root in New Orleans is distinctively different. It is always called a hot tamale, no matter the spice level. It's simmered, rather than steamed. And it's messier than a five-napkin roast beef po-boy, gushing a juice laden with grease, meat and memories.
It's closely related to the hot tamale of the Mississippi Delta, and some stories trace a direct line between them. But what kindles the cravings are highly specific local associations, not broadly shared regional ones.
In New Orleans, hot tamales are food for the Mardi Gras parade route and the second line. They're remembered as a treat on school days after sports practice, and the surprise that dad brought home after work.
Equally at home in the barroom and the sno-ball stand, they're a trigger for childhood flashbacks and an impulsive late-night indulgence.
The people who make hot tamales tend to have family stories wrapped up with them too.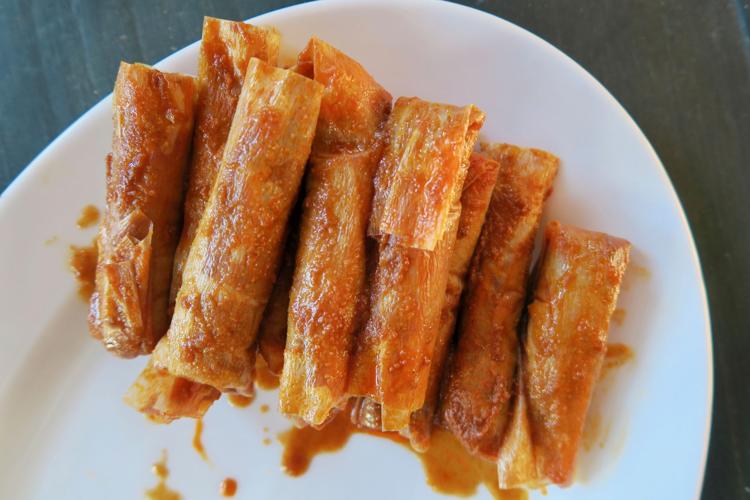 At Guillory's Deli & Tamales, a back street joint tucked away off Airline Drive, the Gauthier brothers still serve hot tamales based on a recipe from their father Myron. Encased in paper and dripping with meaty gravy, these hot tamales migrated from a pool hall one brother once ran to become a mainstay of their lunchroom, served by the dozen in foam trays or worked into po-boys with chili and cheese.
The Old Style Hot Tamales that Buwe sells are based on the recipe from Fiesta Hot Tamales, a brand that once had a fleet of dozens of carts. Buwe's late husband, Armand, worked for Fiesta for years. After it went bankrupt, he took over the company in 1983 and changed its name. Today, Old Style Hot Tamales supplies groceries and even fields private orders from hunters at its Gretna plant, turning their deer and wild hog into hot tamales.
Merlin Fleury long ago built a following for the hot tamales he makes and sells to a rotation of bars and eateries in New Orleans, and his son, Merlin Fleury II, recently opened a new outlet for them in Gentilly. The junior Fleury takes over the kitchen of breakfast/lunch spot Cafe Gentilly each Thursday, Friday and Saturday night, serving his wings and fries and his dad's hot tamales as a rare after-hours option in this part of town.
And there are some newer additions. For instance, M&M Hot Tamales is now roving the streets in a vintage postal truck wrapped in images of its signature product.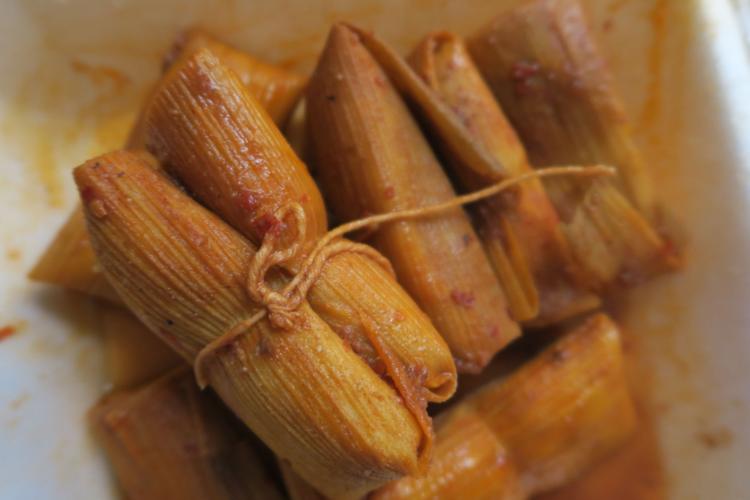 This vendor, who declined to give his name, sells these plump, twine-belted hot tamales through a tiny pass-through window cut in the truck's flank. It's the wheeled spin-off of his family's hot tamale shop in Woodville, Mississippi, a tiny crossroads town just over the Louisiana state line.
The M&M truck can often be found on afternoons parked under an oak on Toledano Street just off South Claiborne Avenue. Then it hits a route of bars around town. 
Food from the streets, and back again
Bring up hot tamales and some New Orleans people will invariably invoke Manuel's, which started in the early 1930s. Though it was snuffed out by Hurricane Katrina, the name has stayed on people's lips longer than the orange stain of hot tamale juice on a white shirt.
But Manuel's was not the only source in town, nor was it the first. The "hot tamale man" was already considered a common sight on New Orleans streets by 1915, when a writer for The Times-Picayune made a tour of the city's downtown food vendor scene.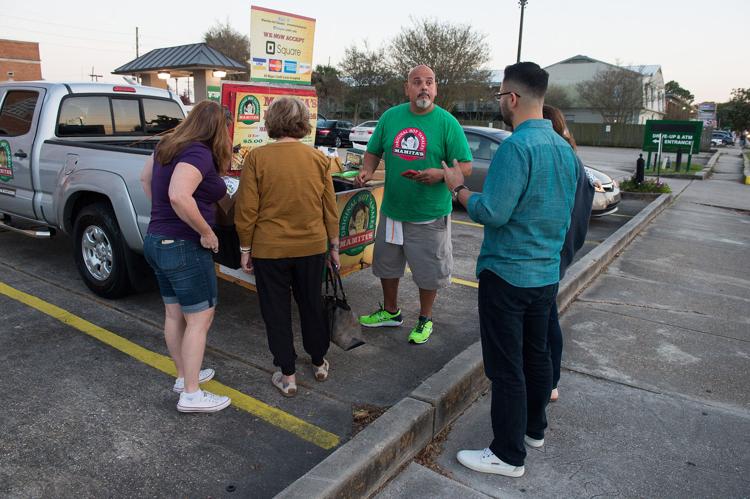 Bernie Jolet says the family story that led to Mamita's Hot Tamales goes back to 1923 when his grandfather and namesake Bernardo Hernandez started selling tamales here.
Hernandez was an immigrant from Mexico who got a taste for Delta-style tamales while building railroads in north Mississippi, sometime around 1920. These were smaller, spicier tamales than the type Hernandez knew from back home, but according to family lore he liked them and saw how well they sold. They were his model when he started making his own in New Orleans, Jolet said.
Starting with a stand at Canal and North Robertson streets, Hernandez eventually would open Mexican restaurants. The longest-lived was El Ranchito, which opened in 1946 on Elysian Fields Avenue, near North Roman Street. Hot tamales were on the menu until it closed in 1973.
Following Hernandez's death, his widow, Rosa Guzman, known as Mamita to her family, continued to make those hot tamales at her home in Arabi, selling them through her front door to faithful old customers.
"She made a hundred dozen a month and sold them with no problem, just word of mouth," Jolet said. "It was people just knocking on the door. The neighbor thought she was selling drugs until she gave him a dozen to show him what people were coming for."
Jolet remembers how his family bought their spices from Central Grocery in the French Quarter and how his grandmother stored them in recycled glass pickle jars. He remembers the big spoons she used for mixing them with the beef, and the important ratios of fat worked into the masa and the cooking liquid.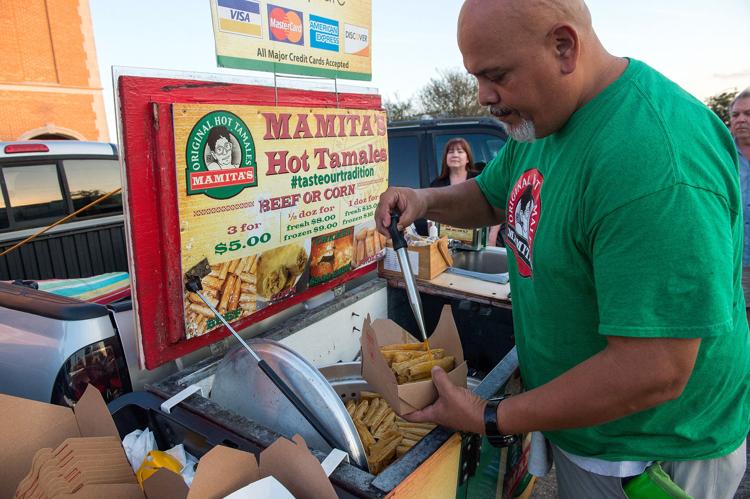 After he was laid off from a restaurant job, Jolet also remembered how well his grandmother's hot tamales sold. In 2010, he and his sister Lisa started Mamita's Hot Tamales to go into business for themselves. They have been steadily building its brand in the time-honored way for hot tamales: on the streets.
The siblings now make hot tamales in a commissary kitchen in Gretna, and they're customizing a newly acquired food truck, which they plan to deploy soon. For now, though, their family tradition travels from stop to stop in back of Bernie Jolet's pickup.
At another recent stop in Lakeview, Jolet saw his usual mix of customers: the uninitiated, who approach with questions and curiosity; the impulse buyer, lured by the sight of the cart and eager to share stories of the old days; and the "tamale hounds" who know the Mamita's schedule and track him down.
"When you're talking about hot tamales, you're talking about dyed-in-the-wool locals; they're the ones who know this," Jolet said. "There's a lot of love for hot tamales."
Proudly and justifiably, the Fiorella brothers hang their hats on their fried chicken. It's a family recipe, and one they brought back to life…
Street food, quick eats and good deals will always get a food lover's attention. Everyone in the media world knows this. In New Orleans, I rec…
Scott Williams knows why people are drawn to his catered spreads of smoked boudin, cracklin'-topped deviled eggs and andouille croutons with c…