Mardi Gras beads can incite desperate longing when dangled before you, and they can bring a visceral joy when plucked from the sky. But then, quickly, they all too often become clutter to be managed later or simply more plastic trash to haul away.
At a new event debuting this week, however, you can trade those beads for another obsessive pleasure of Carnival time, king cake, and it comes with a charitable component, an arts and education angle, and the prospect of some cocktails thrown into the mix.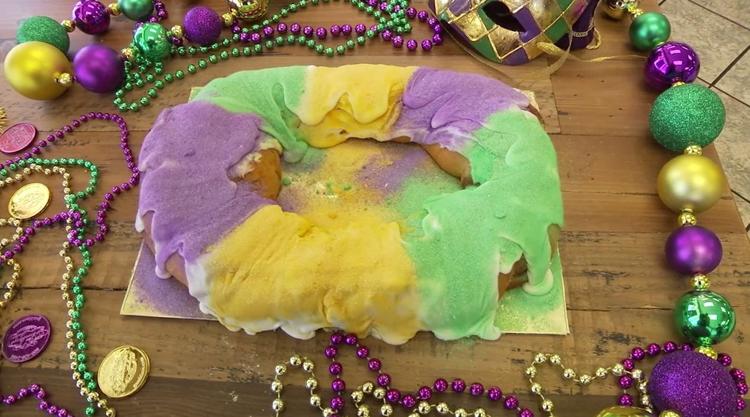 For four days, Feb. 23-26, the liquor brand Crown Royal is hosting a "pop-up party" in downtown New Orleans, outside Harrah's Casino (corner of Canal and South Peters streets).
The outdoor event will function as a trading post for Mardi Gras staples — drop off beads and you can collect a free Gambino's king cake on the spot. Organizers plan to have about 1,000 king cakes on hand each day.
There will be a scale to weigh each contribution, with organizers looking for at least 3 pounds of beads to earn a king cake. They're encouraging revelers to pool their haul of beads as one donation and share a king cake together.
Because the event is sponsored by a liquor brand, it is open only to those 21 and older. Crown Royal will have cash bars on site selling specialty cocktails.
Can't see video below? Click here. 
Most of the collected beads will be donated to the Arc of New Orleans. The nonprofit runs a year-round bead recycling effort, which is one of its enterprise programs to create jobs and build independence for people with mental disabilities. Collected beads are sorted, sacked and resold, often to members of the same krewes that dispensed them the year before.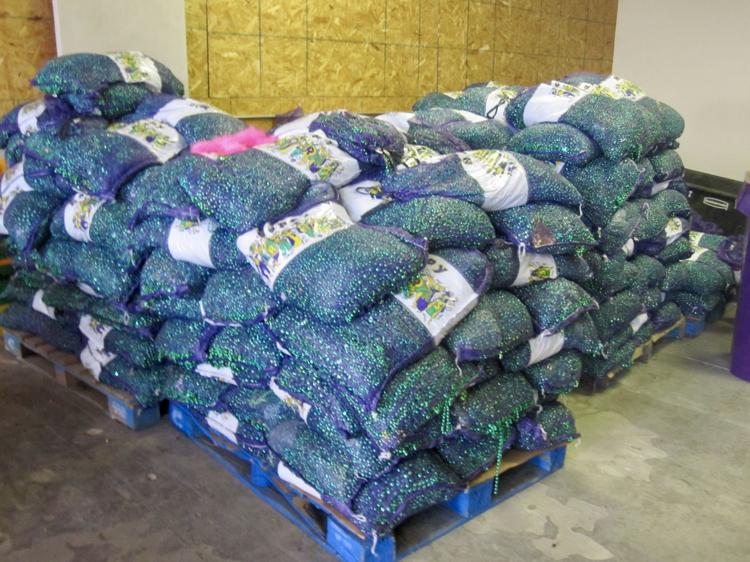 Last year, Arc recycled an estimated 175,000 pounds of beads, said Margie Perez, the bead program coordinator. The recycled beads sell for about $1 a pound at the Arc's Metairie headquarters, and that provides an important revenue stream for the organization.
In past years, the Arc has deployed a trailer behind some Carnival processions for paradegoers to immediately toss unwanted beads back into circulation. That ran afoul of rules against throwing objects at parade floats, and the trailer is now sidelined. That makes a bead collection event like these Crown Royal parties even more important for the recycling effort, Perez said.
The upcoming events will also supply beads to artist Stephan Wanger and his Bead Town project, a traveling art exhibit and educational program.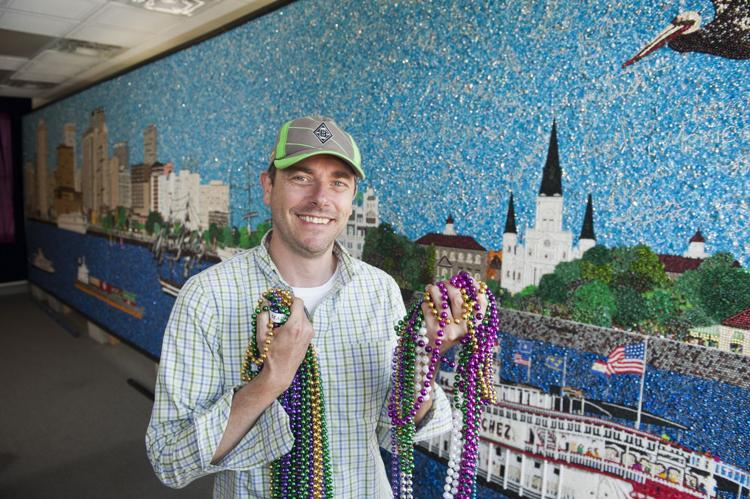 Through Bead Town, Wanger works with students and other groups to create huge murals made from recycled Mardi Gras beads, individually cut and glued into artful mosaics. Bead Town's current project is a panorama dubbed "Life in the French Quarter" that will measure 8 feet tall and 96 feet wide. Wanger is attempting to break a Guinness World Record with the work.
Along the way, his traveling exhibits have been embraced by schools, with students working on sections together as interactive lessons in linear equations and other math skills.
One of the many panels that will make up the huge, finished mural will be on hand at the Crown Royal events in New Orleans, and attendees can add beads to the work themselves.
"Seeing people working together and making something beautiful out of trash, it's so inspiring," said Wanger. "It's amazing when people and ideas come together, and it all starts with Mardi Gras beads."
What
Crown Royal Mardi Gras Bead Pop-up Party
Where
Canal Street at South Peters Street (outside Harrah's Casino)
When
Thursday, Feb. 23, 4 p.m.–8 p.m.
Friday, Feb. 24, 4 p.m.–8 p.m.
Saturday, Feb. 25, 2 p.m.–8 p.m.
Sunday, Feb. 26, 2 p.m.–8 p.m.
Special guest schedule:
The king cake is no longer a mere dessert or Carnival season indulgence. Now, king cake is a…
Each year, the king cake faithful count the days to Jan. 6. It's the Epiphany, the official …
Research for last week's column on the enduring popularity of plain, traditional king cakes …