There's something new at more New Orleans oyster bars these days, and it's not just a different twist on cocktail sauce or some fresh jokes from the shucker.
Instead, it's a different type of Gulf oyster, one that has chefs swooning and oyster lovers slurping at a growing number of restaurants and raw bars.
Sometimes pitched as premium oysters or specialty oysters, they are often listed on menus and blackboards by their geographic names — like Caminada Bay, Champagne Bay and Beauregard Island oysters, all from around Grand Isle, or Isle Dauphine, Point aux Pins and the evocatively named Murder Point oysters coming from Alabama.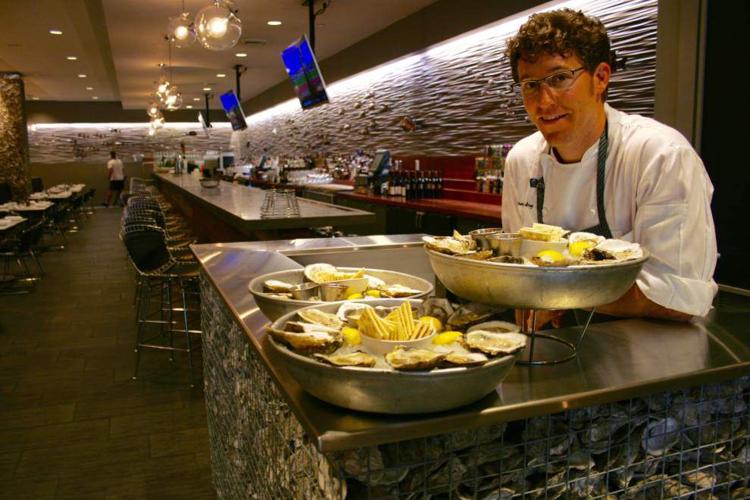 "The fun part is that instead of people just ordering a dozen, they're saying give me three of each from four different areas; let's taste the difference," said Brian Landry, chef at Borgne, where he's been adding different oysters since the summer.
"Regular Gulf oysters are delicious. But the difference is the amount of care and attention that goes into producing these other oysters, and that's creating flavors you just won't get otherwise," Landry said.
Off-bottom, on target
Indeed, while oysters from distinct patches of the Gulf Coast each taste different, these new oysters share a full and rich flavor, with greater minerality than familiar Gulf oysters and, most of all, robust saltiness, even in warmer months.
They look different, too, with thinner, lighter colored shells. Crack one open and the cup of the shell, the bowl in which the oyster sits, is deeper and rounder.
The different look and tastes comes from a growing technique called off-bottom cultivation. Instead of being harvested from reefs as usual, these oysters grow in floating cages or mesh bags, tumbling around in the current. They thrive in saltier conditions, safe in their enclosures from predators that normally would devour them in these waters. And farmers can take a more direct role in their cultivation, moving them to different depths as they grow and as water conditions shift.
The idea is to provide optimum growing conditions and create Gulf oysters that aren't just by-the-sack commodities but that get the same kind of billing as the vaunted Wellfleets of Cape Cod or Beausoleil oysters of New Brunswick.
They also are more expensive. On local raw bar menus, they've been running between $2 and $2.50 when priced per oyster or at some restaurants at $9 or $10 per half-dozen.
Off-bottom cultivation is a common approach in other oyster growing areas, where (not coincidentally) a wider geographic selection of oysters on restaurant menus also is normal.
It's only now gaining a foothold along the Gulf. But Ryan Prewitt, chef at Pêche Seafood Grill, said momentum that's been building for years is hitting its stride this season.
Now, his raw bar routinely lists up to seven types of Gulf oysters, mainly from Louisiana and Alabama producers, with a mix of traditional reef-grown and off-bottom varieties.
"The attention they're getting is long overdue, and I think this is just the beginning," Prewitt said.
A new harvest catching on
Local awareness of off-bottom oysters got a boost in July when the Crescent City Farmers Market hosted a special event with a new producer, Grand Isle Sea Farm, which dished out sample crates of its harvest to local chefs.
One of those was Ian Schnoebelen, who has been serving them at his Bywater Italian restaurant Mariza ever since.
"It's the size, the consistency, the fact that they come in clean so you don't have to scrub them, I've been loving them, and people have been ordering them like crazy," he said.
Tory McPhail, executive chef of Commander's Palace, also had a sample over the summer.
"I started popping them open in the kitchen and handing them out to the sous chefs, and we were all like, 'Can you believe this? This is the best Gulf oyster I've had in my life,' " he said.
It instantly earned a place on the menu, even though that broke from the Commander's Palace precedent.
"Commander's is not an oyster-on-the-hall-shell restaurant; that's not what we're trying to do here, but once we tried them, we had to showcase them," McPhail said.
They're now served as the first course of his chef's tasting menu at dinner. Each is topped with an icy "pearl" of cane vinegar granita, which gives a sweet/tart edge while the distinctive flavor of the oyster still shines through.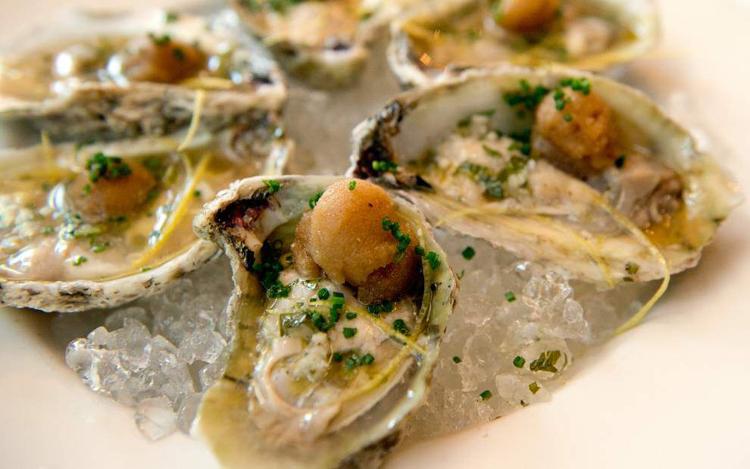 Off-bottom oysters are in rotation at the Curious Oyster Co., the raw bar at the St. Roch Market food court, where you can sample a range of Gulf varieties next to imports from the east and west coasts, with nine different types available on a recent visit.
Sac-A-Lait in the Warehouse District has a changing array, and in Covington chef Jeffery Hansell has been serving Murder Point oysters since opening his modern Southern restaurant Oxlot 9 last summer.
"I was skeptical at first because I grew up with muddy Gulf oysters, which I still love," he said. "But this is such a pretty oyster. They're real crisp, they have that brininess and they're still from the Gulf, which is cool."
At Borgne, Landry sees off-bottom oysters not just as a new menu option, but also as part of the future for the Gulf oyster industry.
"I think we used to take oysters for granted here, but hurricanes, oil spills and coastal erosion have shown that we can't," he said. "There's a very delicate balance out there that gets oysters into restaurants. This is going to give family-owned oyster businesses and restaurants an alternative and more flexibility.
Follow Ian McNulty on Twitter @IanMcNultyNOLA.