It was more than normal home team loyalty that had David Haydel carefully tracking the New Orleans Saints' playoff prospects as the team's record improved this season.
Haydel, a co-owner of his family's Haydel's Bakery in Jefferson, knows from experience that when the Saints make the postseason, it's a boon for king cake season.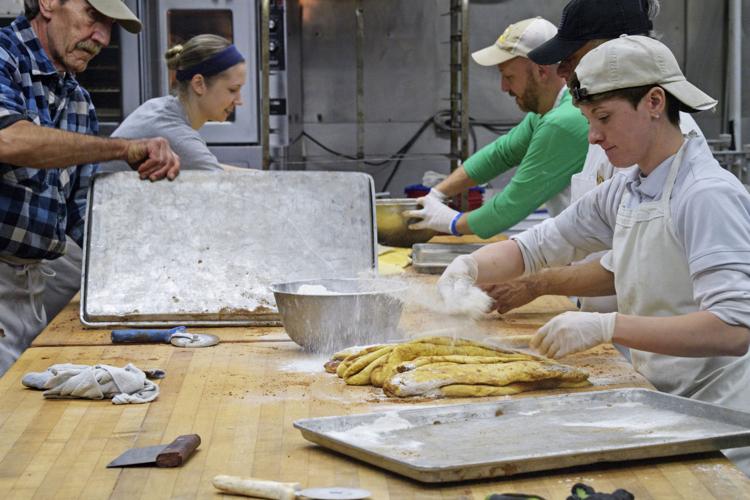 "There's no doubt that as the Saints progress we're all watching," said Haydel. "When they're in the playoffs, the boost it brings is real."
King cakes have become big business in New Orleans, with bakers, grocers and even restaurant chefs all angling to tap the city's seasonal mania for the Carnival-time treat.
Add the X-factor of another local obsession, the Saints, and the combination can be as explosive as a Mark Ingram/Alvin Kamara ground attack.
While plenty of purveyors now sell the cakes all year, it's Jan. 6, Twelfth Night, that marks the official start of Carnival season and gives king cake its special significance, lifting it from mere simple sweet to a symbol of New Orleans culture.
In a coincidence of calendars, this Mardi Gras kickoff invariably falls close to the start of the pro football playoffs, and when the Saints are in contention local king cake sales go up.
With the Saints playing the Carolina Panthers at home Sunday, just the day after Twelfth Night, bakers around town expect demand to soar higher than the Mercedes-Benz Superdome's roof.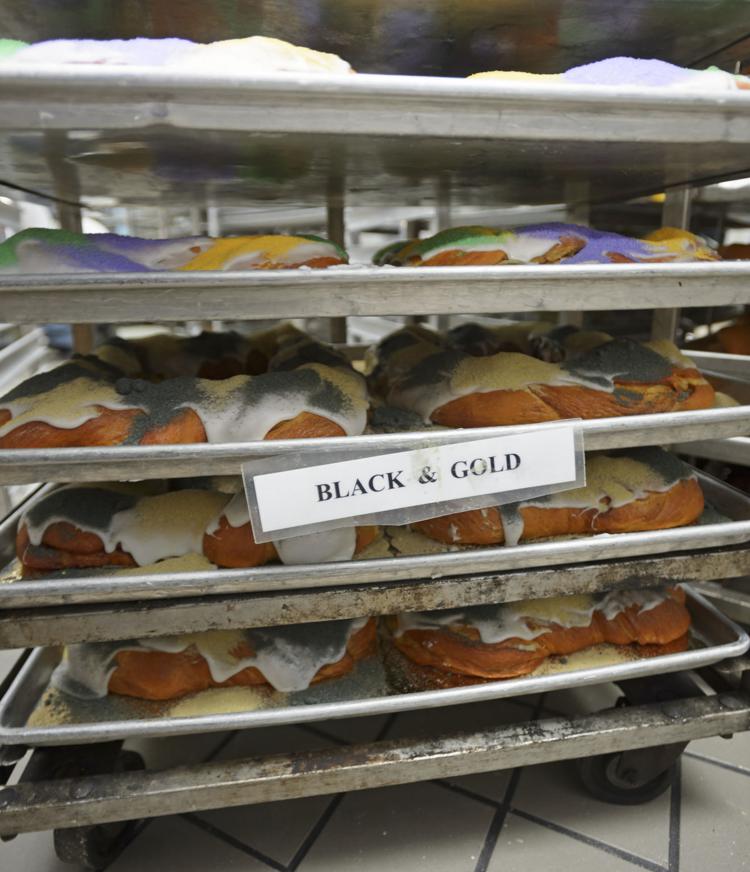 "This area lives and breathes and dies with the Saints," said Michelle Knight, bakery director for Rouses Markets, which has 54 stores across the region. "When we're on a winning streak, it's phenomenal. When it's the playoffs, that's huge for king cake."
In a normal year, Rouses bakeries will sell something in the realm of 500,000 king cakes, Knight said. While it's hard to precisely track the playoff-related increase, Knight said that whenever Saints playoffs and Carnival season align the result is a game changer.
"It's actually a little scary," said Knight who, after 19 years in the New Orleans grocery baking business, doesn't seem like someone who scares easily. "I have to re-evaluate what we bring in, what we have on hand, see if there's enough dough and fillings and trinkets."
Even one playoff game makes a difference, king cake pros say, while an extended postseason campaign can change the entire tenor of what is already the busiest time of year for New Orleans bakers. More games mean more parties and more people toting king cakes along.
At Hi-Do Bakery in Terrytown, a postseason run by the Saints means a king cake season run on a particular specialty cake the Vietnamese-style French bakery produces each year. Bakery founder Ha Do turns his traditional brioche king cake dough into a table-sized fleur-de-lis, finishing it with drifts of black and gold sugar. It's a cake the bakery sells only as a special order, but Kim Do, the baker's daughter, said that once the Saints clinch a playoff berth, the orders start rolling in.
"The timing just comes together perfectly," she said. "Everyone in the city is thinking about king cake on Jan. 6, and when you consider all those playoff parties people are going to, it adds up."
The colors at plenty of other king cake purveyors morph from purple, green and gold to black and gold for the postseason. This weekend, for instance, Knight predicted black and gold king cakes would outsell every other type at Rouses stores.
Such Saints-synced king cakes were once a fringe player, something for diehard fans or the occasional special order. But they now occupy a permanent place in many New Orleans bakers' playbooks.
"It came into its own when the Saints made that big Super Bowl run, and it really hasn't gone away," said Haydel.
It adds another wrinkle to the logistics of preparing for king cake season.
"We have to make sure we have enough of black and gold sugar and sprinkles if they're making a playoff run," Haydel said. "It's crazy how much of a swing we see from Carnival colors to black and gold."
It's not just king cake. Almost anything black and gold sells better when the Saints are winning, and at bakeries that goes for petit fours, cupcakes and regular cakes too. But it's king cake, with the commingling of its own season and NFL postseason, that stokes a special kind of limited-time craze for Who Dats. 
Chaya Conrad opened Bywater Bakery on Twelfth Night in 2017, making this just the second season for her small neighborhood bakery. But she developed the business after many years leading baking operations for much larger companies, including Rouses and Whole Foods Market. So she wasn't surprised when people started asking for black and gold king cakes as early as December, and she was ready.
"People feel like they're celebrating their hometown when they cheer for the Saints, and king cake feels more significant than just cookies or cupcakes," she said. "It's something that's part of New Orleans."
And as if there weren't enough hopes and dreams riding on the Saints' performance Sunday, bakers say a longer playoff run — with its extended king cake impact — would be a godsend for this year's shorter-than-usual Carnival season.
"I've been praying for playoffs. If the Saints have a good season, we'll have a good season," Conrad said. "I think every bakery will feel it. Especially since this is a short (Carnival) season, it's a real blessing to have something like this to kick it up."
The king cake is no longer a mere dessert or Carnival season indulgence. Now, king cake is a cultural statement, a movement, and one of those …
Research for last week's column on the enduring popularity of plain, traditional king cakes led me to McKenzie's. Yes, that means the co-brand…